A new way to stay fit in downtown Frazee
News | Published on May 5, 2022 at 11:54am EDT | Author: Chad Koenen
0
New business opening on back-to-back days at former bowling alley site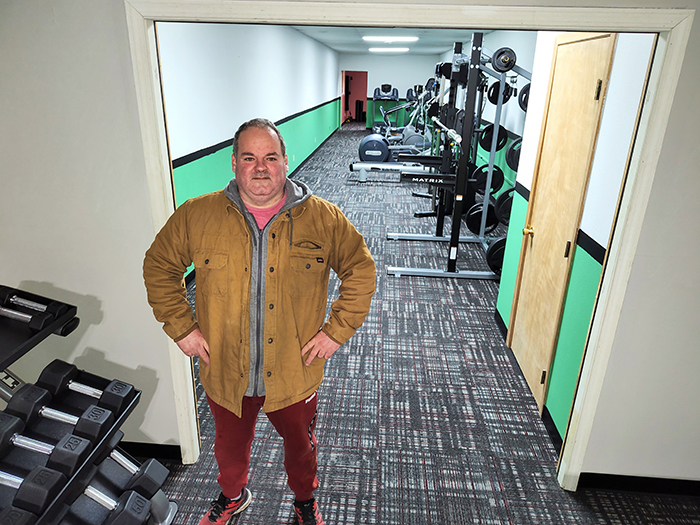 By Robert Williams
Editor
Todd Johnson is turning the keys on the new Frazee Fitness Center in the old bowling alley on West Main Avenue, one of two businesses opening in the building this week. The other new business is The Hive Nutrition.
Some design aspects of the fitness center, including signage, are still being completed leading up to the proposed opening date of Sunday, May 1.
Johnson has been prepping his rental space since late 2021, including removing the former bowling alley equipment and converting two rooms that run lengthwise from the street side of the building.
The center consists of free weights and commercial exercise machines, ellipticals, rowers and multi-purpose equipment in the main room. On the back end of the space is a room for yoga, stretching with rollers, working with medicine balls and other non-cardio workouts.
Johnson wants his gym to be a benefit to Frazee residents and acknowledged he needs their support to open strong with hopeful plans of expansion in the future. The bowling alley building still has plenty of space for either a new business, or for Johnson's gym to grow.
"For the gym to be successful, the people of Frazee have to want it and support it."

Todd Johnson
Other future plans include apparel, vending machines and potentially selling supplements.
An official open house is going to be scheduled in the future, but for now, the space is ready for use and Johnson wants to transition to full service after getting through the first few weeks of operation.
"We're ready to open up the doors and go for it," he said.
Johnson saw a need for an exercise business in town and feels his business is a great match for The Hive Nutrition next door that opened on Monday, May 2.
"I want to offer something that Frazee doesn't have and for people in Wolf Lake and the surrounding area," he said.
Memberships can be purchased online via the fitness center's Facebook page, which can be found by searching Frazee Fitness Center. Follow the link to view pricing and purchase memberships from one month to three, six and a full year.
Access to members will be allowed through a key-fob system. The gym is relatively a self-service business with 24-hour access for key-fob holders. The potential for employees and trainers is something Johnson is waiting on pursuing until the business is up and running.
"My goal for Frazee Fitness Center is to bless the community. Those who want to get in shape, stay in shape, live a better, healthier life and I'd like to expand to have more to offer them."

Todd Johnson
Johnson sees the gym as a healthy alternative to visitors to the area, especially during the summer tourism season. The center will be offering day passes for non-locals or those who want to use the equipment on a short-term basis.
Frazee Fitness Center will also provide necessary information for insurance reimbursement programs for the senior citizens within the next couple months.
Johnson is the former owner of TJ's Auto Detailing & TJ's Novelties store, which was in business until the space was sold as part of the All-in-All Sinclair station remodel. He also owned a lawn service company in Florida prior to moving to Minnesota.
Johnson had a unique path to Minnesota, where he has lived since 1997. He is originally from Niagara Falls, New York, prior to moving to Pennsylvania and then Florida.
One interesting twist occurred when he joined a carnival where he worked with his brother for a couple years.
After a stay in Florida to care for his mother, he came back to Minnesota with a desire to start a business in Frazee. The fitness center has been a project idea for a couple years and he is excited to see it now coming to fruition.
For more information, contact Todd through the Frazee Fitness Center Facebook page or via email frazeefitnesscenter@gmail.com.