Maplelag Resort main lodge likely a total loss
Uncategorized | Published on October 10, 2022 at 2:32pm EDT | Author: chadkoenen
0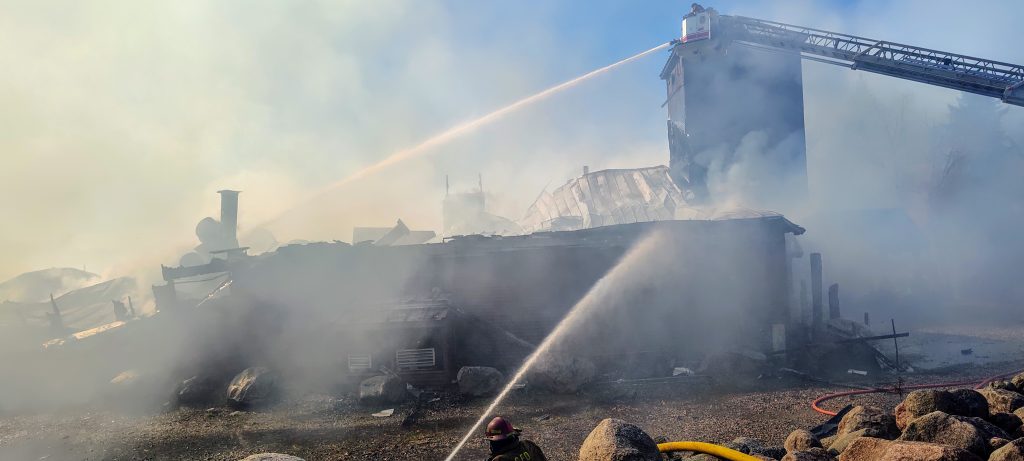 Entire County responds with fire crews
Every fire department in Becker County responded to a large fire at the three-story main lodge of Maplelag Resort in Callaway Monday, Oct. 10. The structure is likely a total loss, according to Becker County Sheriff Todd Glander.
"I'm not the fire marshal, but I'd say this is a total loss," Glander said.
Emergency dispatchers were called at 8:36 a.m., from owner Jay Richards, with reports of thick smoke in the main building.
"It's a shock," Richards said. "A complete shock."
Richards declined further comment to the media while still contemplating the loss.
The need for so many fire crews was due to the remote location of the resort, 11 miles northeast of Richwood and the logistics of fighting the fire.
"Water, resources and manpower," Glander said.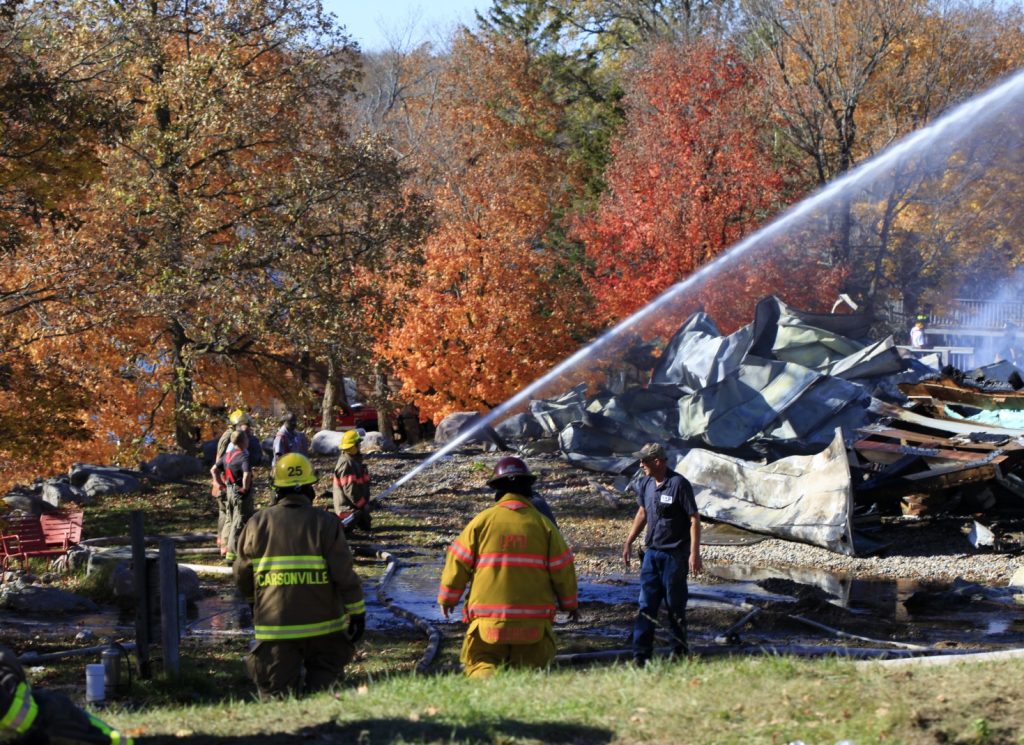 "We're so far away from water sources, other than the lake," said Callaway Fire Chief Keith Heinlein. "Getting the personnel here and getting the water. The water truck alone is pumping over 1,000 gallons per minute. It's just very hard to supply that kind of water for this long of a period."
Crews were fortunate to have Little Sugar Bush Lake downhill from the lodge to use as a main water source.
"It definitely helps," Glander said. "They were hauling from Callaway. Usually, if it's not a lake here they'll find a pond somewhere. It's very nice to have this water source here."
The building's construction also provided its own challenges.
"The tin roof makes it really hard," Heinlein said. "It's an all-steel roof so access to it is tough."
Upon arrival, the fire did not seem as bad as it later became. That outlook changed quickly.
"My gut told me we were going to be home in less than an hour, but that's not the case," Heinlein said. "Basically, from when we arrived we started calling in more resources from the whole county."
Being from the area, Heinlein knows how big of a loss it is to the family and the community. Maplelag Resort is a nationally-awarded destination for cross country skiing and mountain bike racing. It is also the preferred host of section cross-country skiing meets during the school winter athletic season.
"It's terrible," said Heinlein. "You just feel so bad for the family. The business is a big loss for an area like this."
The blaze also has an eerie déjà vu for Heinlein. The first fire he reported to in his career was the 1999 Maplelag fire.
"It's sad again," he said.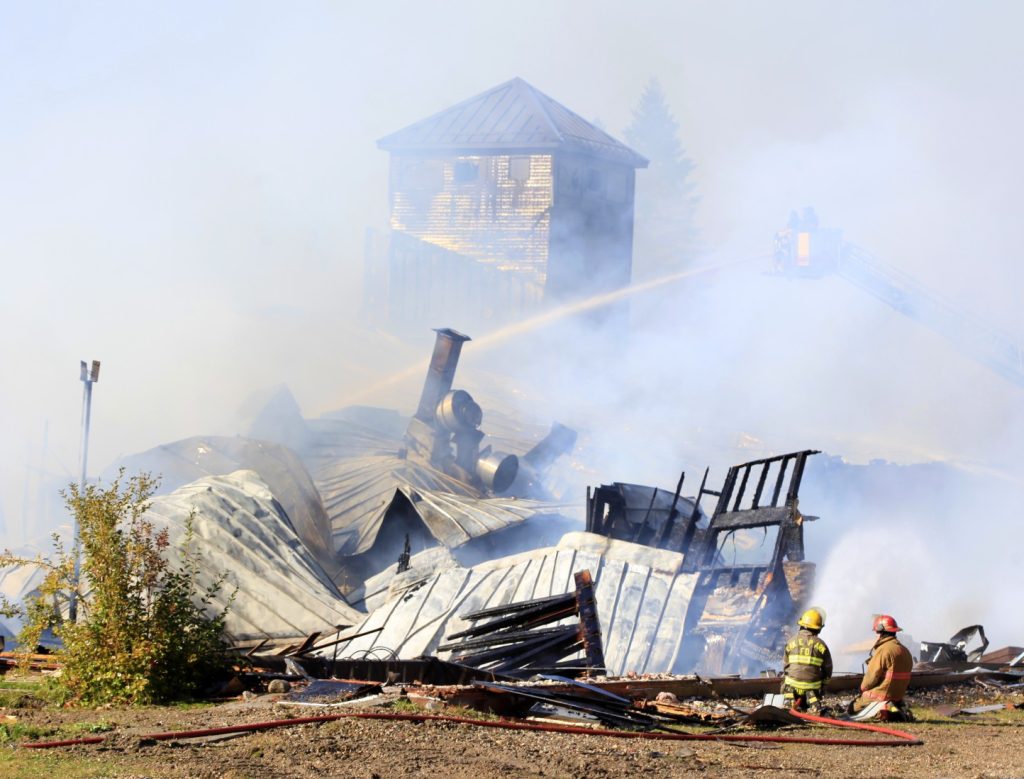 Early reports claimed the fire began somewhere near the lodge's laundry facility, but Heinlein was not ready to confirm that due to finding different hot spots in the fire.
"We don't have a lot of answers right now," he said. "We're not ready to say much about that. There's nothing clear. It's one big hot spot right now."
Crews were teaming up together to control the blaze with firefighters in a crane to fight fire on the third level, crews pumping water from the lake and hosing the main levels and Lloyd Feldt working a backhoe to clear rubble.
Feldt was on site at the request of incident command, according to Glander.
The road into Maplelag was closed to allow emergency crews easy access to the fire, especially the trucks bringing thousands of gallons of water. Glander noted the teamwork of all the crews involved as a sign of how difficult the fire was to contain.
"When you see three different fire departments on one line you see what we have going on here," he said.
Crews are expected to be on site for many more hours with the heavy lifting still to come after putting out the fire.
"We definitely have many hours ahead of us," said Heinlein. "The work part starts soon when we have to start tearing this apart. The hard-work part is coming for us yet."
Heinlein praised the crews fighting the fire and the dispatch center for getting firefighters to the scene as soon as possible.
"Response was good; it's just so remote," he said. "You think of the logistics when you're sitting in county at dispatch when that call comes in. They have to type it up, send a message to our phones. Then they're doing everything that the initial officer is asking them to do plus all the stuff on their list to do. The logistics on their end for that first hour on a call like this is crazy."
Once the fire is out, the rubble will be cleared and three floors of debris will be sifted through. An investigation will likely take days to find the exact cause.
No injuries were reported.
Fire departments on scene were from Lake Park, Audubon, Detroit Lakes, Frazee, Wolf Lake, Carsonville, Elbow Lake-Tulaby, Ogema, White Earth, Callaway and Waubun, along with the American Red Cross.