Potvin grateful for opportunity in Frazee
News | Published on June 6, 2023 at 4:35pm EDT | Author: frazeevergas
0
Next step will take her to Freshwater in Wadena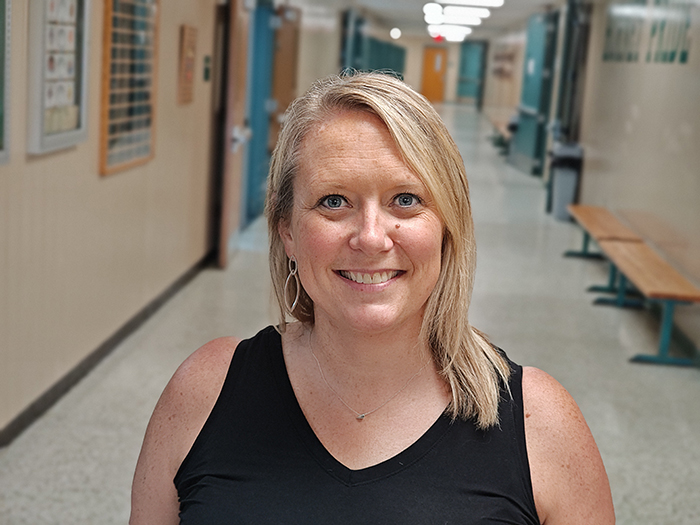 By Robert Williams
Editor
Frazee-Vergas High School principal Anna Potvin is completing her final week on the job before moving to a new role at Freshwater Education District in Wadena. She was encouraged to consider the position by Freshwater employees that were working in the Frazee-Vergas district.
"I had considered doing something completely outside of education; I really wanted to take a break from being a principal," said Potvin.
Freshwater contracts special education instruction for different member school districts around the highway 10 corridor. Freshwater specializes in smaller school districts who have special ed needs but not enough to warrant having full-time staff employed to teach that curriculum. Freshwater provides that service, along with overseeing special ed programs for districts that do not have a director on staff.
Potvin's job is a new position. As a Behavior Specialist, she'll be working with a team of four people to contract with four different school districts developing behavior intervention plans and systems in those school and help support staff and students with the overall goal being of reducing suspensions and Emotional or Behavioral Disorder (EBD) referrals.
"It's appealing to me, first of all as a principal, I would have loved that support," Potvin said. "Having somebody else doing the research, having the background and saying, 'hey, let's try this and implement this,' and also, I'm really excited about working in different school districts and seeing how they operate."
The final week of principal duties in Frazee center around both completing the past school year and helping with her position's changeover.
"It's actually pretty busy; we're compiling data from the year and submitting it to the state, finishing up the class schedule for next year and trying to get things in place to help with the transition," she said.
Potvin recently met with incoming principal Jason S. Smith. The two have somewhat clashing personality styles. Potvin takes a more laid back approach, while Smith is definitely coming into his new job with a level of intensity.
"Change is good, but it will be different," said Potvin. "It was good to visit with him and I'm trying to get things ready for that transition to help him, but more so to support staff and students so it isn't this massive change where nothing's the same. Here's what we have done. You don't have to use it, but here's what it is if you choose to do that."
The change will also be good for Potvin both personally and professionally.
"I'm in a really good place; I'm excited and have loved my time here, but I'm also ready to have the summer off and look forward to new adventures," she said.
Potvin grew up in Detroit Lakes, graduating from DLHS in 1999, and studied at the University of Minnesota earning a bachelor's degree in biology. During her third year, she decided that she wanted to teach and completed another 15-month program to become licensed in science education.
She was a science teacher for a decade in Pine River teaching biology, forensic science and junior high science.
After 10 years, she became an instructional coach for teachers helping them improve their practice, while working on becoming licensed to be a school principal.
"I always thought about being a principal and my principal at the time encouraged me to apply for the instructional coaching position," Potvin said.
After two more years, she began applying for principal positions..
"I was ready to go anywhere; I applied and interviewed all over the state and ended up here, 10 miles from home," said Potvin. "It wasn't intended at all, but it really has been good to be close to my folks; it's been great to be in lakes country. There are a lot of good people here."
After a dozen interviews elsewhere, Potvin was offered an interview in the middle of July in 2016 for the Frazee principal position.
"There was part of me, it's so late, I don't know if I want to come, but my principal at the time was really encouraging, 'Anna, you've interviewed all these places and this is your chance to get your foot in the door.' Because of that experience, I've been really grateful to come and be a principal here. From the get-go, I was super grateful that Terry (Karger) and the school board took a chance on me as somebody new without any admin experience. There is definitely a learning curve; it took time."
Potvin replaced Rob Nudell and had to do a lot of the early work on her own during that transition in both learning the job and meeting new people, both staff and students.
"The first year was a lot of learning and I was very different from the previous principal," Potvin said. "Obviously, I'm a woman and I'm younger and there were some strengths of mine that became areas of focus over the years. It was challenging in a lot of ways, but I spent a lot of time getting to know people and getting to know the system. The first two years were a lot of that and by year three I was feeling pretty good about things and then in year four COVID hit."
While everyone's lives were in flux during the pandemic, running a school was a big challenge.
"COVID, as difficult as that was working in a school and leading, I would say it really was a highlight," Potvin said. "It was a perfect example of a team working together. When staff would meet and come up with plans for that school year, it really brought us together and really demonstrated how we can't do this without each other."
Potvin leaned on her interpersonal strengths and worked hard to bring people together over her seven years.
"One of the things I'm proudest of are the relationships I've built," Potvin said. "That's evident in my interactions with staff, students and in the community. I always wanted to be involved in the community and I go to events and sporting events here at school."
She also used a strong background in curriculum and instruction to assist in meeting the needs of students and her staff. One of the big goals during the 2022-23 school year was helping intervene with students who were struggling academically.
"That's actually a big win this year," she said.
Potvin and her staff had a goal of a quarterly reduction of F grades by 25 percent.
"We met that goal and an even bigger deal is semester grades, those are the classes that go on transcripts, classes that have to be made up to graduate if they don't pass," she said. "We reduced the number of F's by 50 percent compared to last year, so that was huge. Those are kids that don't have to go to summer school or retake a class. That's a credit to the kids and staff for really working with them to make sure they got their work done."
Potvin's teaching experience gave her an empathetic understanding of what the teachers working under her were going through on a daily basis and also helped with encouraging her staff during good and difficult times.
"The teaching background, that's where the instructional background comes from," she said. "Working with adults is definitely different but it's still, as a principal, you're still an educator, you're the lead teacher in the building. I loved doing professional development and teaching adults."
Potvin knew this was going to be her last year working in her position. She put in her resignation early in the school year.
"It became apparent that I needed to look for something new to do," she said. "I was ready for something different. I truly feel blessed and I'm very grateful for my seven years here. All of it, the good, the struggles, I'm grateful for it."
On a work level, change was needed as well.
"I didn't know it at the time, but now I realize it is professional too, because it will be good to experience some different school districts and learn some new things," she said.
Being based in Wadena will allow Potvin to enjoy her lake place, not having to move, and she is looking forward to a free summer with family before beginning her new job.
"I've been very intentional about taking the summer off; I need that," she said.
Potvin's replacement Jason Smith was featured in the April 25 edition of the Forum or can be read online at frazeeforum.com/2023/04/25/smith-hired-as-new-high-school-principal/