Oswald set to lead Jamestown volleyball back to nationals
News | Published on August 8, 2023 at 4:36pm EDT | Author: frazeevergas
0
Former Hornet reflects on the path to her senior season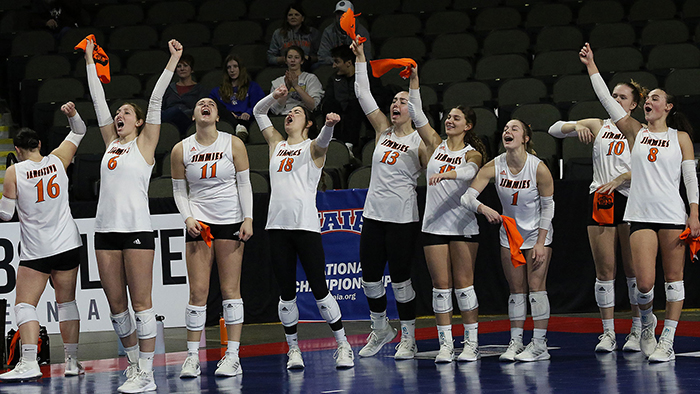 By Robert Williams
Editor
Last season, Frazee's Paige Oswald played a significant role as a setter during the University of Jamestown's run to the National Association of Intercollegiate Athletics (NAIA) National Volleyball championship and will return this month to begin her senior season as one of the team leaders.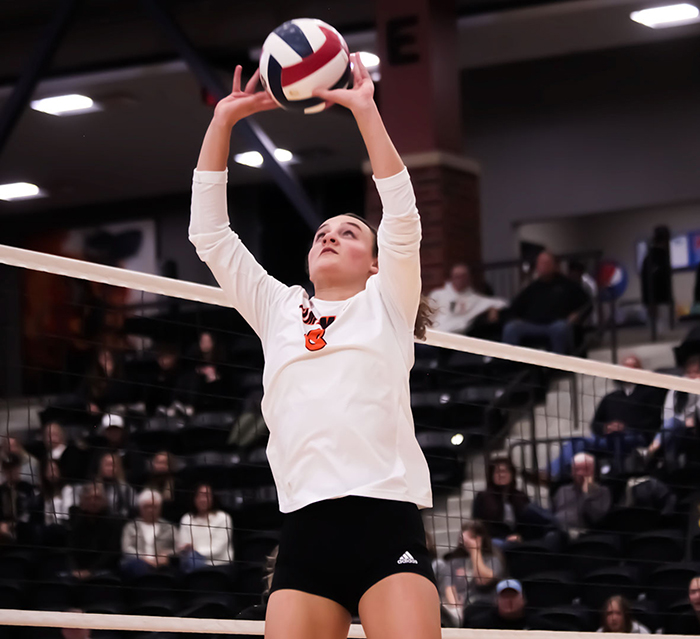 Oswald was back in Frazee enjoying her last week of the summer before the season begins on Aug. 8, looking for back-to-back titles.
"Obviously, that would be ideal to do that again,' said Oswald. "Being that we only lost two positions, a lot of us have been there, done it. We know what it's going to take. It's just a matter of will we be able to do it again?"
Oswald came off the bench last season playing behind and setting to the biggest hole Jamestown will need to fill this year in the loss of West Fargo senior and 2022 NAIA Women's Volleyball Player of the Year Kalli Hegerle. The Jimmies will also need to replace national tournament most valuable player Anna Holen from LaMoure, North Dakota, a first team NAIA All-American.
"We just put in so much work over the summer and everyone has improved," said Oswald. "We're all hungry again and we have a very deep team. I think coach said this is the most depth he's had in a while."
Jimmies head coach Jon Hegerle was named the 2022 NAIA Women's Volleyball Coach of the Year for the second time in the last three seasons. He holds an overall coaching record of 372-116 and has led his team to four straight trips to the final four.
Oswald credits Hegerle's specific recruiting techniques that help build a solid team framework and culture.
"He recruits a specific personality type and we all mesh so well," she said. "His big thing is our relationships with each other and he stresses that more than winning. It's team first – just loving one another and putting each other first. We say pouring into each other – giving our best to the people around us, not focusing on ourselves."
Fans of the 2020 Frazee-Vergas graduate and multi-sport Hornet athlete will recall Paige dealing with multiple injuries that interrupted more than one of her high school seasons. Unfortunately, she got off to a similar start at Jamestown as a freshman. She began her career on the junior varsity squad, but her time in that lineup was short-lived.
"My first day of practice during preseason I broke my hand," she said. "I was blocking in the last hour of our seven-hour practice. I got hit and my finger bent backwards and I tore all the ligaments in my thumb and index finger and a chip off the bone too."
Bone breaks had become a personal specialty by then, something that Oswald attuned to simple bad luck.
"I had a lot of broken bones; I never had any surgeries or anything," she said.
Oswald played junior varsity again her sophomore year, practiced with the varsity team and made the trip to nationals. She accepted her role and waited her turn on a team that was full of upperclassmen and standout players.
"I was pretty much doing whatever they needed me to do," she said.
The team reached the NAIA national semifinals and finished with a record of 35-1. Failing to get to the championship game with a team that was loaded with seniors was surprising and a disappointment.
"If anything, I thought they would do it my sophomore year with all those seniors and the legacy they had created for themselves," said Oswald.
Despite the loss, the Jimmies volleyball program was proof that Oswald made the right decision coming out of high school.
"On my tour it was really easy to see the culture that the coaches had created over time," she said. "Everything I valued, like relationships and everyone is so loyal to each other and just a lot of love."
And a lot of wins. Jamestown enters this season on the back of four straight 30+win campaigns.
"Obviously, that was a big factor too," Oswald said. "I wasn't going to rule anything out with all the final four appearances and the coaching staff is amazing."
Oswald's time to really contribute during games came last season as a junior when all those spots opened in the lineup due to graduation.
"We had a lot of new positions to fill after that class had left and at the beginning of the year coach had said to us, just with being inexperienced, because we were, he would be happy if we were in the top half of the conference," said Oswald.
The team started off the season with two tournaments in Montana over two weekends, but not in the best way.
"We lost our first game to Eastern Oregon, who was ranked No. 3 in the country, so we weren't going to hang our heads because we knew they were good," she said.
Eastern was coming off a season where they lost only two games.
"We were a little intimidated, I think, but we were hungry and after that we didn't lose until 20 games later," Oswald said. "We knew what we needed to do. We were really athletic, but we lacked the experience and the IQ because we had so many new positions to fill."
Jamestown lost only once the rest of the season, compiling a 37-2 mark on the way to the national championship winning the last 27 matches of the season in a row.
Eastern Oregon advanced to the final four as well and the Jimmies expected to meet them in the championship, but it was not to be.
"That would have been crazy," said Oswald.
The second-ranked Jimmies capped off a season for the ages, defeating No. 4 Corban (Oregon) in five sets 25-21, 21-25, 25-27, 25-22, 15-13.
"We stormed the court; there was confetti everywhere; everybody was crying," said Oswald. "It was unreal."
For Oswald and her teammates, the focus they were able to control winning so many games in a row and pulling off a national championship by the slimmest of margins in the fifth and final set was because they were able to control themselves, how they reacted in crunch time, and they were ready to be champions.
"It was like we were on autopilot – it's kind of hard to describe," she said. "We were pretty confident and a little nervous. We had never been in that position before. We really just knew we had to lean on each other and do whatever it took."
Oswald will be finishing up her degree in Business Management. She was one of 349 students to earn the Dean's List distinction spring semester. She is also part of the campus ministry social media team. She kicks off her senior season with something not a lot of people can say, both being a national champion and pursuing back-to-back titles to finish her career.
"I love UJ," she said. "I love my team and everybody there. I wouldn't trade it for the world."
Oswald does have a fifth year of eligibility due to the pandemic, but has not made a concrete decision on if she will use that or not.
The University of Jamestown women's volleyball team gets the season underway with a preseason scrimmage at Minot State Aug. 13.