Chic Shed Boutique invites Santa to town
News | Published on December 17, 2020 at 1:57pm EST | Author: Chad Koenen
0
Thursday is 'Chics' night out, Santa visits Dec. 19
By Barbie Porter
Editor
The Chic Shed Junque Boutique & Sweet Shop owner Aleisa Jopp wants to let everyone know there is no need to cry, no need to pout because Thursday, Dec. 17 is 'Chics' night out at the newest shop in town. Wine, appetizers and treats will be served. 
Then on Saturday, Dec. 19 Santa Claus is coming to town! Everyone is invited to come down to Main Avenue in Frazee around 3:30 p.m. Jopp has it on good authority that Santa will be in town and the jolly feller hopes families make it out to wave as he takes a few loops downtown, and around the city on a horse drawn sleigh.
"While you're waiting for Santa, come in and look around," Jopp said. "I'd love to see everyone."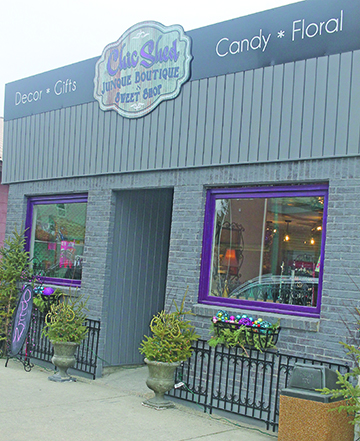 The Chic Shed Boutique opened last weekend, and Jopp saw consistent visitors and a lot of support. She said her most popular item was the accent pillows that are hand sewn by Jopp's mother, May Schuette. Having the item handcrafted means the patterns used aren't the ones found at the stores that rely on mass production. It also means the detailed work done by a long-time seamstress provides a quality product.
"We have a few in again, but are set to have 50 more new pillows coming soon," she said.
Other popular items are the furniture pieces that draw the eyes as soon as one enters the shop. Each item was selected by Jopp or her sisters and refurbished, rejuvenated and embellished. If one doesn't see the furniture piece one is seeking, simply present the type of item and desired measurements of the piece to Jopp. She may have an item in storage, or would be happy to keep an eye out for the perfect piece.
"Right now I have several items in storage," she said, noting they will be rotated in as there is only so much space in the store.
In addition to the furniture, those looking to add Christmas decorations for years to come can find plenty of options at the retail store, from a handcrafted snowman light, festive wreathes, usable Santa ice cream dishes and so much more.
The Chic Shed Boutique will be serving ice cream soon, but Jopp said there are a few details that need to be finalized first. That doesn't mean the store is without treats. For those that recall the thrill of walking into a general store as a child, with a handful of coins and the opportunity to pick out sugary treats, the nostalgia has returned for the next generation. She has one wall with buckets full of a wide assortment of candies. 
Jopp is also working on providing eye candy as a painter will be showing pieces at the store that will be for sale.
When walking into a store looking for a gift, and finding so many desirable items, it may be hard to pick just one. A gift card may be a perfect solution for that quandary. 
The shop was formerly located in the old bank building, but when the opportunity to purchase her own shop arose, Jopp and her husband decided to take the leap into building ownership. The former chiropractic building was completely renovated and the exterior was given a makeover.
Jopp said the work put in by her husband and friends Karen and Dan Pifher has been a Godsend. She explained with their expertise the remodeling job, which was extensive, kept the store within budget.
The Chic Shed Boutique hours are 10 a.m. to 8 p.m. on Thursdays through Christmas and from 10 a.m. to 5 p.m. on Fridays and Saturdays.