Locals become property owners in the Bahamas
News | Published on December 17, 2020 at 2:03pm EST | Author: Chad Koenen
0
By Barbie Porter
Editor
Area friends recently signed papers that made them property owners in the Bahamas. Purchasing a slice of paradise was as easy as pie.
Jen Splonskowski and her husband Luke have frequented the Bahamas for family vacations. The Detroit Lakes residents visited Great Exuma six years ago. The island is the largest of the cays measuring 37 miles in length. It is also connected to Little Exuma by a bridge.
"We fell in love with Great Exuma," Splonskowski said. "But we hadn't been back because we wanted to visit other islands."
When the idea for an adult-only trip was planned, the couple decided it was time to revisit paradise. The Splonskowski invited Shell Lake Resort owners Amy and Josh Kilde. The Kildes learned the trip wasn't just a vacation. The Splonskowski were considering becoming property owners in the Bahamas and were on a scouting mission.
Kilde shared, while on the plane her husband had already made up his mind on purchasing land with their friends, but she was on the fence.
"From the moment I stepped off the plane I fell in love with Great Exuma," Kilde said. "The water, the white soft sand­—it was a perfect paradise and we were ready to join them on their adventure. We decided to jump on this ride and see where it takes us."
The couples viewed a few properties, mostly cottages and condos. A few weeks after returning stateside they put in an offer on a cottage, but that fell through.
"That was back in February," Splonskowski said. "So in March we started fresh and that is when we found the lot."
The property is in the subdivision Crown Allotment, a portion known as Casa Del Mar, which is about 8 miles northwest of George Town and a mile from the airport. The development has eight lots, with four already having homes.
"We decided to purchase land and build because when you buy a cottage, like we were looking at doing, it was at a resort, and then you have fees," Splonskowski said.
Purchasing the land was easier than anticipated.
"The biggest thing that slowed us down was the pandemic," Kilde said. "
The land was purchased from a couple living in the European country of Slovakia. The transaction was done with an attorney from the Bahamas and a relator, who had dual citizenship on the island and in Canada. Because of the pandemic the attorney was not in the office and the relator had returned to Canada.
"We put in our offer in mid-March and just signed our paperwork yesterday (Dec. 8)," Kilde said.
The couples forged ahead and eventually business began moving once again. Splonskowski explained when stateside, purchasing property means sitting down and going through closing procedures, whereas there they simply send the documents to be signed.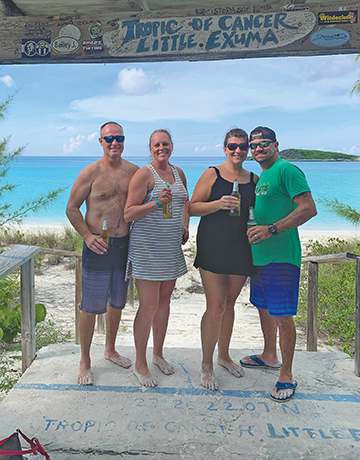 "And if there is a mistake, you correct it and put your initials by it," Splonskowski said.
While Splonskowski said in jest all they need is a palm tree to keep the rain off their heads when visiting, the couples are working with a company based in Las Vegas, Nev. to build a three bedrooms and 31/2 bathroom 1,500-square-foot two story house.
"We wanted to have a great second-story ocean view," Splonskowski said. "We hope to be up and running next winter."
While no details have been finalized the plan is to make the walls out of stucco as it is resistant to the salt water in the air and termites that live in warmer climates.
"We have to work with a Bohemian architect," Splonskowski said, noting the structure must follow Florida's Miama Dade Hurricane Code.
"Great Exuma is not hit that often by hurricanes because it is protected," she said. "There may be a few shingles or palm trees lost, but when you live through 30 below temperatures and winds that isn't a problem."
Kilde agreed, they were willing to take that chance to have a slice of paradise on a quiet island where the locals are friendly and community is safe.
"It is not overpopulated like Nassau," Kilde said. "When we went on the beach we maybe saw a handful of people."
For reference, Nassau has a population of 266,100, whereas the number of residents on Exuma is 7,314. Just because the island is smaller doesn't mean they don't have access to retail shops, restaurants and entertainment. However, there may have to be concessions when shopping for groceries.
Kilde explained there is a boat the comes to the island once a week, so if they didn't bring butter and the store is out, then going without or substitutes may need to be made.
There is also a different time schedule residents appear to keep. Splonskowski said "island time" is a very accurate description for how things are run.
"The shuttle might not pick you up when they said," she explained. "When you're there you learn to slow down and appreciate life for what it is."
The new landowners plan to enjoy the new abode during vacations, and maybe rent it out as well. There is also the potential of entering the real estate development market by selling the property and purchasing another lot for another build.