Be the Light during goodwill campaign
News | Published on December 29, 2020 at 6:43pm EST | Author: Chad Koenen
0
during goodwill campaign
By Barbie Porter
Editor
bout a year ago Kari Stenger took a job at Light Consulting and Coaching that let her little light inside shine. 
"There are two sides to the business," the 2010 Frazee High School graduate explained. "One is finance and accounting and the other is about leadership and giving back."  
The leadership aspect has to do with a brand the company created called Be the Light. The campaign recently kicked off on the 36th birthday of Stenger's boss, Sarah West. Three employees hit the streets and gave away 36, $100 bills. The money went to non-profits, nurses leaving their shifts, UPS delivery drivers, strangers walking on the street, left on windshields with a note and Stenger's favorite, a garbage man. 
"It was totally unexpected and being right before the holiday season he said it turned his day around," she recalled.
That was only the beginning though. In the short time the Be the Light campaign has been in existence the number of lives it has touched is hard to quantify. The crew raised funds for United Way of Cass Clay by selling merchandise with the brand name.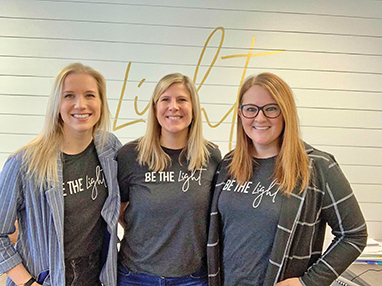 "We were able to donate $1,457," Stenger said.
A month prior, the crew visited the Ronald McDonald House and provided catered meals to the families there.
Then, Stenger's boss took to cleaning her closet. What she found were unused coats. That sparked a coat drive for the Churches United homeless shelter in the Fargo-Moorhead area.
"I posted that we were doing a coat drive on Facebook and many people from Frazee and Vergas donated," she said. "On the coldest, most windiest day we happened to deliver them."
In total, 75 coats were provided for the men, women and children utilizing the shelter.
"They were blown away," Stenger said. "And very grateful."
The daughter of rural Detroit Lakes residents Tony and Nancy Stenger, who is living in Hawley, Minn., said visiting the homeless shelter opened her eyes to a struggle many go through on a daily basis. But that moment of recognition happened before the coats arrived. She had volunteered at the Salvation Army once a month prior to COVID-19 restricting volunteers.
"Seeing people come in the door, out from the cold, and see they are hungry and with no roof over their heads, it really made an impact on me," she said. "I'm grateful and thankful I can give back."
While Stenger's job provides a wage for living, it has also pushed her to live the company's mission statement of becoming one's best self.
"We just want to Be the Light and inspire others to do the same," she said. "2020 was a trying year for many and we just want to make a difference in people's lives."