FHS yearbook team uses technology, social media to create memory book
News | Published on January 6, 2021 at 12:39pm EST | Author: Chad Koenen
0
By Barbie Porter
Editor
COVID-19 may be stealing potential memories from students, but the yearbook must go on.
Frazee High School junior Kathryn Wilkowski is one of the many team members who are working hard to make sure the Class of 2020, as well as the underclassmen, have a keepsake for the ages.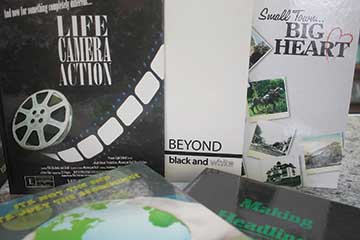 "It will be different," Wilkowski said, explaining the photo opportunities have decreased as pep fests, dances and other traditional activities have not been held.
However, the staff is learning to adapt and appreciate the historic year. Editors and yearbook scribes decided to request photographs from subjects, bringing a different, yet personal feel to the annual.
While COVID-19 will make an appearance in the yearbook, as it is undeniable the impact it had on the school year so far, Wilkowski assured it is not the star.
"It is not about the virus," she said. "People will see a modified style compared to other yearbooks, but it is still about the students, the school year and the milestones."
Wilkowski said the cover and colors have been decided, but for now mum is the word as to what those elements will be.
The daughter of Michelle and Steve Wilkowski joined the yearbook class last year after hearing her freshman English teacher Kaitlyn Hoekstra speak of it fondly.
Hoekstra, who is also the advisor of the yearbook, encouraged Wilkowski to join.
"She thought I would be a good fit to write for the yearbook," Wilkowski said. "People usually join their junior or senior year, but I was able to join as a sophomore and that means I can be part of this through my senior year."
Wilkowski said by listening to the guidance of her teacher she found her favorite class, one that may provide professional direction in her life.
"I could do this for the rest of my life," she said. "I love designing pages, it is my favorite thing to do. I also love interview people, taking pictures and the creativity that goes with everything."
In her second year on yearbook Wilkowski became editor along with Autumn Moe. While all yearbook members have pages to fill with copy, photos and design, the editors assign the pages and edit them, as well as their pages.
"This year has been hard because of COVID," Wilkowski said. "Some never had yearbook before."
She explained the class is putting the pages together at home with the use of Chromebooks, as the program can be accessed online. However, when a student struggles to understand how to use the program or doesn't fully understand the assignment, a lack of motivation may follow. When classes are in person those struggling have plenty of access to other students for assistance or a little jolt of enthusiasm for the work.
"I miss being in class so much that I can't even explain it," Wilkowski said.