Swiers receives a box of cash, plans to go fishing
News | Published on January 13, 2021 at 1:26pm EST | Author: Chad Koenen
0
By Barbie Porter
Editor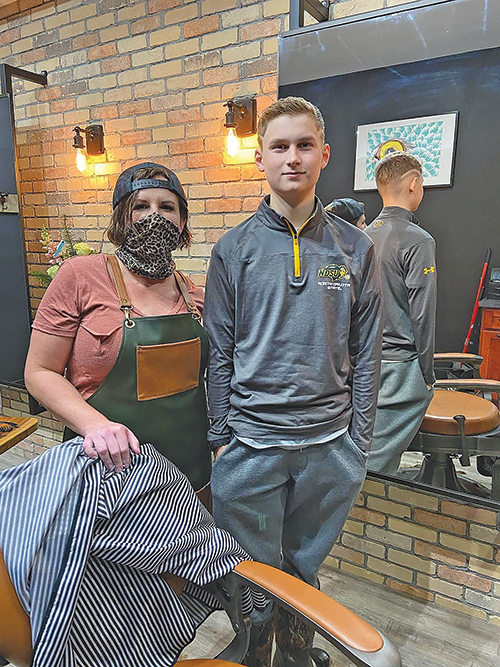 Ethan Swiers was recently presented with $2,590 by his barber, Katie Schiller, who owns Schiller's House in Detroit Lakes.
The 14-year-old's mother, Kerry Swiers, knew his barber was auctioning her first haircut at the new shop and giving the proceeds to her son, who is battling leukemia. The word spread on Facebook, which her son does not use. When the day to pick up the donations arrived, Kerry told Ethan that she had won a prize.
"I was totally clueless," Ethan said. "I thought we were picking up her prize and then going to get dog food for my puppy."
When Ethan entered the store his barber told him the gift wasn't for his mother. She handed him a box that was decorated by her daughter. It was filled with a variety of bills and a few checks.
"I opened it and was stunned," he said. "I've never seen that much money in my life. It was pretty shocking."
Ethan spent some of the money on ice fishing gear. He explained his grandpa enjoys ice fishing and he looks forward to spending with him on the lake this winter.
"I really want to thank everyone that donated," Ethan said. "You made my day; you made my winter. That was really nice."
Ethan was diagnosed with leukemia on Aug. 17. Leukemia is a blood cancer that hinders the body's ability to fight infection. For aggressive leukemias, treatment includes chemotherapy and sometimes radiation and stem cell transplant.
Ethan was scheduled for chemo treatments, which his mother said is a long road that extends into December of 2022. But, if all goes well, the treatment has the potential to provide her son with a clean bill of health.
"It hasn't been a joy ride, but I'm taking it well," Ethan said, noting his recent struggle was the inability to keep food down after his last chemo treatment.
But, on the upside, he said the doctors have never seen anyone keep their hair through chemo treatment, and currently he still has a full head of hair that required a cut from his favorite barber.
With a new stylish hairdo, the Detroit Lakes teen is back to focusing on his studies. He is home schooling this year as treatment reduces his immune system. His future goal is to become a firefighter like his father, Justin, who serves on the Callaway Fire Department.
"I really look up to him," Ethan said.