Vergas resident named realtor Rookie of the Year
News | Published on January 13, 2021 at 1:33pm EST | Author: Chad Koenen
0
By Barbie Porter
Editor
Vergas resident Joy (Pausch) Summers recently earned the high accolade of Rookie of the Year by the Lakes Country Association of Realtors.
Summers was in her car when she was informed she would be the recipient of the coveted award. Normally, the Vergas resident would receive the accolade at a banquet with her peers present. However, due to the COVID-19 pandemic, it was sent to her.
The 1997 Perham High School graduate said her journey into real estate began after her husband, Mike Summers, got his license. She explained while her husband is a general contractor and owner of Summers Construction, he also has a passion for hunting. He felt if landowners knew what animals could be harvested on their land they may better understand the value.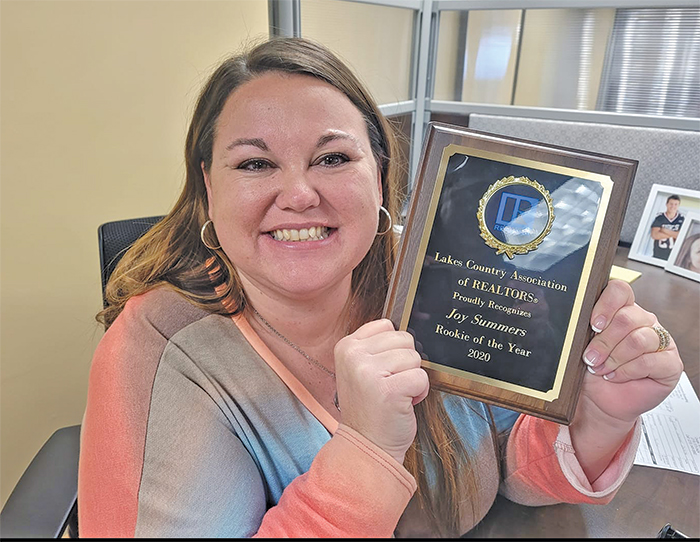 "Those that hunt would also appreciate knowing what animals could be harvested as well," she said.
During that time, Summers worked on the administrative side of things and had a professional photography business. She decided to get her realtors license after chatting with her husband. The two acknowledged they work as a team in real estate so it would only make sense if she was able to fully dive in and help buyers and sellers in the market.
"I had an advantage when it came to testing because I wasn't going in completely blind," she said. "But I wasn't looking forward to the paperwork involved."
The daughter of Dennis and Terry Pausch of Vergas said once she was licensed she joined the RE\MAX company, which is a locally-owned franchise.
"My sister-in-law is a co-owner and they have a phenomenal team there," Summers said. "It feels like family because we all work hard to support each other."
Once she began working as a real estate agent, it was a short road to discovering how fun the job could be.
"As I made connections with people I found out how fun it was," she said. "For me it is all about relationships. Getting to know people and putting their needs above anything else is important. And many buyers and sellers have become good friends."
The market in the lakes continues to be a hot one, Summers reported. While winter is traditionally a slower time to buy and sell houses, due to most people not wanting to move in colder temperatures, that is not the case this year. She noted there is a list of buyers looking for homes.
"Life situations don't always let us choose when we need to move," she said.
While Summers was presented the Rookie of the Year Award, the mother of three children said her job is a team effort with her husband.