Courneya hits eight 3-pointers in 71-60 loss to Pelican Rapids
Sports | Published on January 26, 2021 at 6:17pm EST | Author: Chad Koenen
0
Hornets to host Perham on Thursday
By Chad Koenen
Publisher
Frazee dropped a pair of Heart O'Lakes Conference games last week, despite a 36 point performance from Jack Courneya on Friday night. Courneya hit eight 3-pointers in a 71-60 loss to Pelican Rapids, which followed a tough 76-52 loss to Barnesville on Tuesday night.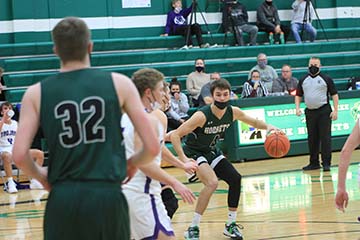 The Hornets, who are 0-3 on the season, will travel to Lake Park-Audubon on Tuesday in non-conference action, before hosting Perham on Thursday. The Raiders come into the game with a record of 1-1 after defeating Underwood 58-33 last week, while the Yellowjackets come in as a the fourth ranked team in Class AA. The Yellowjackets fell to Barnesville 67-53 last week after opening their season with three straight wins.
Tuesday
Trailing just 30-22 at the half, Frazee was unable to overtake Barnesville on Tuesday night as the Hornets dropped its Heart O'Lakes Conference opener by a score of 76-52.
Barnesville held a slight 43.5 percent to 38.8 percent advantage in shooting from the field, but Frazee was unable overcome 29 turnovers that lead to 30 Barnesville points off of turnovers. The Trojans also held a 38-18 advantage in points in the paint and a 13-6 advantage in offensive rebounds.
Three Hornets reached double figures in the loss, including Broden Fleisher who led the team with 15 points off of just 4-8 shooting. Fleisher was an impressive 3-5 shooting from behind the 3-point line. Reid Eckert joined him in double figures with 11 points off of just 4-5 shooting and Jack Courneya joined the pair in double figures with 10 points.
Justin Courneya also scored 9 points, while Nathan Johannsen added 3 points and George Flynn and Dylan Selly rounded out the scoring with 2 points apiece.
Friday
Frazee hit an eye popping 11 3-pointers as the Hornets attempted to overcome a 34-18 deficit at halftime. Jack Courneya hit eight of those 3-pointers as he went 12-24 from the field to finish with 36 points. Unfortunately, Pelican Rapids did just enough to keep the Hornets at bay as Frazee dropped its third straight game by a score of 71-60 on Friday night.
As a team, the Hornets shot nearly 39 percent from the field and made more 3-pointers, 11, than 2-point shots, 10 in the loss. While the Hornets turned the ball over just 16 times, the Vikings made the most of those points by scoring 25 points off of turnovers and held a 28-8 advantage in the paint.
One of the biggest highlights for the Hornets came with assists as Frazee finished with 20 assists on just 21 made shots. Another highlight came from the free throw line as Frazee made 7-9 shots from the free throw line. The Vikings, on the other hand, went 18-24 from the free throw line to keep the Hornets at bay down the stretch.
In addition to Courneya's 36 points, which included him going 8-15 from the 3-point line, Justin Courneya scored 10 points, Broden Fleisher finished with 6 points, Reid Eckert scored 5 and George Flynn rounded out the scoring with 3 points.