Hornets edge Panthers in regular season opener
Sports | Published on January 26, 2021 at 6:21pm EST | Author: Chad Koenen
0
By Chad Koenen
Publisher
The Frazee girls basketball team opened their season with a 54-42 win over Park Rapids in non-conference action. Since then, the Hornets have dropped three straight games, including a heartbreaker to Perham last week in their Heart 'O Lakes Conference opener.
In addition to their 52-48 loss to Perham on Thursday night, the Hornets fell to Pelican Rapids by a score of 53-31 on Saturday.
This week the 1-3 Hornets will host Hawley on Tuesday, before traveling to Dilworth-Glyndon-Felton on Friday.
Jan. 14
Frazee held Park Rapids Area to just 21.8 percent from the field as the Hornets held the Panthers to just 21 points in both the first and second half to come away with a 54-42 non-conference win on Jan. 14.
As a team the Hornets forced 18 Panther turnovers that lead to 15 points off of turnovers to keep the Hornets in front throughout the game. Frazee also held a big advantage in the paint as they held a 22-12 advantage in points in the paint and outrebounded the Panthers by a 44-40 margin.
After taking a 32-21 lead at halftime, the Hornets were able to keep the Panthers at bay by outscoring Park Rapids 22-21 in the final 18 minutes of action.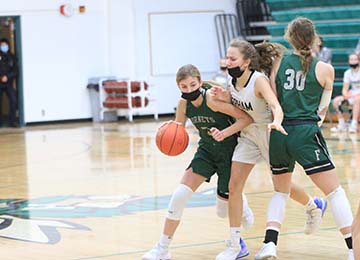 Three Hornets reached double figures in the win as Dani Piche led the way offensively with 13 points, which included a pair of 3-pointers. Ellie Reierson and Harley Kropuenske both scored 10 points and Annika Reierson chipped in with 9 points. Reierson also led the team with 10 rebounds and tied for the team lead in assists with 3 and steals with 4.
POINTS- Ellier Reierson 8, Annika Reierson 7, Harley Kropuenske 3, Kate Vigen 2, Madison Starry 2, Kiley Karger 2, Autumn Hiemenz
ASSISTS- Annika Reierson 4, Madison Starry 2, Anissa Antonsen 1
REBOUNDS- Dana Piche 6, Madison Starry 3, Annika Reierson 3, Karley Kropuenske 3, Kiey Karger 2, Autumn Hiementz 2, Annisa Antonsen 2, Ellie Reierson 2, Kate Vigen 1, Kaidence Mayfield 1
BLOCKS- Ellie Reierson 1
STEALS- Autumn Hiementz 2, Annika Reierson 1, Ellie Reierson 1
Jan. 16
Menahga shot just under 47 percent from the field and hit 10 3-pointers as the Braves handed the Hornets their first loss of the season on Jan. 16 by a score of 66-26. The Braves held a 39-20 lead at halftime and held the Hornets to just 6 points in the second half to come away with the win.
The Hornets committed 24 turnovers which led to 31 Menahga points off of turnovers.
Ellie Reierson led the way offensively with 8 points, while Annika Reierson scored 7 points and had 4 assists.
POINTS- Ellier Reierson 8, Annika Reierson 7, Harley Kropuenske 3, Kate Vigen 2, Madison Starry 2, Kiley Karger 2, Autumn Hiemenz
ASSISTS- Annika Reierson 4, Madison Starry 2, Anissa Antonsen 1
REBOUNDS- Dana Piche 6, Madison Starry 3, Annika Reierson 3, Karley Kropuenske 3, Kiey Karger 2, Autumn Hiementz 2, Annisa Antonsen 2, Ellie Reierson 2, Kate Vigen 1, Kaidence Mayfield 1
BLOCKS- Ellie Reierson 1
STEALS- Autumn Hiementz 2, Annika Reierson 1, Ellie Reierson 1