Learning to live again
News | Published on January 26, 2021 at 6:32pm EST | Author: Chad Koenen
0
FHS counselor loses 100 pounds in nine months 
By Barbie Porter
Editor
When Megan Galligan returned to her counseling job at Frazee High School a few years ago, many of her colleagues and students didn't recognize her.
"I lost 100 pounds in nine months," she said, noting there was no crash diet or surgery involved, and the weight loss itself was a secondary concern. Her primary focus was rewiring her thoughts and tastes after a lifetime of poor health choices.
The Alexandria, Minn. native has struggled with obesity her entire life. While some may face bullying or body shaming due to excess weight, Galligan was surrounded with relationships that never connected a persons' value to their weight.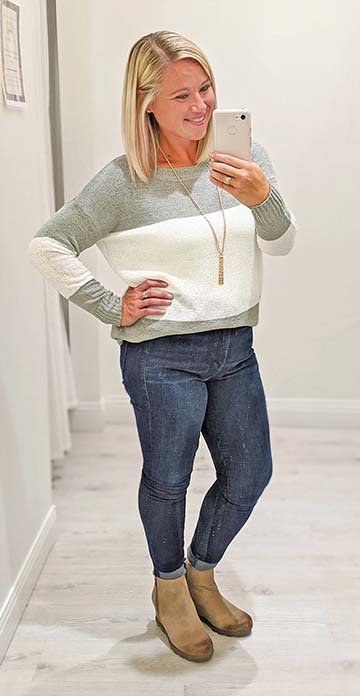 "Still, I recognized that I was not taking care of myself," she said, noting the realization hit hard in her early 30s.
Years of self neglect began piling up with a culmination of health problems. While she attempted changes to her diet and physical activity throughout her 20s and into her 30s, the change was short lived.
"I never really committed," she said. 
Accountability came as she looked through pictures of her with family and friends at New Years party in Jan. 2018.
"The person in those pictures was not truly living or happy," she said. "I came to the realization that I wasn't comfortable in my own skin."
That realization set in motion the ability to hold herself accountable. After researching apps to account for what she was eating, she put the tools into practice.
"It wasn't a diet," she said. "It was about forming new eating habits and paying attention to what I was eating."
Galligan was also mindful to not completely cut out the food she loved that didn't fit in to the healthy category. Instead of making those fatty foods a regular meal, they became something she enjoyed in moderation.
"At first, I thought it would be difficult to cook healthy for one," she said. "But, once I started creating those habits I realized it wasn't that hard."
She tracked the expense as well and found the amount she spent on processed food was similar to what she spent on fresh fruits and vegetables.
Galligan also shifted away from sugary drinks and began drinking more water.
"One thing I recognized was how many extra calories I was consuming with drinks," she said. "From coffee to soda to other sugary drinks, I decided to only drink them on occasion."
Once a new eating and drinking patterns formed, Galligan knew physical activity was the next step to health. She had an elliptical machine in her garage. The location, with the swinging temperatures of the Midwest, gave her a reason to let the equipment gather dust. She relocated it to her living room and dedicated time every day to use it. At first the workout regime was 15-to-20 minutes at a time.
"I saw results immediately," she said, noting others began noticing changes in her appearance after about three months.
Time was an enemy now and again. Galligan said there were battlegrounds where she had to dig deep and remind herself that her lifestyle change was something she wanted.
"I held myself accountable to empower myself and be committed to the changes I made," she said.
As her body strengthened she added in free weights and then signed up for a fitness class. The variety of exercises helped keep her motivated.
"I've always been outgoing, but I hadn't realized how much being overweight caused me to take a backseat in my own life," she said. "As I took my health back I gained confidence and found the person I used to be."
Galligan is now using the changes in lifestyle she made as a platform to inspire others of all ages, but especially the young ladies at Frazee High School. 
"Teens are at a pivotal point in their lives and some struggle with their own image," she said. "So, I find it a cool opportunity to share my story."
The health issues that helped jettison Galligan on her journey have gone away. Even the pain she felt on a regular basis from a major foot repair has been minimized.
"I was able to take up an activity I never thought I would do again­—running," she said. "That led to being the cross country coach. That was another unexpected positive outcome from changing my lifestyle. It gave me opportunities to coach young people."