Bruhn becomes first female mayor of Vergas
News | Published on February 3, 2021 at 8:45am EST | Author: Chad Koenen
0
Longtime resident is third member of her family to serve as mayor
By Barbie Porter
Editor
When Julie Bruhn was elected Mayor of Vergas, she became the first female in the city's history to hold the position.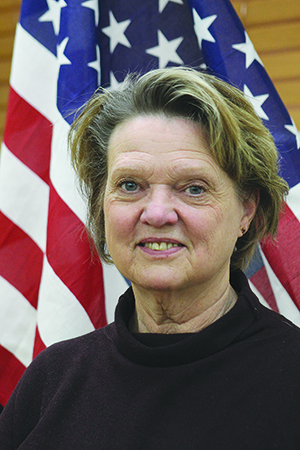 The decision to run for the council, and then mayor had little to do with making history for Bruhn. Instead, she wanted to emulate her father Gordon Dahlgren.
"He was mayor of Vergas for maybe 25 years," recalled the daughter of Marion and the late Gordon Dahlgren. "When I was growing up, he was such a role model and taught us to live life for our community."
During those childhood years she also saw the first female elected to the council. Lillian (Stebbins) Beecher was elected in 1984.
"She served while my dad was mayor and I remember thinking that was pretty cool," Bruhn said.
From watching the community leaders Bruhn developed an vision of her adult life. With the encouragement of her dad whispering in her ear that she can make a difference, Bruhn never doubted it.
The 1975 Frazee High School graduate became a career woman, married fellow Vergas native Joe Bruhn and raised two children. Even while living in the Fargo-Moorhead community during her career years as a nurse for the Department of Veteran Affairs, she found time to get involved in do-good groups.
Bruhn and her husband always visited Vergas on the weekends and planned early-on to retire back in their hometown. She explained the return had to do with being closer to family and the recreational outdoor fun she and her husband enjoy.
"It has everything I need," she said of Vergas. "And, the kids love to come and visit."
Being retired never meant ending her dedication to the community in which she resided. A year after returning to Vergas, Bruhn became actively involved in clubs and organizations. Then she ran for city council. After winning the election she was appointed to many committees and served her community by educating herself on topics and asking questions to make decisions that would be in the best interest of her constituents.
Two years into her service on the council the opportunity to run for mayor was provided. She decided to give it a try. When Bruhn won, she quietly made history.
"I didn't really think about that when I decided to run," she said. "It is the 21st century, so that didn't seem like it should be an issue."
As mayor, Bruhn hopes to encourage younger generations in the community to get involved in politics as well as clubs and events to continue making her hometown a vibrant community for residents and go-to destination for visitors.