Local investor shares experiences in stock market
News | Published on February 3, 2021 at 8:49am EST | Author: Chad Koenen
0
experiences in stock market
By Barbie Porter
Editor
The mention of GameStop stock may put the fear of God into some, and the joy of Jesus into another.
The stock was struggling and hedge fund investors on Wall Street decided it was time to conduct short sales. Basically, the stock is sold, then after it drops, it is purchased again and returned to the stock holder. The margin between is the profit gain for those wagering the company will continue on a trajectory of having a declining stock price.
However, when the stock soared from $4 a share a year ago, to  $400 per share recently. Now, those wagering investors have to purchase the stock at a much higher price to return it to the investor, as agreed.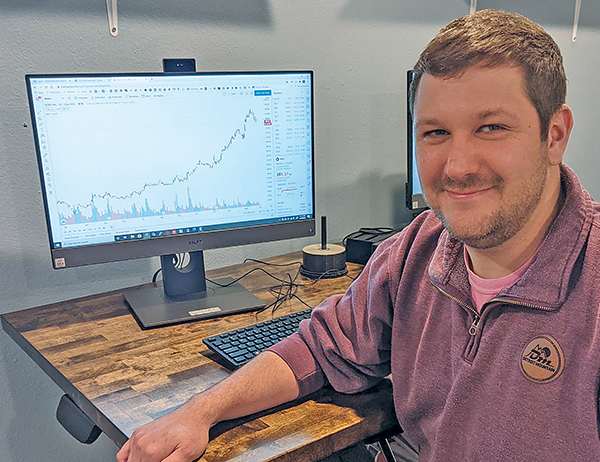 While the stock market is always a gamble, some are upset because the stock price rose after talk began on an Reddit's wallstreetbets form for online investors and concerns of market manipulation are being expressed.
Stockmarket investor Ben Dahlin, Frazee, recalled when the COVID-19 pandemic caused the stock market to crash in the spring, he was fairly certain market manipulation happened then.
The IT Director at Mahnomen School District, who uses online platforms to invest, recalled watching the CNBC Half-Time report during his lunch break.
"Bill Ackmann called into the program with a shaky, almost crying voice and started painting a terrible picture for 28 minutes on what our lives are going to look like during the pandemic," he said. "What we didn't know is Bill Ackmann had a massive bet against (shorting) the stock markets. Less than one week after his call into the CNBC Half-time report he exited his trade. It's being called the best trade of all time. He turned $27 million into $2.6 billion betting against the markets. You now know where some of your money is."
Dahlin encouraged people to weigh the coverage of the Ackmann incident against GameStop, and ask if regulations were put in place then as they are now being suggested. (The answer is no.)
Now that Wall Street is upset, it is calling for more regulations, and some brokerages have halted trading in some stocks where similar instances as with GameStop are occurring, Dahlin explained.
When Dahlin started investing in the stock market online the number of platforms were limited, and the charge was substantially higher.
"That changed recently," he said. "A year or two ago to make a trade cost $70. Now, on some platforms it is almost free."
While he uses Vanguard, he suggested Robin Hood as an alterative platform, but that was a day before the Game Stop story broke. Now a class-action lawsuit has been filed against Robin Hood that claims the stock trading platform rigged the market against its customers.
Guest speaker sparks
interest in market
Dahlin's interest in the stock market started in sixth grade. A teacher brought in a guest speaker who asked the kids to consider the likelihood of who in their Wadena-Deer Creek Elementary School would make it in pro sports.
"He said, maybe one," recalled the 37-year-old. "But, he said, if we got involved in stocks and investing then many of us could become wealthy."
When picking up the paper, instead of going for the sports page, Dahlin took to looking at the stocks. His school assignment was to track the All State Insurance stock, and create a graph showing what his imaginary investment would've made, or lost, with real cash.
From that experience the spark was lit. When Dahlin became an adult and had additional funds to invest, he looked into online platforms, educated himself on the current market and picked a stock based on his interests.
"I'm a tech guy, so I focused on that," he said.
Dahlin invested in ROKU, as he felt the tech platform was on its way to revolutionizing how people consume programs. Instead of cable or satellite, ROKU offered a platform where all shows were available.
"It was an à la carte way to watch TV," he said. "I had $2,500 to invest and purchased about 3,500 worth at about $37 per share."
Dahlin watched the stock rise to the point he doubled his investment. When the stock started declining in 2018, he sold at $46 per share. At first the decision seemed to be wise as the stock dropped to $27 per share. However, the stock rose significantly since then, recently hitting $403 per share.
"Follow me for more investing advice!" Dahlin said in jest.
Recently, he has been posting many of his not-so successful stories online. Dahlin has recalled a few instances where if he hung onto a stock his profit margin would've been extreme.
"My strategy is to hold on to it until I break even, then I pull out what I put in and let the rest ride," he said.
During his stock market adventures he continues to learn the ins and outs of trading. Recently, he learned about reverse splits with his stock in Blue Apron.
"A good example of a stock split is Tesla," he said. "The stock is so high at $800 per share that they split it, so those with one share have two, and then the price of a share is brought down."
A reverse split, like he experienced with Blue Apron, is the opposite. The share price was so low that stocks were combined to increase the stock price. Those without enough stocks to combine were bought out at the trade price that day. 
Since the pandemic, the stock market has been volatile, tanking and rising like waves on the ocean during a storm. As the market fell in the spring, that is when Dahlin started to buy new stocks. He said when the stock prices are low, that is a good time to buy because they tend to increase in time.
"They make buying stocks very easy now," he said. "You don't even need to buy a whole share; some allow partial shares. You can start with $100. Find a company you love and feel might do well and buy stock. To me, following my gut feeling is important."
Dahlin said once the stock is purchased to stick with it for at least a year. He explained if the stock is sold before a year then the tax on short-term capital gains must be paid, and that is higher than a normal rate which is applied after a year.