Frazee defeats Hawley, DGF in HOL Conference action
Sports | Published on February 9, 2021 at 4:34pm EST | Author: Chad Koenen
0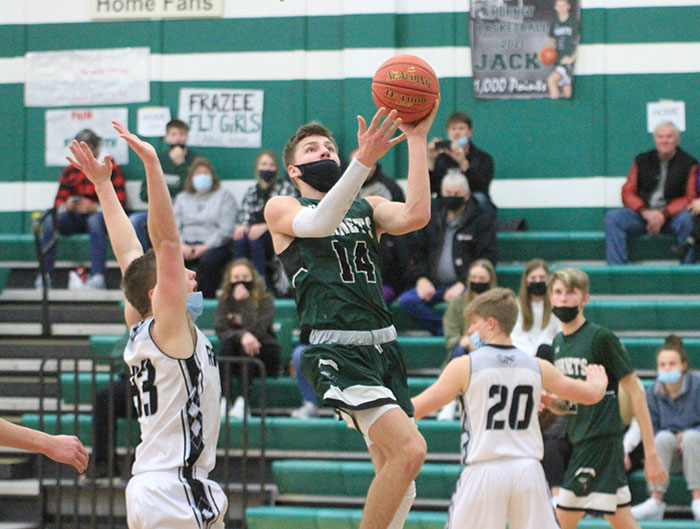 Hornets are 3-4 on season, 2-3 in conference action
By Chad Koenen
Publisher
Frazee improved to 3-4 overall, and 2-3 in the Heart O' Lakes Conference, as the Hornets picked up a pair of thrilling conference wins last week.
On Tuesday the Hornets defeated Hawley by a score of 91-64, before edging Dilworth-Glyndon-Felton by a score of 58-52 on Friday. Frazee has now won for the third time in their last four games as they will look to keep their momentum going against Staples-Motley in non-conference action on Tuesday. They will take on Breckenridge on Thursday in another conference game.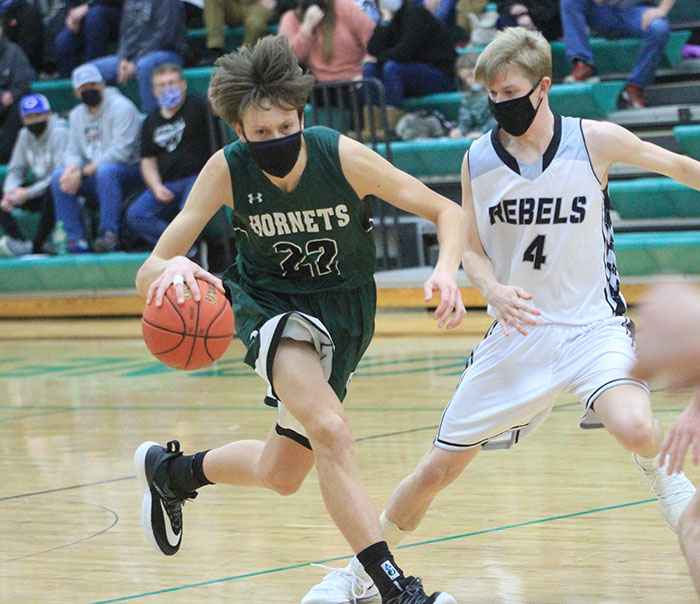 Staples-Motley is currently 1-7 on the season and average 50.3 points per game on offense, while giving up 66 points per game on defense.
Meanwhile, the Cowboys come into the game with a 5-1 record overall, and are 4-0 in the conference. They average 72 points per game offensively and give up 56.8 points per game on defense.
The Hornets are currently averaging 66.1 points per game on offense and give up 67.4 points per game on defense.
Tuesday
The Frazee boys basketball team did their best to test out the sprinkler system at Frazee High School on Tuesday night. The Hornets were on fire from the field as they shot 51.5 percent from the field and hit 12 of their 27 3-point attempts as they defeated the Hawley Nuggets by a 91-64 margin.
The Hornets led 41-28 at halftime and continued to hit shots from across the floor as they finished with their best night offensively all season. While the Hornets had 16 points in transition and 17 points off of turnovers, they were able to dominate down low with 42 points in the paint and a 44-33 advantage in rebounding.
Of the 34 shots made from the floor, 24 came from Frazee assists.
Five Hornets reached double figures with Justin Courneya hitting four 3-pointers to finish with 22 points, while Jack Courneya scored 18 points, George Flynn went 7-12 from the field to finish with 16 points, Broden Fleisher scored 15 and Reid Eckert went just 4-5 from the field to finish with 10 points.
Jonny Parsons scored 5 points and Nathan Johannsen scored 2 points in the win.
Friday
In a game that was as close as the final score showed, Frazee overcame a tough Dilworth-Glyndon-Felton team on Friday night by a score of 58-52. The Hornets led just 26-25 at halftime and were able to overcome a late DGF charge thanks to a couple of timely shots and tough defensive presence in the paint. It was the first loss the Rebels have suffered all season as they came into the game with a perfect 3-0 conference record.
Frazee once again found quite a bit of success from the floor as they shot over 45 percent, even though they made just 4-15 shots from behind the 3-point line. One of the big differences in the game came in transition points as the Hornets held an 18-8 advantage and also held a slight 38-35 advantage in rebounding.
Jack Courneya once again had a big night from the field as he shot 10-20 and hit a pair of 3-pointers to finish with 22 points. Fleisher finished with 16 points and Justin Courneya finished with 9 points to help lead the Hornet charge. Eckert finished with 5 points, while Flynn scored 4 and Johannsen rounded out the scoring with a pair of points.