Hearts for Cassie drive-thru meal set for Feb. 13
News | Published on February 9, 2021 at 4:45pm EST | Author: Chad Koenen
0
Frazee native is battling cancer
By Barbie Porter
Editor
Area residents have the opportunity to enjoy a drive-thru dinner on Saturday, Feb. 13 from 4:30-6:30 p.m. at the Frazee Event Center.
Friends and family of Cassie Chamley, who was recently diagnosed with stage four endometrial cancer, are hosting the Hearts for Cassie fundraiser. Turkey steak will be served with mashed potatoes, veggies, a bun and dessert, all for a freewill offering.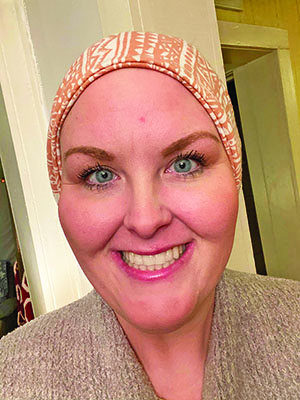 "I'll be there, sitting in the window waving at people driving up," Cassie said.
Money raised will help the Chamley's cover costs associated with traveling for treatment and living expenses, as she is not able to work full-time while undergoing treatment.
Cassie said she is deeply touched by the generosity of those arranging the benefit, including her cousin Jolene Tappe and Jay Estenson.
"We cannot describe how thankful we are," she said.
An account in Chamley's name is also set up for donations at United Community Bank in Frazee and Perham.
The 2002 Frazee High School graduate experienced abdominal discomfort that led to excruciating pain and cramping, comparable to giving birth for six hours at a time. On Thanksgiving night, the New York Mills resident went to the emergency room. A CT Scan revealed swollen lymph nodes. Several tests and appointments followed and the cancer diagnosis was given. The cancer is not curable, but it is manageable and if all goes well she can have a full, long life.
The 37-year-old daughter of Tyanne Jacobson of Vergas and Marty Jacobson of Moorhead, Minn., has begun chemotherapy to shrink the tumors and attack the cancer. Receiving a chemo treatment means being hooked up to an IV and sitting in a chair for about five hours at a time. Luckily, Cassie's husband Chris was allowed to be in the room with her. The two passed the time playing cards, chatting and watching TV.
"The first 25 minutes is receiving pre-medicine, like a saline bag and anti-nausea medicine," she said, adding chemo begins afterward with two different IV bags of the drugs that is as clear as water. After the first round of treatment, Cassie felt "really good" and was riding what doctors call a chemo high.
"Then, day two, three and four I slept," she said, adding her doting husband remained at her side the entire time.
The second treatment left her feeling tired immediately afterward. With many more treatments ahead, Cassie had a port the size of a bottle cap installed in her chest to save her veins, as IV pricks are not needed.
"That surgery took less than 20 minutes," Chris said. "They can inject (chemo and other drugs) with that or draw out of that for lab work, too. Everyone we talked to recommended it and we talked to at least a dozen people."
Cassie's next chemo treatment is scheduled for Feb. 17. After her third round she will receive a CT scan to determine how the treatments are impacting the cancer. Then four more chemo treatments are scheduled before receiving a PET scan, likely in April. Cassie explained a CT scan she lays on a bed and the device scans her organs, whereas a PET scan is a more in-depth and time consuming process that covers everything from head to toes.
As Cassie and Chris adjust to a new normal, the two have returned to work. Both were eager to get back to the jobs they love, to see their co-workers, bosses and accomplish daily tasks presented to them.
Chris, who works at KLN, said his bosses have been extremely accommodating, allowing him to modify his schedule to get his full-time hours while helping his wife with her morning meds.
Cassie, who works for Arvig, was allowed to return to the office after her doctor provided a note saying she was cleared to work as long as she is mindful and doesn't overdue it. Being a social person, Cassie said returning to the office was important for her mental health. Having something on her to-do list allowed her to shift her frame of mind from a depressed cycle into a gear of positivity.
"When the paper work was submitted (to allow her to return to work), I was giddy," she said. "I knew I wouldn't have to sit and dwell on things and look at the same four walls all day."
Even the daily commute has lifted her spirits. Putting rubber to pavement has provided her a sense of freedom. Those moments of unexpected joy are important to embrace, as Cassie recently had to face a fear.
"They said my hair would fall out. They warned me, with both of the chemo drugs I was being given, that was a side effect," she said. "I had really long hair, but had cut it to shoulder length to make it more manageable. I thought it would be easier if I didn't have to see big clumps coming out."
When a few clumps appeared, Cassie called her stylist. Her hair has always been part of her identity, so making the decision to shave her head before the cancer took her hair was a big step.
"It was important that shaving her head be her decision," Chris said. "The cancer was not in charge of that."
Cassie ordered a thin turban to ensure her head would stay warm during the cold winter, and a close friend is also crocheting her a hat as well.
The support from family, friends and strangers has been a difference maker for Cassie. She said the outpouring of love means the world to her.