'I felt like I won the lottery'
News | Published on February 9, 2021 at 4:48pm EST | Author: Chad Koenen
0
Rural Vergas  resident one of the few people to get  COVID-19 vaccine
By Barbie Porter
Editor
"I felt like I won the lottery; I was so excited I almost ran a red light," Delair Kaas said about being chosen to receive the COVID-19 vaccine.
The rural Vergas resident, who formerly owned the Frazee-Vergas Forum with his wife Gale, read awhile back that an opportunity for senior citizens to get the COVID-19 vaccine was coming to Fergus Falls. 
When the sign-up day arrived (Jan. 19), Delair and Gale did all they could to tip the odds in the 66-year-old's favor.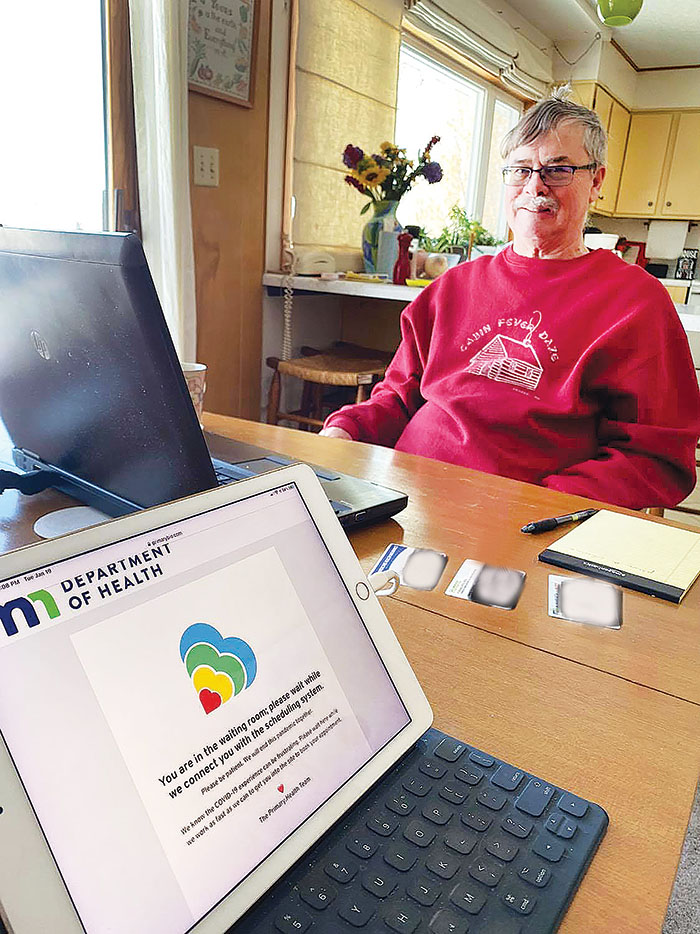 "We had a lap top, two phones and two iPads going," Delair said. "We went through he hoops to sign-up and then boom, the whole system crashed."
More than 200,000 senior citizens had registered throughout the state to get the vaccine. In addition to the Fergus Falls site in the state of Minnesota, there are locations in Thief River Falls, Blaine, Brooklyn Center, Mountain Iron, North Mankato, Rochester and St. Cloud.
Delair eventually found his way into the waiting room. The attempt to be one of the few to get the vaccine began at about noon. Several hours later he was notified he was moved onto a waiting list.
From there, Delair said a few more questions had to be answered, including how long of a notice he would need to get to the vaccination site. The options were up to two hours, up to four hours and so forth.
"I felt like a shorter notice would give me better odds, so I went with 1-to-2 hours," he said.
Then, it was more waiting. Wednesday came and went, as did Thursday. Delair began shifting his hopes to getting a shot in the next round.
"I wasn't sure if I would have to start over and reregister, or if I would stay on the list," he said. "That was disheartening; the thought of having to play that game again."
The Minnesota Department of Health  (MDH) has since reported, those on the waiting list who were not chosen to receive shots, will remain on the registration list. 
"Pre-registration during the last two weeks was supported by an outside vendor, PrimaryBio," the MDH site states. "This week we will be performing another round of random selection from the same pre-registration wait list, but we'll be using a new vendor, Vault Health."
Pre-registrations are not being accepted at this time, and the MDH will notify the public when new opportunities become available. Those eligible for the vaccine are 65 or older, an educator or a child care worker.
But, Delair didn't have to wait until the next drawing. He received an e-mail and a text on Friday (Jan. 22) around 1 p.m telling him he could get the vaccine, and asked him to pick a time they could expect him that day.
"There were a few time slots listed, and I took the first one where I knew I could make it," he said.
Delair collected his ID and the code number he was told to bring with him and hit the road for the 45 minute drive south. He was directed to go to a school, which was closed, and then to get in line, while wearing a mask and maintaining a 6-foot distance from others. After about 15 minutes outside, the line pushed forward and Delair stepped inside where another 10 minutes would pass before he made his way to a table in the gym. At the table, his credentials were checked and he was approved to step toward a vaccination chair.
"They had four stations going," he said, noting he received the shot made by Pfizer. "It was easy. I went up, took my coat off, got shot in the arm and then to the other part of the gym where they had a bunch of chairs. I sat there for 15 minutes to make sure there was no allergic reaction. Everyone was sitting looking at their phones. I didn't see any issues at all."
Shortly after returning to his car for the drive home, Delair got a text telling him the second shot was scheduled to be done in 21 days.
Delair said it was his understanding that after he received the second dose there is a chance he can contract COVID-19, but the likelihood of needing hospital care or the assistance of a ventilator were greatly reduced.
Delair said he did not believe there was any cost associated with getting the vaccine, and encouraged anyone who is billed or called to pay for a shot to look into it further as it may be a scam.
Social butterflies look
forward to normalcy
For two social butterflies, Delair and Gale having to live in isolation has been a big challenge.
Delair recalled the two had just returned stateside from a trip to Honduras when air travel to the South American country was restricted this past spring. The next leg of the vacation was Naples, Fla., where Delair's sister had a beach side condo. The two remained in the condo where food delivery was available until temperatures warmed up north.
The two drove back to Minnesota and have kept a safe 6-foot distance, for the most part, and wore masks as directed. Instead of gathering for dinner parties, enjoying lake parties and spending time with family, the two have kept to themselves and in a bubble of family and close friends. They also found Zoom was helpful with chasing away the blues by talking to family and enjoying game night with friends.
While making do has got the two by, both look forward to returning to a life on the go and filled with fun, friends and family.