Knowledge Bowl team embraces unique season
News | Published on February 9, 2021 at 4:43pm EST | Author: Chad Koenen
0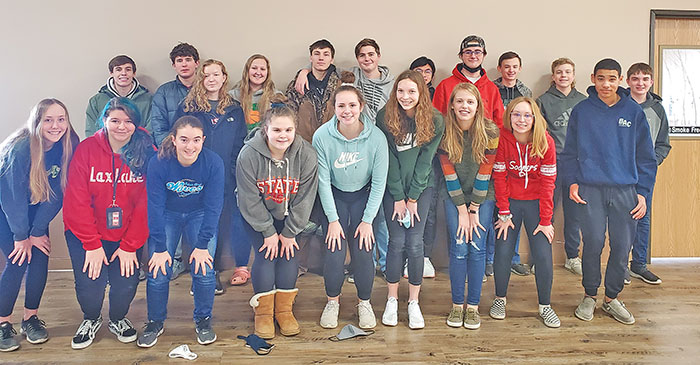 By Barbie Porter
Editor
The Frazee High School's Knowledge Bowl teams are rounding the corner to post-season action.
Advisor Nicole Strand said practice started Jan. 12, and the district had 21 students join with five kids per team allowed. She said the cap is six teams per school, and last year they hit that mark.
Normally, the activity is for freshman through seniors. When two eighth graders expressed interest, the younger students received a warm welcome, as there were spots available.
During the initial meeting, rules were reviewed, equipment tested and teams introduced, and then the competition preparations began.
Instead of traveling to various schools, FHS teams headed to the Frazee Event Center for live, online competitions. Normally, there are five meets per season, but this year there were three. Strand, who is in her third year of coaching Knowledge Bowl, said normally the school is allowed three teams to compete at sub-regions, but this year all five get to attend.
"That will be great experience for the younger participants," she said.
When McKenna O'Brien was a freshman she joined the team because she enjoyed trivia and the advisor asked her to consider the extra-curricular activity.
"Back then, I had heard of it, but I thought it was only for upper classmen," she said. "When I realized it was open to freshman, too, I decided to join."
Four years later, the senior still represents the brainiacs of the Hornet halls. While the group tends to have fun at practices, the competitions are not for the meek. A written test kicks off the competition. The scores on the test determine the team ranking, and ultimately who they will square off against in the first round. While some athletic tournaments pit the high seed against the low seed, Knowledge Bowl pairs teams with the closest scores.
"There are three rounds, with each round having 45 questions," O'Brien said, noting there are typically three teams competing in a room.
The entire competition takes about four hours, with only 10-to-15 minute breaks between rounds. Each team has a buzzer, and any member can buzz in to answer. However, there is one designated person on each team that must answer the question. O'Brien has been that person for her team since she started Knowledge Bowl.
At times, team members may have different recommendations for what answer to give. As she learns which teammate excels at the different subjects, it may make picking an answer easier. The topics covered in Knowledge Bowl include history, English, math, current issues, literature and more.
The advisor ultimately places people on a team. O'Brien is joined by Christen Carlson, Lewis Helmers, Alexis Aho and Broden Fleisher. 
The daughter of Vergas residents Joan Villnow and Steve O'Brien said her specialty is science, especially questions that delve into medical or biology. In addition to being a certified nursing assistant for the past five months, and planning to attend the University of North Dakota to major in nursing in the fall, she is taking college math courses.
Caden Frank is a sophomore and he joined Knowledge Bowl this year. 
"I decided I didn't want to go out for basketball this year, and got a job at the (ski) mountain," he said. "But, I wanted to do something to be involved at school. They sent an e-mail out, asking if I wanted to join, and I thought it sounded good. I love trivia shows."
The 16-year-old son of Mike and Cara Frank has enjoyed the experience so far. He particularly exceeds at the questions having to do with history, as that is a topic that peaked his curiosity long ago.
"I love learning about the presidents, laws, old U.S. history and stuff like that," he said. The competition has also inspired him to expand his knowledge base and dig deeper into science, evolution, discoveries and inventions.
The final competition was slated for Feb. 7, and O'Brien said she couldn't attend as she would be out of town for a family affair. Each team has an alternate, and O'Brien was confident her team would do very well without her.
"Our goal all season was to place in the top five," she said. "The last meet we placed seventh, which is really good as there are 20-plus teams competing."
The sub-regional competitions are slated for Feb. 22.