McFadzens wish sentence for two murders was longer
News | Published on February 9, 2021 at 4:50pm EST | Author: Chad Koenen
0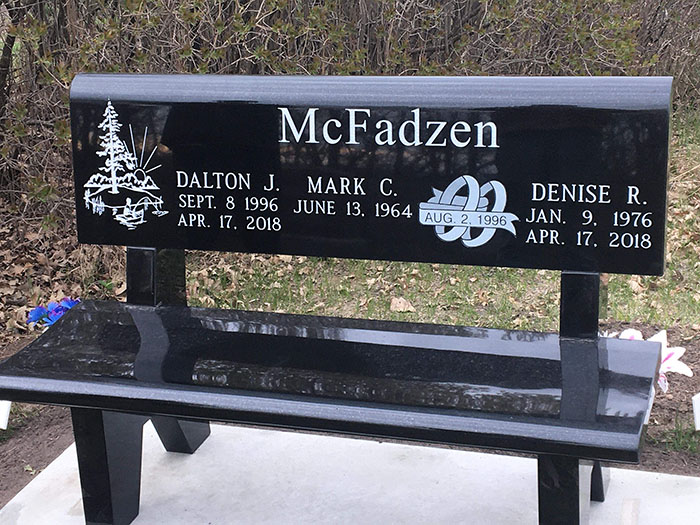 By Barbie Porter
Editor
On April 17, 2018, Mark McFadzen was bringing in the last set of milk after a hard day's work at a rural Frazee dairy farm when a police officer came calling.
"He asked me to step outside; that my boys had something to tell me," he recalled. "I went outside of the milk house and my boys were bawling."
It was there he learned his wife and a son had been murdered by a young man they invited into their home to help get back on his feet.
After nearly three years of going through the court system, on Jan. 26, William Hillman, Pine River, Minn., was convicted on two charges of second degree murder of 42-year-old Denise McFadzen and 21-year-old Dalton McFadzen. Judge Kevin Miller sentenced him to 51-years. Of those, 32 years are to be served in prison and the balance on supervised release. He was also given credit for time served in jail.
Mark's daughter, Nicole McFadzen had a baby in October and was not able to attend the sentencing in person. However, she was on a Zoom call with her father, who attended the sentencing.
"William Hillman did not get long enough," she said. "The justice system is messed up. There should be a death penalty. He took a piece of our heart from us; he took a mother, a brother, a grandma and an uncle  from us all, and yes, we are still hurting deeply."
Nicole struggles with understanding how the 24-year-old could be back on the street, potentially when he is 57-years-old, if he shows good behavior.
"They gave him the max sentence, but it is bull crap," she said. "I've heard people get a life sentence for one murder. He killed two people. He lied, and he might be out in 30 years. How do you think our family is going to feel when a psycho is on the loose who killed my two members of my family? I'm infuriated." 
Her father said he understood the court sentence went by state guidelines.
"If the judge did give him more time, they he'd have grounds to appeal," Mark said. "That is why he got, what he got."
The McFadzen's family lived in Pine River, Minn. years ago. Nicole recalled she was 5 then, and her brother Dalton was about 7 when he met William. The two became fast friends and spent a lot of time playing together.
"They spent four years together," Mark said. "They swam, ran around and had a blast."
But, when the McFadzen's moved a few years later, Dalton lost contact with his childhood friend. As time passed, the children became young adults. Unbeknownst to the McFadzens, William developed schizophrenia. They also did not know he had assaulted his mother and spent time at St. Peter Regional Treatment Center in St. Peter, Minn., where he was prescribed medication, then released in Nov. 2017.
After being released, William made his way to Detroit Lakes and court records state he stopped taking his medication.
Dalton was a kind-hearted, bright light that always wore a smile and had a dream of raising his own family. He showed an aptitude for nurturing at a young age. Nicole recalled growing up in a family of six brothers, Dalton taught her about life, love and self-preservation.
"He taught me how to fight," she recalled, adding her protective brother wanted to make sure she could defend herself if a hairy situation arose. 
Nicole also learned a great deal from her mother. Every time she looks in the mirror she sees her.
"I look a lot like her," Nicole said. "And I enjoy cooking, like she did. She was a great cook. She was a great grandmother. She was the one that would always have my back and believed in team work. I could tell her anything."
When Dalton met up with his childhood friend, the family learned William needed a place to stay. They knew he was estranged from his mother, and his father was in jail.
"He told us his side of the story," Mark said. "I told Denise there are always two sides."
But, the generous souls of his wife and son persisted in allowing William into their home. 
"We welcomed him in, and my dad got him a job working at a turkey farm," Nicole said. "That is the kind of people my parents, my brother and family are. They've taken people in before and helped them get back on their feet."
On four acres in rural Frazee, the McFadzens lived in a mobile home with their sons Dillon and Zachary. Their older sons Andrew and Dalton also lived on the property, one in a recreational vehicle and the other in a mobile home. The McFadzens allowed William to sleep on the living room couch in the main home.
Nicole recalled the guest seemed a little off when she visited. For example, she explained 10 minutes after a conversation had ended he would start talking about that topic. 
Four days before the murders, William moved into an empty RV on the property, Mark recalled. It was then he also notice William standing outside and staring at the ground.
"I thought, a young man with family problems was trying to think them out," he said.
The strangeness increased to the point it was creating concern. Mark said William had said some "weird nonsense" to Denise and Dalton, but no one thought he was a threat. After William went to the RV, Mark said the family discussed finding William another place to live.
"I told them when I got home from work the next day that we'd sit and discuss it," he said. "I believe he was outside listening to us."
Around 8 p.m., the parents of the household went to bed. Shortly after their youngest son, Zach, came into their room and asked for a Bible. William had requested one, court documents state. A Bible was provided and William proceeded to sit at the kitchen table reading it, "at times becoming visibly upset."
Before 11 p.m., Zach went into his bedroom. He invited one of the family dogs in and locked the door by wedging a vehicle alternator into the bottom, court papers state. 
"We welcomed him in, and my dad got him a job working at a turkey farm. That is the kind of people my parents, my brother and family are. They've taken people in before and helped them get back on their feet."

Nicole McFadzen
Around 2:40 a.m. Mark rose and said by 3:30 a.m. he had left for work.
Shortly after 5 a.m., pounding on Zach's door woke him. Nicole said her brother told her it sounded as if William were trying to kick the door in.
"When Zach asked what he wanted the dog started growling," Nicole said. "He (William) told my brother he wanted to hang out. Zach told him to go away because it was 5 a.m."
A crash outside jolted Zach out of bed.
"When he heard a truck hit the ditch, he saw William trying to take off and wondered what the hell was going on," Nicole said. "Then he found everyone."
Court documents state that Zach sought help from his brothers, Dillon and Andrew, who called 9-1-1. The details between when Mark left for work and when Zach awoke can only be pieced together by police reports and court documents.
At 5:17 a.m. on April 17, 2018, the Otter Tail County Sheriff's Office received a call stating two people had been assaulted at a residence on 505th Street in Gorman Township. A short time later another call came in. On the other end of the line was William. He was at a neighbor's house and stated that he done a "bad thing."
Law enforcement arrived at the McFadzen residence and found Denise lying outside the front entrance of the trailer home; Dalton was face down in his bedroom, in a normal sleeping position with blankets piled up around his shoulders. Blood splatters suggested William closed the door before committing the heinous act.
"He brutally murdered my son face down in bed while he was sleeping," Mark said. "I think my wife caught him and was going for help, and he caught and killed her."
Both Denise and Dalton were deceased with signs of repeated blunt force trauma to the head. A 2-foot long pipe wrench leaned against the outside wall near the doorway. It was covered in blood and other matter. Law enforcement apprehended William who confessed.
From the start of interviews with police and psychologists, William pushed for temporary insanity, and for mental illness to be considered by the courts. He had dozens of meeting with psychologists. During initial interviews William stated he blacked out. But, eventually he admitted he had never blacked out, according to court documents.
The court papers state the evidence indicates "some level of planning leading up to the crimes." William had put the more protective family dog in his RV, waited for Mark to go to work and shut the bedroom door while attacking Dalton. Doctors stated that indicated William was "taking steps to avoid being caught or stopped. The natural inference being that Defendant knew what he was doing."
"His attorney asked for 12 months on each murder," Mark said. "He would've walked out right then, but the judge saw through the game he was playing. To me, 306 months on each (murder), ain't long enough; not for the heartache he caused. He should get the death penalty."
Mark said his family is in the process of disassembling the trailer where the murders occurred. He had entered his former home once, after he received clearance from law enforcement.
"Dillon and Zachary warned me it was bad," he said. "I needed Denise's stuff for the funeral, and Dalton's. When I was in Dalton's room I noticed his wallet. I grabbed it. Then I noticed, there was blood all over, everything—wall and ceiling. I couldn't go back in there again. It's been a nightmare ever since. I don't sleep good anymore."