Nagel picks up 50th career win in 53-27 win over OTC
Sports | Published on February 9, 2021 at 4:30pm EST | Author: Chad Koenen
0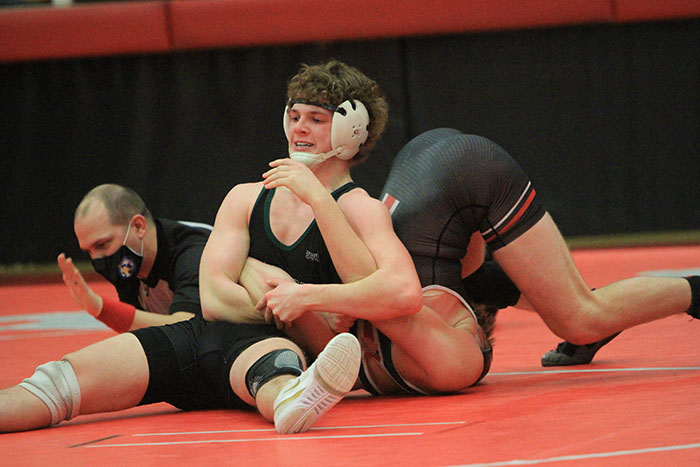 Win over OTC improves the Hornets to 4-3 overall
By Chad Koenen
Publisher
Jake Nagel put an exclamation point on his 50th career win as the sophomore defeated Brien Poser of Otter Tail Central by a tech fall on Thursday night. Nagel won by a 16-0 score and put the Hornets up by a 23-6 team score.
The win helped Frazee earn a split in a three team triangular in Detroit Lakes. The Hornets defeated OTC by a score of 53-27, but fell to Detroit Lakes by a score of 43-18. 
Cade Nagel got the Hornets on the scoreboard right out of the gate against OTC by defeating Elijah Fronning by fall, just 12 seconds into their 106 lbs. match. Bailey Peichel needed just 14 seconds to defeat Ryan Despard of OTC, before Christian Carlson won by forfeit at 126 lbs.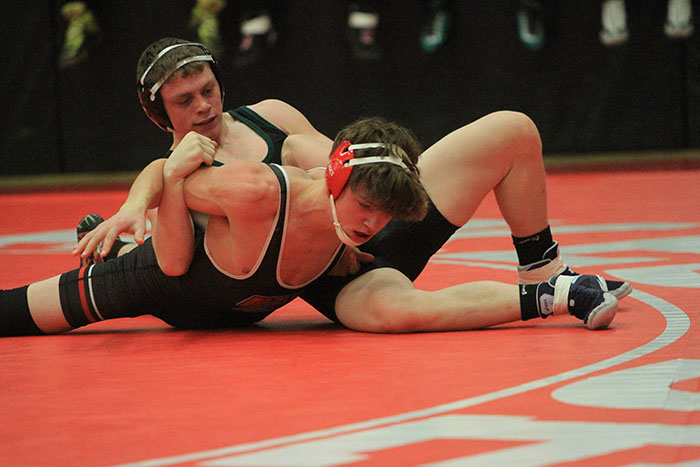 Following Nagel's tech fall, which put Frazee in front by a score of 23-6, Reed Leabo of OTC secured a first period fall at 138 lbs. to make the score 23-12 in favor of the Hornets.
Tyler Moe answered the pin with a fall of his own at the 2:32 mark of his match against Brennen Volkmann of OTC at 145 lbs.
Just 3 seconds into the second period, Brock Barlund secured a pin over Jaxon Rich of OTC at 160 lbs. and Daniel Graham put the Hornets in front 41-24 with a injury win over Will Ehlert at 182 lbs.
Following an OTC decision at 195 lbs., Byron Kropuenske needed just 50 seconds to secure a pin at 220 lbs. and Xander Kohler made quick work over Jonny Fielding of OTC as he secured a pin in just 13 seconds at heavyweight to end the match by a score of 53-27.
In the second match of the night, the Hornets fell to 11th ranked in Class AA Detroit Lakes by a score of 43-18.
Cade Nagel got the Hornets on the scoreboard with an 8-4 decision at 106 lbs. Following an open weight for Frazee at 113 lbs., Peichel secured a fall at the 2:40 mark of his 120 lbs. match. A Tyson Ullyott, of Detroit Lakes, decision at 126 lbs., tied the match up at 9-9, before Jake Nagel secured his second win of the night by a 9-2 decision at 132 lbs.
Unfortunately, Detroit Lakes won seven of the final nine matches to come out on top of Frazee by a score of 43-18.
The lone wins for the Hornets during that stretch came from Preston Mayfield, who won a 4-3 decision at 152 lbs. to tie the match up at 15-15 and a 6-4 decision from Kropuenske at 195 lbs.
In the other match of the night, Detroit Lakes defeated OTC by a score of 58-13.
With the split the Hornets are 4-3 on the season. They will travel to Royalton on Thursday for a triangular against Bertha-Hewitt-Verndale and Royalton.
Frazee 53 Otter Tail Central 27
106 Nagel, Cade (Frazee) defeated Fronning, Elijah (OTC) (Fall 0:12) (Score: 6-0)
113 Tierny, Collin (OTC) defeated Forfeit, (Frazee) (Forfeit) (Score: 6-6)
120 Peichel, Bailey (Frazee) defeated Despard, Ryan (OTC) (Fall 0:14) (Score: 12-6)
126 Carlson, Christian (Frazee) defeated Forfeit (OTC) (Forfeit) (Score: 18-6)
132 Nagel, Jake (Frazee) defeated Poser, Brien (OTC) (Tech Fall 16-0) (Score: 23-6)
138 Leabo, Reed (OTC) defeated Hiemenz, Kaden (Frazee) (Fall 1:36) (Score: 23-12)
145 Moe, Tyler (Frazee) defeated Volkmann, Brennen (OTC) (Fall 2:32) (Score: 29-12)
152 Schleske, Logan (OTC) defeated Mayfield, Preston (Frazee) (Fall 3:24) (Score: 29-18)
160 Barlund, Brock (Frazee) defeated Rich, Jaxon (OTC) (Fall 2:03) (Score: 35-18)
170 Hasling, Brock (OTC) defeated Rue, Max (Frazee) (Fall 3:47) (Score: 35-24)
182 Graham, Daniel (Frazee) defeated Ehlert, Will (OTC) (Default) (Score: 41-24)
195 Evavold, Tristen (OTC) defeated Solem, Howard (Frazee) (Decision 9-2) (Score: 41-27)
220 Kropuenske, Byron (Frazee) defeated Rich, Kale (OTC) (Fall 0:50) (Score: 47-27)
285 Kohler, Xander (Frazee) defeated Fielding, Johnny (OTC) (Fall 0:13) (Score: 53-27)
Detroit Lakes 43 Frazee 18
106 Nagel, Cade (Frazee) defeated Ohm, Jared (DL) (Decision 8-4) (Score: 3-0)
113 Vargas, Izaiah (DL) defeated Forfeit, (Frazee) (Forfeit) (Score: 3-6)
120 Peichel, Bailey (Frazee) defeated Lacrosse, Leroy (DL) (Fall 2:40) (Score: 9-6)
126 Ullyott, Tyson (DL) defeated Carlson, Christian (Frazee) (Decision 7-1) (Score: 9-9)
132 Nagel, Jake (Frazee) defeated Wold, Carsen (DL) (Decision 9-2) (Score: 12-9)
138 Swiers, Bradly (DL) defeated Hiemenz, Kaden (Frazee) (Decision 2-0) (Score: 12-12)
145 Jackson, Cade (DL) defeated Moe, Tyler (Frazee) (Decision 5-2) (Score: 12-15)
152 Mayfield, Preston (Frazee) defeated Andresen, Clint (DL) (Decision 4-3) (Score: 15-15)
160 Ullyott, Brody (DL) defeated Barlund, Brock (Frazee) (Fall 3:00) (Score: 15-21)
170 Nelson, Garett (DL) defeated Rue, Max (Frazee) (Fall 3:06) (Score: 15-27)
182 Henderson, Blaine (DL) defeated Graham, Daniel (Frazee) (Maj Dec 10-2) (Score: 15-31)
195 Kropuenske, Byron (Frazee) defeated Abraham, Cale (DL) (Decision 6-4) (Score: 18-31)
220 Moen, Jeffrey (DL) defeated Solem, Howard (Frazee) (Fall 3:13) (Score: 18-37)
285 Barnett, Andreas (DL) defeated Kohler, Xander (Frazee) (Fall 0:31) (Score: 18-43)