Renney returns to nature for second go at dream job
News | Published on February 9, 2021 at 4:42pm EST | Author: Chad Koenen
0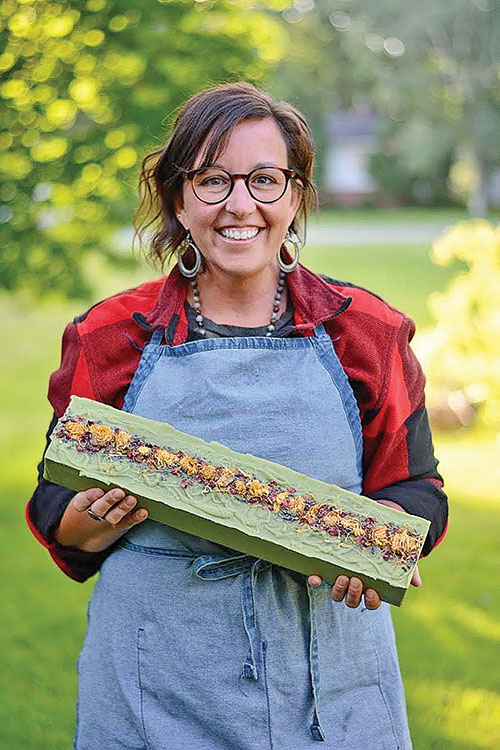 By Barbie Porter
Editor
Heidi (Holland) Renney made a clean break from the doldrums by returning to a dream she left by the wayside years ago.
The 1999 Frazee High School graduate had worked in data entry at a local business for several years. After being part of the workforce that found itself unemployed this past spring due to COVID-19, she sat in her Detroit Lakes home in a state of shock and uncertainty.
"Then, one day, I found myself asking, 'what am I going to do?'" Renney recalled.
In times of trouble, the hobby of soap making always brought her a sense of peace.
Renney had set aside the hobby that turned into a small business when she and her husband Rob started a family several years ago. The bars of soap were sold at craft fairs and flea markets, which meant a lot of weekend work. While her products, Nature's Embrace Soap Company, found good reviews and sales, the time away from family didn't sit well with her. So, she packed up her dream of small business ownership and found a job that offered her more time on the weekends with her young family.
When that job abruptly ended, Renney cleared a spot in the basement and began making soap once again. 
"I realized this is what I was supposed to be doing and I needed a catalyst to get me back to doing it," she said.
Renney kept the same product name, Nature's Embrace Soap Company, as the reputation was already built and it was a good representation of the product.
"Everything used in them is taken from the earth and can be safely put back into the earth," she said.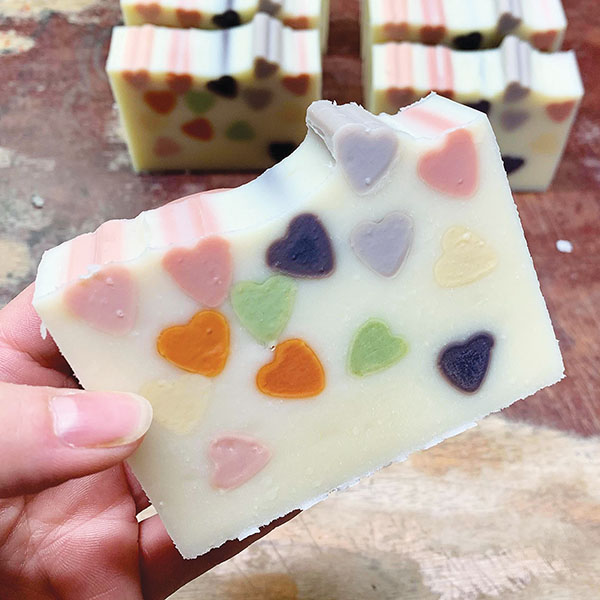 Candles spark the
flame to make soap
Renney's journey into what would become her future career came to be about 13 years ago. A kit to make candles was ordered, and after the project was finished Renney found herself with leftover oils.
"That was during the days before diffusers," she said.
After researching how the oils could be used, she found the cold process of making soap. Beginners luck yielded a few bars, and a new hobby was born. She explained a cold process can be labor intensive, but it is the care and ingredients that go into her product that sets it apart from factory made soaps on many store shelves. 
When the natural ingredients are mixed together a sodium hydroxide solution is added, which starts a chemical process. The ingredients are placed into a mold before being cut, cured and eventually packaged.
Renney said in the early years creating an online store (naturesembracesoapcompany.com) was much more complicated than it was the second go around. In addition to individual purchases, she offers wholesale prices, in case more stores want to sell a locally made product that emphasizes natural ingredients and no filler, sulfates or preservatives.
While shower soap bars tend to have a similar shape, there are more decorative bars for hand washing. Renney said she has experimented with different shape options for her customers and created a ginger bred man inset in the bar for Christmas and little hearts in the bar for Valentine's Day.
"I also launched shave soap bars," Renney said, adding the puck-shaped soap bar uses a special clay to provide a slick shaving surface and oils are added that lift the hair way from the skin and open the pours to provide a comfortable, smooth shave. 
  For more information, Renney can be reached at heidi@naturesembracesoapcompany.com.