FFA has opened doors for Schaefer
News | Published on February 18, 2021 at 6:53am EST | Author: Chad Koenen
0
By Barbie Porter
Editor
Paige Schaefer would not be the same person if it weren't for FFA.
"Of all the activities I'm in, FFA allowed me to grow, and explore who I am as a person the most," she said.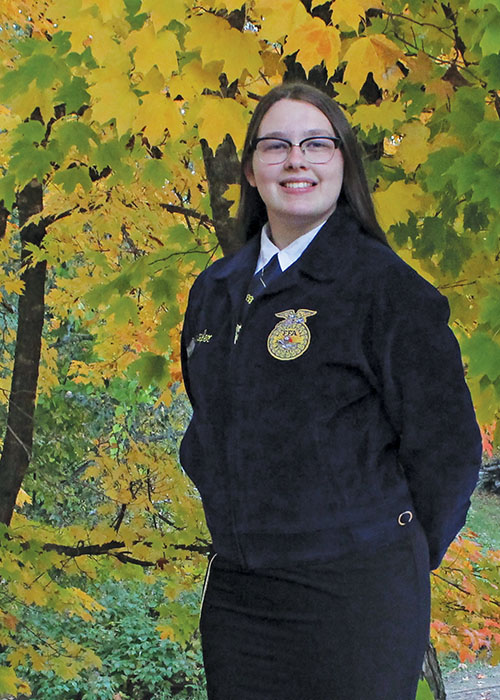 Schaefer explained, as a child and into her early teens she was shy and often felt out of place. The daughter of Eric and Jessica recalled her father and grandfather (Russell Schaefer) were in FFA, as well as other family members. The experiences they shared with her planted the seed in her mind to join.
"It made their school experience better," she said. "So, I wanted to get in on some of the fun."
As a freshman, Schaefer walked into the FFA room and transformed in short order. All of the self-doubt, shyness and feeling of isolation went away.
"I had an overwhelming sense of, this is where I belong," she said. "Talking to friends, they had similar stories."
The Frazee High School senior joined the wildlife competition team and has stuck with it through the years. She added parliamentary procedures last year.
"Our advisor at the time mentioned starting a parliamentary procedures team," she recalled. "We'd never heard of it. A few of us decided to give it a go. We placed really well."
She explained parliamentary procedures is conducting a mock meeting. With that knowledge it is likely any of those students could run for public office and fully understand the steps of making a motion and so forth.
The now vice president of the Frazee FFA chapter said the best placing the wildlife team has is first place in regions. As a team and individually, Schaefer has advanced to state, where the team secured a top three.
"I've went to state three times," she said. "Twice in the cities and once virtually, last year."
Virtual meets have allowed the program to continue having meetings and competitions in the wake of COVID-19 pandemic. Schaefer said the competition still included an individual identification and written question portions before the team activity.
While online is a nice option, as it allowed for the competitions to be held, there is little that can be done to replace the in-person contacts. Schaefer said she met several new friends at conventions, competitions and state.
"Being around a group of people wearing the same blue jacket, having similar experiences, inspires me," she said. "It makes me want to grow as a FFA member."
Growing as an FFA member, to Schaefer, means understanding how to be a strong leader, in her school and community, and then acting on it.
"In school, I talk to younger students and invite them to join FFA," she said, adding when she sees another student find their place, like she did years ago, she feels proud.
Outside of the school, Schaefer said the FFA is a big proponent for community service. One event she looks forward to every year is cleaning a two-mile stretch of ditch along County Highway 29. She said being outside with friends makes the job fun, and seeing the bags of garbage upon completion, shows they made a difference. She also looks forward to creating blankets and care packages for veterans, as well as providing meals for Thanksgiving and Christmas to families in the community that need a blessing.
Schaefer recently found a blessing she never really understood before the pandemic. She explained the FFA officers tend to host a meal after meetings. Normally, she would make an early exit.
"But, I realized that meal is where the officers are able to reflect on meetings and talk to the younger members and encourage them," she said. "I miss that interaction."
The high school has returned to in-person learning, or what would be considered normal, everyday class pre-pandemic. Schaefer is hopeful the remainder of the school year will have consistency, and she and her classmates can continue to see each other, and not on a screen.
After graduating, Schaefer plans to attend the University of North Dakota to earn an under graduate degree in psychology and a minor in criminal justice. Her ultimate goal is to attend a law school and become a lawyer.