Matejka awarded Van Maasdam scholarship
News | Published on February 18, 2021 at 6:44am EST | Author: Chad Koenen
0
By Barbie Porter
Editor
Delaney Matejka was recently named the recipient of a $1,000 music scholarship honoring former choir teacher Crystal Van Maasdam.
Frazee High School Counselor Ta Fett presented the award to Matejka, and recalled the many years she worked alongside her recently departed colleague.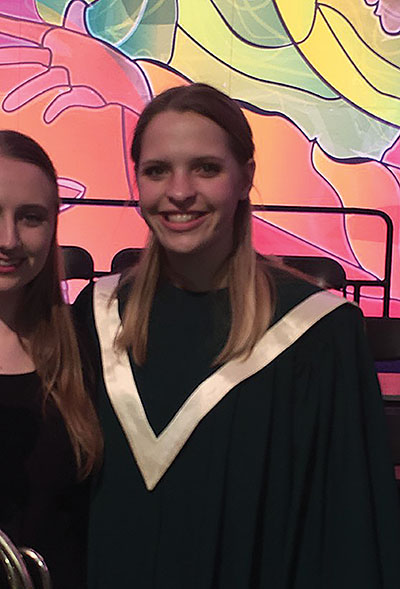 "I was honored to be able to work with Crystal (Van Maasdam) for a number of years at FHS, and know that she would love to see a music student like you receive a scholarship in her name," Fett wrote in a letter to Matejka. "I was excited to share with Crystal's husband, Curtis, how much I admired you for your passions for music, dedication to raising money for the arts, and work ethic. You are a very worthy recipient."
Matejka said she feels "blessed" by the generous scholarship of her parent's former music teacher. The daughter of Nathan and Becky Matejka said there was no formal application, instead she was recommended for the scholarship by Fett.
"I truly feel so lucky to have such a kind and welcoming community that provides tremendous support and opportunities for young adults," Matejka said. "I'm proud to call Frazee home and hopefully will get the opportunity to teach here one day in the near future."
Matejka is a vocal music education major and a theatre arts minor at Concordia College in Moorhead, Minn.
Matejka recalled how out of place she felt after leaving her hometown and heading to the bigger city. She felt the distance between her friends and family, and realized at college she was amongst many "immensely talented" students.
"I've never felt so scared and blessed to be a part of an amazing program," Matejka said. "Even though it was a bit nerve racking and competitive at first, I realized shortly after I was not alone in how I felt. So many others felt the same way and it gave us a really great opportunity to connect and make friends."
She has also felt the challenges that the COVID-19 pandemic has brought to college students, with online learning and missed events. However, Matjeka explained with every challenge comes opportunity. She may have essentially lost a semester of in-person college to online learning, but the musical opportunities and meaningful relationships continue to build.
"I've never been happier in my life since College started," she said.
The 2019 Frazee High School graduate is on track to earn her college degree in the spring of 2023.
"Since I was a little girl, I always knew I wanted to be a teacher," she said. "I admired how they impacted students' lives and dedicated so much of their time to making sure students felt love and succeeded in life. It made me want to do the same thing!"
Family of former
FHS music teacher
gifts scholarship
Van Maasdam graduated from Detroit Lakes High School and then went on to Bemidji College. After earning her degree she taught in a few school districts before making Frazee her longtime home. She was the school's K-12 choir teacher for 26 years, and part-time vocal music in Pelican Rapids Elementary for three years.
"Crystal's love for music and her students knew no bounds; it was her God-given gift, not just her vocation," Fett wrote. "She used this gift well and loved it. We will never know how many students, parents, co-workers, and friends she has impacted in her short life on this earth, but I know it was many."
During her time at Pelican Rapids, she was diagnosed with early-onset dementia.
"This horrible disease stole her beautiful smile, music ability, joyful personality, and finally, her life," Fett wrote, noting she fought for 11 years before passing away in the arms of her husband and at her home on Jan. 1, 2021.
"I know that Crystal would be pleased to help someone else who had that passion for impacting people and their world through music," her husband wrote. "I know that because that is exactly what Crystal did for all those years in education. I want to honor her memory and legacy by doing the same in some small way."