Frazee hosts UCB, BBE in home opener
Sports | Published on February 24, 2021 at 9:49am EST | Author: Chad Koenen
0
By Chad Koenen
Publisher
Frazee hosted second ranked Belgrade-Brooten-Elrosa and United Clay Becker in its first home triangular of the season on Thursday night. 
The Hornets opened the night with a tough 60-3 loss to the second ranked Jaguars. The lone win for the Hornets came at 160 lbs. when Brock Barlund secured a 15-8 decision over Dylan Kampsen.
The Hornets also dropped several close decisions including a 2-1 decision at 132 lbs. when Walker Bents defeated Jake Nagel of Frazee. Tyler Jensen won a 2-0 decision over Kaden Hiemenz in overtime and Wyatt Lewis won a 6-4 decision over Max Rue at 170 lbs.
In another match that went down to the wire, Cooper Wold of BBE defeated Daniel Graham by a 6-5 decision at 182 lbs.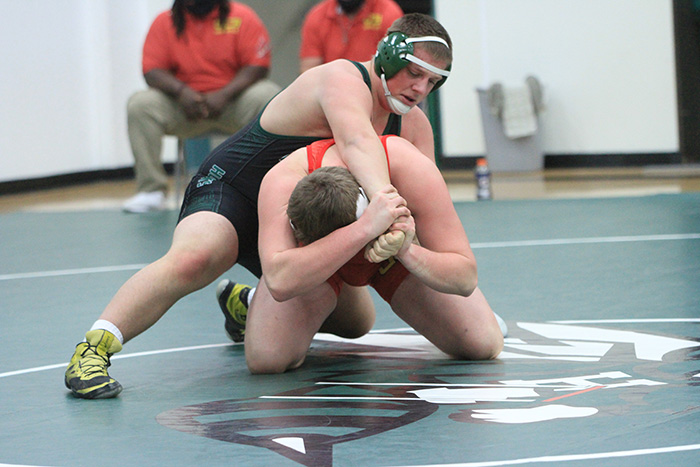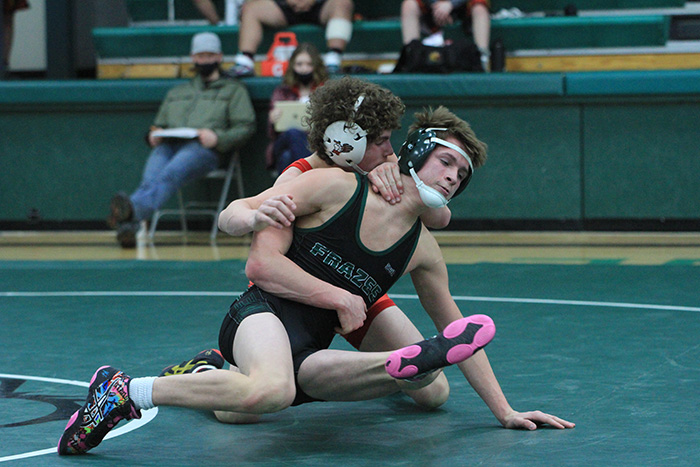 In its second match of the night, the Hornets came away with a 54-21 win over United Clay Becker.
Cade Nagel opened the match with a win by forfeit at 106 lbs., before UCB secured a pin and win by forfeit at 113 and 120 lbs.
Christian Carlson followed with an 8-7 decision at 126 lbs., before Jake Nagel secured a pin in just 21 seconds to put the Hornets in front by a score of 15-12. Hiemenz followed with a first period pin of his own at 138 lbs and Tyler Moe made it three straight Hornet pins when he secured a pin at 145 lbs. in just 1 minute.
Preston Mayfield won Frazee's fifth straight match at 152 lbs., with an 8-6 decision. Barlund secured the Hornets' sixth consecutive win to make the score 36-12 when he picked up a pin at the 1:43 mark of his 160 lbs. match.
Following a 4-2 UCB decision at 170 lbs., Daniel Graham began a three match winning streak when he won by forfeit and Howard Solem needed just 9 seconds to pin Blake Bigger at 195 lbs.
Byron Kropuenske made the score 54-15 when he won by forfeit at 220 lbs.
Wyatt Dubham of UCB ended the match with a pin over Xander Kohler to make the score 54-21 in favor of the Hornets.
The win improves the Hornets to 5-8 on the season as they will host a triangular against Dilworth-Glyndon-Felton and Pelican Rapids on Tuesday and will travel to Wadena-Deer Creek for a triangular against Barnesville and WDC on Thursday.
Belgrade-Brooten-Elrosa 60 Frazee 3
106: Brett DeRoo (BBE) over Cade Nagel (FRAZ) (MD 11-3)
113: Tanner Viessman (BBE) over Sebastian Sonnenberg (FRAZ) (Fall 3:11)
120: Wyatt Engen (BBE) over (FRAZ) (For.)
126: Ryan Jensen (BBE) over Christian Carlson (FRAZ) (Fall 3:17)
132: Walker Bents (BBE) over Jake Nagel (FRAZ) (Dec 2-1)
138: Tyler Jensen (BBE) over Kaden Hiemenz (FRAZ) (SV-1 2-0)
145: Blaine Fischer (BBE) over Tyler Moe (FRAZ) (TF 16-0 4:00)
152: Maximus Hanson (BBE) over Preston Mayfield (FRAZ) (Dec 9-6)
160: Brock Barlund (FRAZ) over Dylan Kampsen (BBE) (Dec 15-8)
170: Wyatt Lewis (BBE) over Max Rue (FRAZ) (Dec 6-4)
182: Cooper Wold (BBE) over Daniel Graham (FRAZ) (Dec 6-5)
195: Carson Gilbert (BBE) over Howard Solem (FRAZ) (Fall 1:04)
220: Mark Jenniges (BBE) over Byron Kropuenske (FRAZ) (Fall 3:54)
285: Ethan Spanier (BBE) over Xander Kohler (FRAZ) (Fall 1:58)
Frazee 54 United Clay Becker Badgers 21
106 Nagel, Cade (Frazee) defeated Forfeit (UCB) (Forfeit) (Score: 6-0)
113 Johnson, Taylor (UCB) defeated Sonnenberg, Sebastian (Frazee) (Fall 0:32) (Score: 6-6)
120 Francis, Ryan (UCB) defeated Forfeit, (Frazee) (Forfeit) (Score: 6-12)
126 Carlson, Christian (Frazee) defeated Mikkelsen, Jackson (UCB) (Decision 8-7) (Score: 9-12)
132 Nagel, Jake (Frazee) defeated Helgeson, Sam (UCB) (Fall 0:21) (Score: 15-12)
138 Hiemenz, Kaden (Frazee) defeated Smith, Kamron (UCB) (Fall 1:06) (Score: 21-12)
145 Moe, Tyler (Frazee) defeated Hines, Grady (UCB) (Fall 1:00) (Score: 27-12)
152 Mayfield, Preston (Frazee) defeated Noel, Zeke (UCB) (Decision 8-6) (Score: 30-12)
160 Barlund, Brock (Frazee) defeated Anderson, Ethan (UCB) (Fall 1:43) (Score: 36-12)
170 Hamre, Carston (UCB) defeated Rue, Max (Frazee) (Decision 4-2) (Score: 36-15)
182 Graham, Daniel (Frazee) defeated Forfeit (UCB) (Forfeit) (Score: 42-15)
195 Solem, Howard (Frazee) defeated Bigger, Blake (UCB) (Fall 0:09) (Score: 48-15)
220 Kropuenske, Byron (Frazee) defeated Forfeit (UCB) (Forfeit) (Score: 54-15)
285 Dunham, Wyatt (UCB) defeated Kohler, Xander (Frazee) (Fall 2:44) (Score: 54-21)