Lakes Country Heating and Air Conditioning opens
News | Published on February 24, 2021 at 10:12am EST | Author: Chad Koenen
0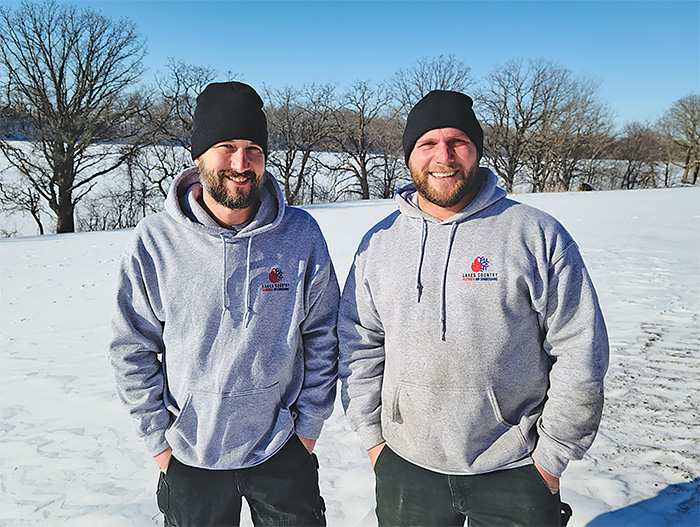 By Barbie Porter
Editor
A new business often offers below competition prices. When the business is operated by the owners, it usually means there is a hunger to have the business name coincide with being reliable and respected. Kyler Wegner and Jamie Rowan are those business owners.
The two men recently opened Lakes Country Heating and Air Conditioning and are already tackling jobs in a 45 minute radius from Frazee.
Wegner and Rowan bring years of experience. After earning their degrees and a number of certificates, the two gained several years of work experience at a well respected business in the area. While on a call together, they noticed there was no heating, ventilation and air conditioning service company in Frazee. That sparked the dream that recently came to life.
"I grew up here," Wegner said. "I built a house in town, and we decided with so many shops in the surrounding cities, it made sense."
If a home or business has a furnace that is not performing as it should, they can fix it. The same can be said with air conditioning and air exchange units, heat pumps, humidifiers, floor heat, air purification systems, boilers and more. They also install every element of HVAC.
"We've been busy and had steady work," Wegner said. "We offer very competitive pricing; lower than most because we are getting our feet under us. We want to make those connections."
The two owners are doing all the work, from the service calls to the installs, bidding and more. Currently, the appointments and paperwork are being done out of Wegner's home. He explained they are set to open the doors of their business on April 1. The business will be located in the Blue Skyline building at the end of West Maple Avenue. 
"But, we are fully functional and operating," Wegner said. "We are just operating out of our home right now."
Being owners has been an easy transition for Wegner and Rowan.
"Now, the schedule doesn't feel like I'm working at all," he said. "I'm out making a living with a buddy now."
While the business is small, Wegner said they are insured and have a bigger policy than most at $2 million.
"We strive for same day service," Wegner said. "We won't put you on a two week waiting list. We will get there that day. It might not be for a few hours, but we will get there. And, we are a 24-hour service."
Lakes Country Heating and Air Conditioning can be reached at (218) 234-2028. Their range of service is from Frazee to Wadena, Fergus Falls to Hawley and Mahnomen.