Hornets fall to Perham, Pelican Rapids in HOL action
Sports | Published on March 3, 2021 at 12:33pm EST | Author: Chad Koenen
0
By Chad Koenen
Publisher
Frazee dropped a pair of Heart O' Lakes Conference games last week to fall to 2-11 overall and 0-10 in the conference.
On Tuesday night the Hornets fell to Perham on the road by a score of 55-22 and on Friday they fell to Hawley by a score of 62-28.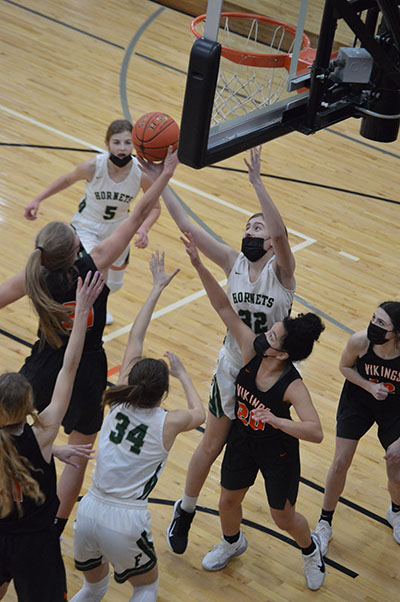 This week the Hornets will return home after an extended road trip that included four straight road games. On Tuesday Frazee will host New York Mills in non-conference action, before hitting the road for another non-conference game against Lake Park-Audubon on Thursday. On Friday the Hornets will return home and host Dilworth-Glyndon-Felton in their final regular season home game of the season.
Just two weeks remain in the regular season before the sub section tournament kicks off the week of March 15.
Currently, the Hornets are in eighth place in the sub section in the QRF standings.
Tuesday
It was just one of those games where the shots didn't want to fall for Frazee on Tuesday night. The Hornets shot just 18.2 percent from the field and actually had a better 3-point shooting percentage than 2-point percentage in a 55-22 loss to Perham.
The Hornets trailed 38-15 at halftime and was outscored just 17-7 in a slower paced second half on Tuesday. Frazee was able to play unselfishly throughout the game as they had 5 assists on their 6 made shots from the field. They also finished with 25 rebounds, 8 of which were on the offensive end of the court.
Annika Reierson finished with 6 points in the loss as she hit a pair of 3-pointers. She also led the team with 6 rebounds and 2 assists. Madison Starry, Madison Olson and Anissa Antonsen all finished with 5 points and Kaidence Mayfield rounded out the scoring with 1 point.
POINTS- Annika Reierson 6, Madison Starry 5, Madison Olson 5, Anissa Antonsen 5, Kaidence Mayfield
REBOUNDS- Maidson Starry 4, Annika Reierson 6, Dani Piche 1, Autumn Hiemenz 1, Anissa Antonsen 2, Kaidence Mayfield 1, Harley Kropuenske 4
ASSISTS- Annika Reierson 2, Olivia Petron 1, Anissa Antonsen 1, Harley Kropuenske 1
STEALS- Annika Reierson 1, Autumn Hiemenz 1, Anissa Antonsen 1, Harley Kropuenske
Friday
Hawley took advantage of some home court bounces off the rim as the Nuggets shot 51 percent from the field on their way to a 62-28 win over Frazee on Friday night. The Hornets, who trailed 35-7 at the halftime break, was able to play right with the Nuggets in the second half as they were outscored by just 27-21 in the final 18 minutes of action.
The Hornets once again shared the ball throughout the night as they had 6 assists on 9 made shots and pulled down 20 rebounds in the win. Unfortunately, 23 turnovers and just a hot night of shooting from Hawley was just too much for Frazee to overcome.
Eight Hornets reached the scoring column with Reierson leading the way with a pair of 3-pointers to finish with 6 points. She also finished with 3 rebounds and a team-high 4 steals. Kate Vigen hit a 3-pointer, as well as a pair of free throws to finish with 5 points and Starry led the team with 6 rebounds to go along with 2 points in the loss.
Also scoring for the Hornets was Kiley Karger, Dani Piche, Riyan Eckert, Mayfield and Harley Kropuenske who all scored 3 points.
POINTS- Kate Vigen 5, Madison Starry 2, Annika Reierson 6, Kiley Karger 3, Dani Piche 3, Riyan Eckert 3, Kaidence Mayfield 3, Harley Kropuenske 3
REBOUNDS- Madison Starry 6, Annika Reierson 3, Dani Piche 1, Olivia Petron 1, Autumn Hiemenz 1, Madison Olson 2, Anissa Antonsen 1, Kaidence Mayfield 2, Harley Kropuenske 1
ASSISTS- Madison Starry 1, Dani Piche 1, Olivia Petron 1, Anissa Antonsen 1, Riyan Eckert 2
STEALS- Kate Vigen 1, Madison Starry 1, Annika Reierson 4, Dani Piche 1, Harley Kropuenske 1