Locally made turtle bags stir up emotions
News | Published on March 3, 2021 at 1:01pm EST | Author: Chad Koenen
0
By Barbie Porter
Editor
A post on an area swap and shop site created quite a stir recently, and even threats.
The post advertised a bag made of turtle shells. The  person who made the original post was Vicky Carrier, the owner of Vicky's Sweet Pickens in Detroit Lakes. While she offers artwork of all kinds in her shop, she also provides booth spaces for vendors to set up their wares. The post she made regarding bags made of turtle shells was for a man who rents a booth.
Carrier said she did not foresee the response she got, nor how many people would be upset about turtle shells being used. Some even suggested the law was being broken.
"I talked to Dan (Neisen), who makes them, and he said take the post down. "I did. Then, a few days later, I tried it again. I was hoping for a better response, but it was the same thing."

Vicky Carrier
Since the post, some commentators took the time to educate themselves about the art and law. In doing so, they learned turtle shells aren't being poached, and the artwork is perfectly legal.
Minnesota Department of Natural Resources Conservation Officer Jake Swedberg confirmed there was no wrongdoing with the artwork that is being sold. 
Swedberg explained Minnesota allows everyone with a proper license to acquire a turtle during the proper season. The non-edible portion of the turtle can be used in products and be sold.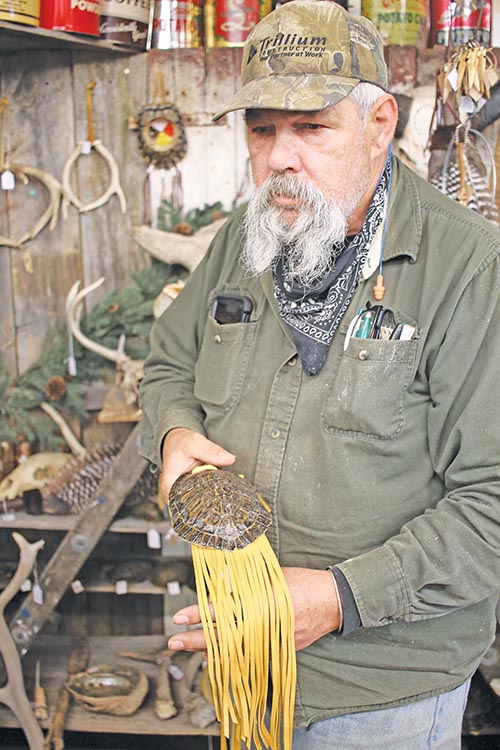 The edible portions, however, cannot be sold. Swedberg explained that is because the safety of the meat cannot be guaranteed with a wild animal. This rule includes all wild game.
"If you see a restaurant selling walleye, it is taken from a fish hatchery and commercially farmed," he said.
For anyone interested in learning more about turtle season and regulations, Swedberg suggested searching on the Minnesota DNR website for "recreational turtle license in Minnesota."
Carrier said, after the post went viral on a regional level, there were some threats and negative comments made, but other commentators stopped in her shop and apologized.
"And, some have come in to buy them as well," she added.
Neisen, who is 64, said the shells he uses aren't even from Minnesota, they are shipped to him from the southern states.
"I've butchered some snappers in my time, but I'm the guy that helps the turtles cross the road," he said.
Neisen explained that down south, there are ponds where shrimp and other fish are raised for market. Turtles get into the ponds. Those turtles are allowed to be netted and harvested. The meat from the reptile is fed back to the fish in the ponds. The shells are sold, legally, to people like Neisen.
"You can get turtle shells, bear skulls, all kinds of things legally," he said. 
The Mahnomen resident has been selling his wares for 40 years. Some of his products are shipped to shops around the country, other items are sold on the Internet or at events.
He decided to give a booth at Vicky's Sweet Pickens a try, as many events were canceled this past year and sales were down. In all the transactions he has made through the years, never has he seen such a negative response to his work. But, that is OK, as it afforded him the opportunity to educate people and to talk about his craft.
The son of Klem and Betty Neisen of Frazee said the native-made items saw a boom in 1990s when the movie Dances with Wolves hit the theaters. The market for bead work and dream catchers was big, and helped many families make a little extra money. However, companies saw opportunity and moved in, squeezing out the homemade items for factory produced ones.
Neisen, a solar farm electrician by trade, said the market for hand-crafted items has waxed and waned since then, but he has always remained consistent with creating and offering his work. The turtle bags are popular, but so are the handcrafted knives, harvested sage and hand drums.
The drums were booming in sales before the pandemic put a hold on powwows. The drum itself offers the same reliable sound as other drums, but the handle on the back set his drum apart from others.
"I would watch the drummers go for 20 or 30 minutes and their hand would be raw," he recalled. "I thought, there should be a handle and I knew how to do macramé, so I made one. Now drummers can hold that until the cows come home."
Neisen, encourages everyone who crosses paths with something (be it art, culture or ideology) they do not understand, to take time to learn about the subject matter before forming an sharing and opinion. And, when it comes to art, if the piece is not eye-catching to one person, he noted there are plenty of other items at Vicky's Sweet Pickens that they might enjoy.