Schmid takes top honor at district art competition
News | Published on March 3, 2021 at 12:58pm EST | Author: Chad Koenen
0
By Barbie Porter
Editor
Lauryn Schmid recently took top honors at a district art competition.
Schmid's journey to the top began with her sixth grade classmates at Frazee Elementary. Students were invited by local Lions Clubs to perpetuate in the annual peace poster contest. They were given a theme, "Peace through Service."
Of 60 entries received, Schmid took top honors for the Frazee Lions Club. Her classmates Reagan Hanson  and Lily Hovland also made it to the district competition.  Reagan represented the Vergas Lions and Hovland, the Wolf Lake Lions Club.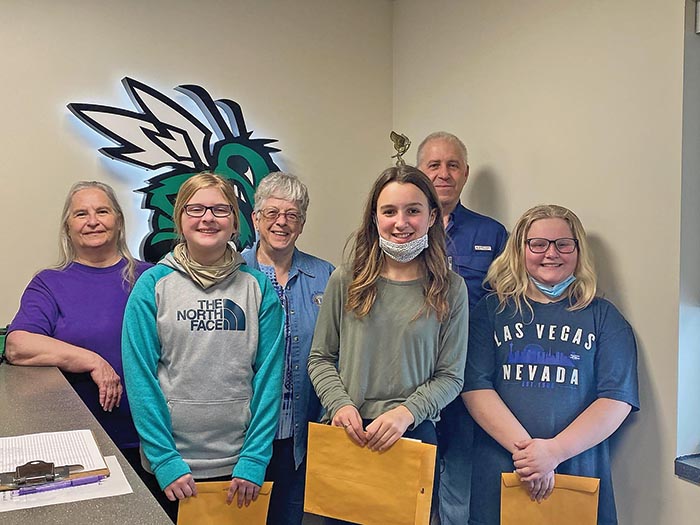 All three artists won $50 for taking top honors at the local competition. They were also afforded the opportunity to compete at the regional District 5M9 competition.
Elementary Art Teacher Linda Beilke said the contest rules and guidelines are broad enough to offer student choice for the artist to pick their medium, subject matter and composition.
"We are also able to fit this into their state art standards to maximize their time and efforts," Beikle said.
The winners of each local competition left their art teacher impressed. She noted the winning posters all showed a "great use of space" and "followed the principals of art they have been learning throughout their school years."
Some of those art principals included balance, movement, contrast and an emphasis on unity.
"The winning projects also demonstrated a clarity of images that showed universal images of peace and service along with a personal point of view," Beikle continued. "Lastly the quality of the work was neat, showed good craftsmanship within the various art media and showed their message through images only, no words (a contest requirement). As this is an international art contest, the images should speak to all, not just those who speak the same language."
Schmid's piece earned a top placement and $150 cash. Hanson and Hovland both received participation awards of a gift card from Amazon for $25.
The first place poster was sent on to compete at the multiple district level, but did not advance. The three posters will be on display at the Lions 5M9 MidWinter Convention at Cragun's Resort on March 13.