Students create dance routines
News | Published on March 3, 2021 at 12:57pm EST | Author: Chad Koenen
0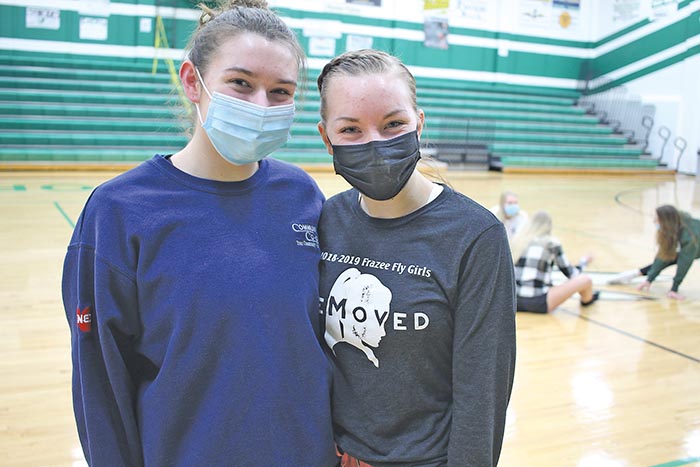 By Barbie Porter
Editor
The Frazee High School dance teams have become known state wide for producing captivating dances in both high kick and jazz. What many may not know is the dancers often help choreograph the performance.
Braylee Riewer and McKenzie Wake said this year the chorography has been more of the responsibility of the dancers, than ever before. Riewer said when the former head coach, Ta Fett, who created the dance team retired last year, a new staff took the lead of the program. 
Head coach Katrina Courneya had experience with cheer, but not dance. Instead of trying to become an expert, she decided to rely on those that have been dancing for years­­—some since they were toddlers. Riewer and Wake are two dancers with that amount of experience.
"I started dancing when I was 3," Riewer said. "And I started with the Fly Girls in ninth grade. When the coaches asked for help with chorography, I was ready."
Wake has been dancing 14 years. Much like Riewer, she also has a few years of experience helping choreograph dances for the team.
To create the moves, Riewer and her fellow junior, Wake, have the same method. First, they listen to the story the song conveys. Then, they allow the music to create spontaneous movements. From there it is a progression to tie the moves together, and to add in high level performance techniques that will impress judges.
Both ladies prefer creating dances for jazz, as they see that as more studio-like. This year's performance is set to the song "Rescue" by Lauren Daigle.
The high kick routine utilizes a mash up of several popular songs. 
"High kick is harder for me," Wake said, noting the dance is often more strenuous and has key elements that need to be in a performance.
The dance teams are gearing up for the season finale, and are hoping to get an invite to state competitions. Riewer said they perform in Edina, but this year is different as the preliminaries and section finals are combined.
"We get one dance and the judges score off that," she said. "It is more pressure."
The teams are fine-tuning aspects of the dance, and have been seeing continual improvement as the season has progressed.
There will be 12 teams competing at sections for the top three spots, as those teams are the ones moving onto state. The ladies are happy they will have the opportunity to compete on a larger scale, despite the ongoing COVID-19 pandemic.
Riewer said the requirement to use a mask has not hindered their performance. In fact, the most challenging aspect of having to wear a mask was finding one that fit the costumes being used in jazz and high kick.
"We always start the season with low stamina," Riewer said. "I think the mask has helped us build stamina."
Wake added when the mask mandate is lifted the rigorous workouts might seem a bit easier.