Hornets fall to DGF in HOL action
Sports | Published on March 10, 2021 at 8:23am EST | Author: Chad Koenen
0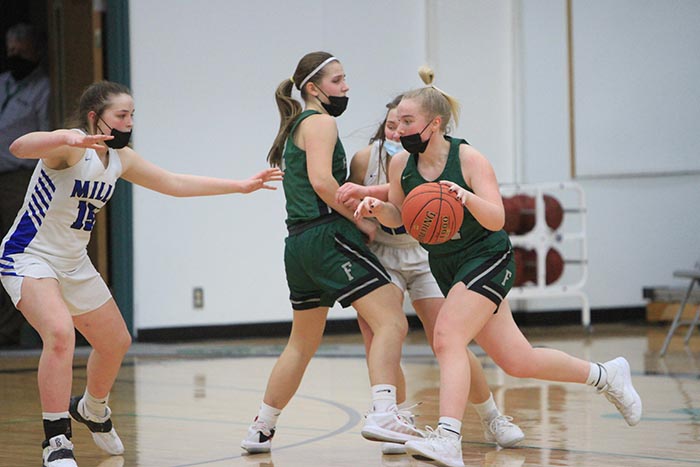 By Chad Koenen
Publisher
Frazee didn't shy away from two of the top teams in Class A in the area, as well as a tough Heart O' Lakes Conference game against Dilworth-Glyndon-Felton on Friday night.
The HOL game came after the Hornets fell to New York Mills and Lake Park-Audubon, two of the top teams in Section 6A, in non-conference action.
This week the Hornets will have just one game on their schedule, their final HOL game of the season on Friday night in Barnesville. The Section 8AA tournament will kick off next week. Currently, the Hornets (QRF if 101), Staples-Motley (QRF of 96) and Wadena-Deer Creek (QRF of 97) are all neck and neck for the seventh through ninth seeds according to the QRF, with the Hornets already defeating WDC earlier this season.
Tuesday
New York Mills held Frazee to just 28.6 percent from the field and forced 29 turnovers as the Hornets fell to the Eagles by a score of 56-27 on Tuesday night.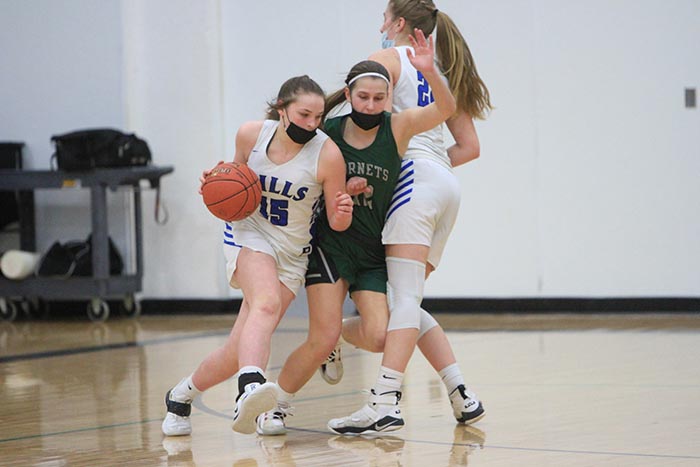 As a team the Hornets were able to force 15 Eagle turnovers, but NY Mills was able to make the most of Frazee's turnovers by holding a 35-11 advantage in points off of turnovers and a 15-2 advantage in second chance points. NY Mills led by a score of 32-12 at halftime.
Annika Reierson hit a pair of 3-pointers to lead the charge for Frazee with 8 points. She also pulled down 4 rebounds and had a pair of assists. Dani Piche scored 5 points, while Jayden Sonnenberg hit a pair of field goals to finish with 4 points.
Madison Starry hit a 3-pointer to finish with 3 points to go along with 6 rebounds and 3 assists. Madison Olson scored 3 points, while Kate Vigen and Kiley Karger rounded out the scoring with 2 points apiece.
Thursday
Frazee played point-for-point with Lake Park-Audubon in the second half and nearly outshot the Raiders on their home court in non-conference action on Thursday. Unfortunately, 37 Hornet turnovers proved to be too much to overcome, as the Raiders defeated Frazee by a score of 59-39.
The Hornets shot 35.6 percent from the field, while LP-A shot 35.8 percent. The difference came on turnovers where LP-A had just 13 to Frazee' 37.
The Hornets held a big advantage in rebounding by a 39-31 margin and had assists on 10 of their 16 made shots from the field. Frazee trailed 34-18 at halftime, but played right with the Raiders in the second half as they were outscored by just 25-21.
Reierson had a big night from the field as she was just 1 rebound short of recording a double-double. She finished with 14 points off of just 6-10 shooting from the field, to go along with 9 rebounds, 4 assists and 4 steals.
Riyan Eckert finished a perfect 4-4 from the field for 9 points and 5 rebounds, while Sonnenberg scored 4 points, Piche scored 4, Vigen scored 3, Olson scored 2 and Starry rounded out the scoring with 2 points and 4 rebounds.
Friday
Frazee and DGF were tied for much of the first half, but a late Rebel run near the end of the first half pushed the score to a 34-22 halftime deficit for the Hornets. The second half featured much more back-and-forth action as the Hornets once again played right with the Rebels until late in the game as DGF hit a couple of late shots to keep the Hornets at bay by a score of 62-45.
While Frazee shot just 25 percent from the field, they were able to hang onto the ball throughout the night as they turned the ball over just 18 times. The Hornets stayed in the game thanks to their performance at the free throw line as they went 16-23 and outrebounded the Rebels by a 39-38 margin.
Starry led the charge offensively as the senior scored 14 points, to go along with 4 rebounds. Reierson finished with 9 points, as well as 9 rebounds, while Anissa Antonsen scored 9 points. Piche chipped in with 4 points and 4 rebounds, while Eckert scored 4 points and came down with 6 rebounds. Olson scored 2 points, Sonnenberg scored 2 points and Kaidence Mayfield finished with 1 point and 3 rebounds.