The beat goes on
News | Published on March 17, 2021 at 12:05am EDT | Author: Chad Koenen
0
Senior drummers share how they became part of the band's backbone 
By Barbie Porter
Editor
For the drummers in the Frazee High School band, it's all about timing.
The senior percussionists Alex Beck, Dylan Pribbenow and Gunnar Erickson may have missed out on their opportunity to march in the Magic Kingdom parade due to COVID-19, but being a member of the band has afforded them many good memories all-the-same.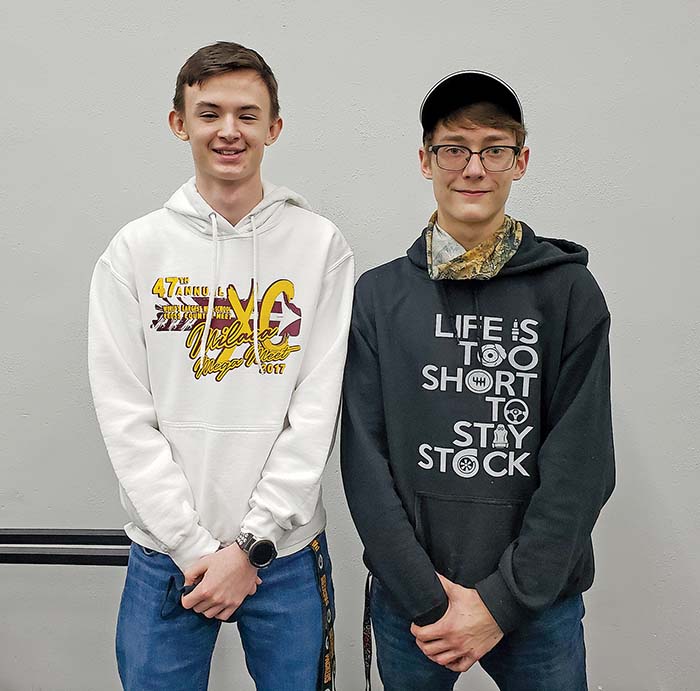 Pribbenow knew from early on that drums would be his go to instrument of choice. The drum set called to him, and he liked the idea of being the backbone of the band.
Beck began his journey to keeping the beat after hearing about two of his uncles escapades in the high school band as drummers.
"My grandpa also had a snare at his place and I would toy around with it," he recalled.
When Pribbenow and Beck entered the fifth grade they decided it was time to become an official drummer. However, the ultimate decision wasn't exactly up to them. Frazee-Vergas School District Band Director Brian Selander explained at the end of fourth grade students sign-up for band and try out for which instrument they will play at the next level. Those interested in percussion take a test, and the top five are the chosen ones.
"Sometimes it takes a while before things start to click during beginning band," recalled Selander. "But, I remember with Alex (Beck), he seemed to pick up on things very quickly. Things seemed to come pretty naturally for him."
While some may envision sitting behind a drum set for rock star solos, Beck said being in percussion opened an array of instruments, aside from the traditional drum set.
"There is snare, base, timpani, the triangle," he said. "I knew most of them when I started, but then I learned about some odd balls like the rain stick."
He explained the rain stick is just as it sounds. The hollow stick is filled with beads. When the stick is tipped the sound of the beads moving down the stick creates the sound that rain makes when it falls.
Beck and Pribbenow learned just about all faucets of percussion. Pribbenow noted he never did learn how to play the bells though.
The base and snare are popular choices for drummers. Instead, Beck decided to focus on timpani. He explained the other drummers weren't interested in the big kettledrums. The more Beck learned about the instrument the more he grew to enjoy playing it.
"Timpani has four separate drums that increase in size," he said. "They are all tuned differently."
Selander acknowledged Beck's talent with timpani, but added his student also has a "knack for reading rhythms for snare drum, both for concert band and marching band."
"I think Alex's most notable asset is his drive to want to do things correctly," he said. "He always makes sure he is playing his part correctly and is willing to practice it until he gets it right."
Pribbenow said regardless of which percussion instrument one plays it is all about keeping a good rhythm, pleasing volume and being consistent.
Selander said Pribbenow's attention to detail is to be commended as the result is a solid understanding of the music, from dynamics to accents and making sure it is played as intended.
"He always wants to be getting everything correct when playing his instrument," Selander said.
Pribbnow's abilities have increased exponentially. His teacher noticed his aptitude in junior high. Selander recalled watching his student play every day, it became evident that his skills and ability would quickly increase, along with his confidence as a musician. That doesn't mean there haven't been road blocks.
Selander explained challenge is part of the fun when it comes to learning an instrument. Pribbnow was faced with such a moment while playing temple blocks for a song called "Reindeer Galop." 
"The part was pretty constant throughout the song, and he hadn't played the temple blocks, either ever before or at least in a long time," Selander recalled. "He spent a lot of time focusing on his part to make sure he had it right. He would come in early or stay a little bit after class to make sure he was doing it correctly. He would always take advice during class to make his part correct."
That drive to face challenges head on and dedicate time and effort to persevere have made him shine while playing snare drum as well, Selander said.
As the young men increase their skill level with percussion's many instruments, they have also become strong mentors for the underclassmen. Selander noticed when underclassmen approach the seniors with questions, answers are given with patience and assistance. The two are also often leading by example by attending marching band and pep band practices and events.
Beck explained the marching band is required for any FHS musician hoping to take an adventure to Disney World and play in a parade there. Marching with a drum takes immense concentration in less than ideal conditions. While keeping the beat, there is footwork to be done, all while carrying a large piece of musical equipment. Beck said the snare drums aren't that bad when it comes to weight, but the base and quad drums are a different story.
"I wish there was a weight on the back to counter it," he said.
The pep band, which performs before or during sporting events, is voluntary.
"The pep band is fun," he said. "I enjoy the music we learn a lot; it is mostly 80-90s rock."
It was for pep band that Beck learned his favorite song to date—"The Eye of the Tiger." At first, the piece was challenging, which he enjoyed. And like most challenges, victory follows after effort, determination and practice. Now, when Beck plays the well-known "Rocky" theme song it seems effortless, but still very enjoyable.
When the son of Jennifer and Tony Beck of rural Frazee graduates, he is heading to the Army, but he hopes to continue beating the drums for fun on downtime.
Pribbenow is heading to tech school after graduation. The son of Dustin Pribbenow and Heidi Wagenman, Wolf Lake, encouraged any up and coming Hornets thinking about band to give drums a try.
"It makes you a band geek, but hey, you get out of classes earlier sometimes," he said.
Preparing for a concert has been ongoing for the entire band since September, despite being required to utilize distance learning methods at times. Selander said during those distance learning segments the students completed a variety of work, from music history to music theory and even planning a concert. Playing their instrument was always on the to-do list as well. Each student had to record themselves playing their assignments for the teacher to critique. Selander said he is hoping the students have the option of showcasing their hard work with a concert before the school year ends. He noted options are being reviewed and consideration given to limited spectators, much like is allowed at athletic events.