Integrity, honesty makes Stelzer a go-to insurance agent in lakes country
News | Published on March 24, 2021 at 11:24pm EDT | Author: Chad Koenen
0
By Barbie Porter
Editor
Rita Stelzer loves her job because she gets to protect people and their valuables through insurance. 
She encouraged anyone looking to compare prices or insure an automobile, home, seasonal cabin, personal contractors, belongings, life insurance and so forth to call her at (218) 334-6551 Monday through Friday from 9 a.m. to 4:30 p.m., or email her anytime at ritas@unitedcommunityinsurance.com.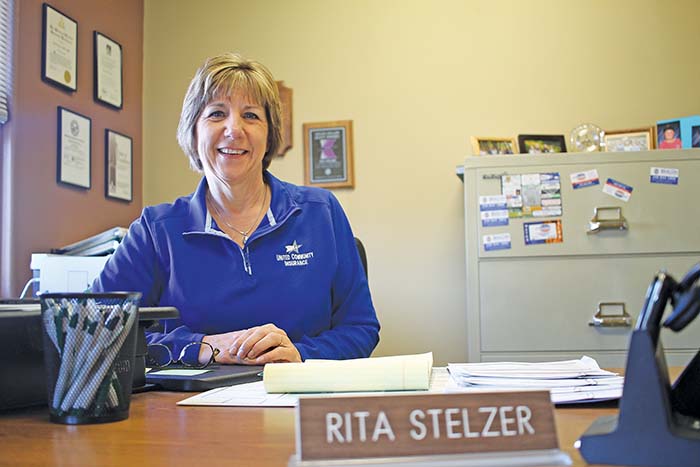 Having insurance can mean the difference between complete loss or replacement of a valuable item. Things are important, and having a reputable insurance company to rely on can be life-altering. For example, a fire or accident could leave one in financial ruin. But, having proper insurance can take that dark day and make the next one OK.
While all insurance companies claim to stand behind their clients, Stelzer has proven to have a reputation for being honest, fair and fast-acting when called upon during her 26 years with United Community Insurance.
Stelzer represents people all across the great state of Minnesota with the same integrity and hard work ethic.
"I really enjoy representing those in the local area," she divulged, noting it is nice to see a customer and inquire how they are, learn about upcoming vacations, new additions to the family, visiting grandchildren and all those moments that bring meaning to life.
"To me, building those relationships are very important," she said, noting the other aspects of the job she loves is the variety.
One day she may be helping a homeowner recoup losses after a storm, the next day she may be helping a driver replace a windshield and the next letting a grieving family know that a life insurance policy will be in their account shortly to remove concerns they may have about funeral costs and living expenses.
"We've been working with a life insurance carrier since 1976," she said. "We are selective because we want to make sure those that get life insurance from us get quick responses when they need it."
That deep commitment she provides her clients can also be seen in the prices of insurance plans. Stelzer said United Community Insurance works hard to provide the best value for the dollar.
"We want to make sure you have the protection you need, not just the lowest price," she said. "Our goal is to be fair, while providing proper coverage."
She noted some who go with the lowest price may find themselves in a bind, as the deductible is too high to make use of the insurance or the 800-representative is non-responsive.
"I don't ever want my clients to think they don't have someone on their side backing them," she said.
Figuring out which policy best suits ones needs can be confusing and Stelzer is happy to sit down and explain the different options, as well as recommend one. She is also happy to go over policies that may seem out of the ordinary, such as whole life insurance.
"It is purchased for kids and lasts a lifetime," she said. "It is a very inexpensive plan and has a cash value that increases as a child gets older. I see a lot of grandparents get that for their grandkids instead of gifts."
It was sink or
swim for Stelzer
Stelzer applied to be a customer service representative for United Community Insurance many years ago. She was hired and her upbeat personality and ability to communicate clearly made her an quick asset to the company.
"I went on vacation and the agent I worked with had moved on, so when I came back from vacation it was me," she recalled. "It was a sink or swim situation, but I learned so much, and still do 26 years later."
While the service remains the same, the industry has seen some changes through the years. Technology in particular has made the job much more efficient. Stelzer explained before the internet, processing a claim could take weeks and included faxes, Poloroids and snail mail. Now, high resolution pictures can be captured and sent with a phone shortly after an incident.
With most things in life, change is a constant. Stelzer said the most apparent change in coverage since the COVID-19 pandemic has been an increase in recreational vehicle purchases. Many more boats, campers and four-wheelers have been purchased as more are spending time at home or with family.
"I think some used vacation money on other stuff," she said, noting she offers policies to cover those expensive toys.
The Frazee Lions Club member of more than 10 years has earned recognition for her contributions in the club, including the Melvin Jones and Helen Keller award. Being an active member of the community has always been important to Stelzer. She noted that is one of the many community-minded ideals she shares with the United Community Insurance and the United Community Bank, where her office is located in Frazee.
"We also have an office in Perham," she said. "We have three licensed agents in Perham, and then I am here in Frazee."
Stelzer and her husband of 38 years, Bob, are residents of Detroit Lakes. They have two adult children and four grandchildren, all boys.