Vergas Bank robbery relived 40 years later
News | Published on March 24, 2021 at 11:42pm EDT | Author: Chad Koenen
0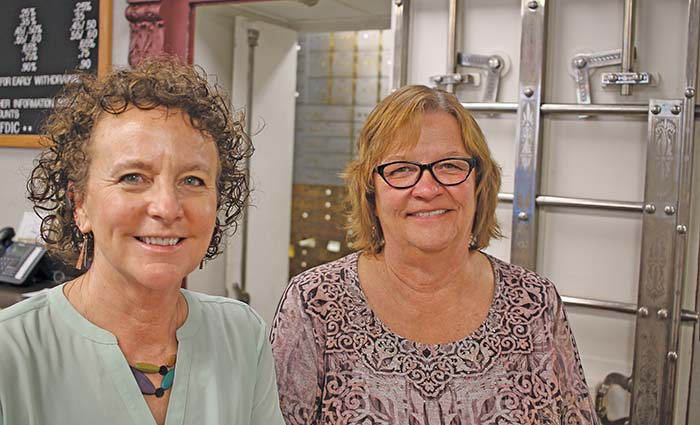 By Barbie Porter
Editor
On Feb. 4, 1981 Sherri Hanson returned from the post office after retrieving the mail for the Vergas State Bank. She opened the door for two men, at least she thought they were men. It was hard to tell, as they were wearing ski masks and gear fit for snowmobilers.They also had a shot gun and a rifle.
Hanson, who was 21 at the time, had been working at the bank for about a year. It was not uncommon for people to bring guns into the bank, as many used firearms as collateral. And because it was February, ski masks were not out of place.
Once inside the bank, the intent of the men became apparent. A shotgun was pointed at Hanson's stomach. Before her brain registered what was happening, she recalled moments in time captured like frames on celluloid film in her mind­—the robber's wild eyes, the tellers were absent from their posts, the fast acting patrons making a quick exit, the gun at her stomach.
Kathy Glawe, who was 25 at the time and had about six months of experience at the bank, was the only teller near her post. The others saw the robbers enter and hid in a corner, but Glawe was working with her back to the door.
"It sounded like elephants had come in," Glawe recalled. "I turned around and Sherri (Hanson) had a gun pointed at her tummy."
Hanson began asking questions. She wanted to know where the other tellers were, if the robbers had done something to them.
"One of the men said, "If you don't shut up I will blow you up," Hanson recalled.
While one robber kept lookout, and his gun pointed at the people, the other tore around the corner and went directly to the cash drawer.
"It was like they knew where to go," Glawe said. "We only had one cash drawer and he went right to it. It only took about three minutes."
The robbers left with about $2,000 in cash. An inflation calculator states that amount of money would be similar to about $6,000 in 2021.
The men bolted out of the bank, and a cashier locked the door behind them. Hanson noted that quick decision likely prevented a hostage situation because the robbers quickly realized their stolen getaway vehicle was gone.
The two 19-year-old robbers, James Nester and Allen Kvistero, had stolen a pickup earlier that morning that belonged to Robert Schmid. His wife Claudia recalled they woke up that morning and she noticed the truck was gone.
"We lived right across from Franklin Fence and up from the Vergas Oil, which we both owned at the time," she said. "Robbie thought maybe someone borrowed it, or his dad needed it."
While at work Schmid looked out the window and saw his truck running in front of the bank. He also saw two people walking into the bank with black stocking caps pulled over their faces.
"Robbie went down there and got in and drove his truck to Franklin Fence," his wife recalled.
Hanson said when the robbers exited and realized their stolen vehicle was gone, they tried to get back into the bank. When the idea of taking refuge in the bank they just robbed failed, the men ran north on County Highway 17 out of town, shedding their attire like a trail for police to follow as they went.
"The ironic thing is all they had to do was walk around the back parking lot," Glawe said. "Back then we all had vehicles with keys in them."
Hanson recalled the event left the employees in tears and distraught. When the bank president Gordon Dahlgren was called, as he was home sick that day, he thought his employees were playing a joke on him to brighten his day. When he realized it was no laughing matter, Dahlgren immediately made his way to the bank, Hanson said.
"He brought a calming presence," she noted, adding that was needed as the rest of the day was filled with visits and calls by local and national media, as well as the FBI.
By 11 a.m. the robbers were apprehended. One was hiding near a building at the John Bruhn residence and the other was tracked by a dog and found in brush about a block away, stated an article printed in the Frazee Forum on Thursday, Feb. 12, 1981.
In the end, the money was recovered and Nester was charged with aggravated robbery and sentenced on April 21, 1981 to 24 months. He served his time at Minnesota Department of Corrections in St. Cloud, Minn. He left MCF-St. Cloud on supervised release on June 5, 1982. He was on supervised release until his sentence terminated on Feb. 1, 1983.
Allen Kvistero was sentenced for the same crime to 24 months and also served his time at MCF-St. Cloud. He left on supervised release on June 4, 1982. He was on supervised release until his sentence terminated on Feb. 2, 1983.
The Department of Corrections records state the reason the release and sentence termination dates are different is that they had different amounts of pre-trial custody credit. Nester had 79 days and Kvistero 78. And, Nester had two days of extended incarceration penalties for a discipline rules violation, while Kvistero did not receive any extended incarceration penalties.
Five years later, Hanson was helping at an auction sale. A patron handed her his license for a sale, and the name brought a flood of emotion back to her. She stiffened as her eyes rose to meet the face of one of the robbers. 
"I recognized the name," she said. "I think he recognized me. He didn't say anything. I didn't say anything. He took his license and left."
She noted while the end of the story was comical, the robbery and threat were very real. Glawe agreed, adding if another event like that were to ever happen at the bank she would immediately tender her resignation.
The robbery is a unique part of Vergas' history and the community club is planning a re-enactment of the event. Hanson, who is a member of the community club, said the date has not been picked and the details are still being worked out, but those interested should stay-tuned.