FHS enjoys some Spring Fling fun
News | Published on March 31, 2021 at 3:55pm EDT | Author: Chad Koenen
0
By Barbie Porter
Editor
The students at Frazee High School enjoyed a week of fun activities to celebrate Spring Fling. 
In addition to dress up days for each day of the week, the senior class crowned Brandon Nguyen as the king of Spring Fling and Madi Starry as queen. Nguyen, who is the son of Cindy and Long Nguyen, was nominated as a representative of the student body. Starry, the daughter of Mary and Scott Starry, was nominated on behalf of FSADMM, a club that encouraged good driving practices.
Other candidates included:
• Dustin Trupka, son of Jessica Hart and Ricky Trupka, representing the student council.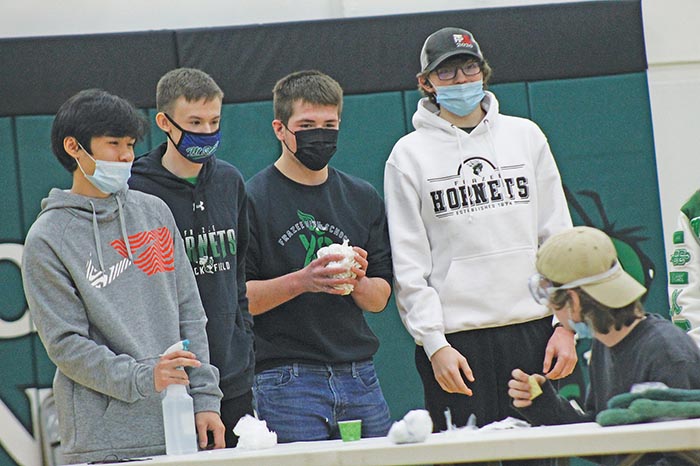 • Charlee Putnam, daughter of Char and Dan Putnam. She represented the FFA.
• Alex Beck, son of Jennifer and Tony Beck. He represented Minnesota Honor Society.
• Paige Schaefer, daughter of Erin and Jessica Schaefer, who represented the robotics club.
• Will Mickelson represented the Hornet Zone. His parent's names were not listed on the program.
• Carli Olson, daughter of Missy and Justin Olson, represented Knowledge Bowl.
• Abbey Miller, daughter of Kim and Jerome Miller, represented the yearbook.
• Devan Nelson, son of Amy and Shawn Nelson, represented trapshooting.  
The week of fun activities also included a corn hole tournament, bingo and a pep fest. Juniors and seniors were able to attend the pep fest in person, while the other students were invited to watch via live internet feed.