Mickelson named Citizen of the Season
News | Published on March 31, 2021 at 4:06pm EDT | Author: Chad Koenen
0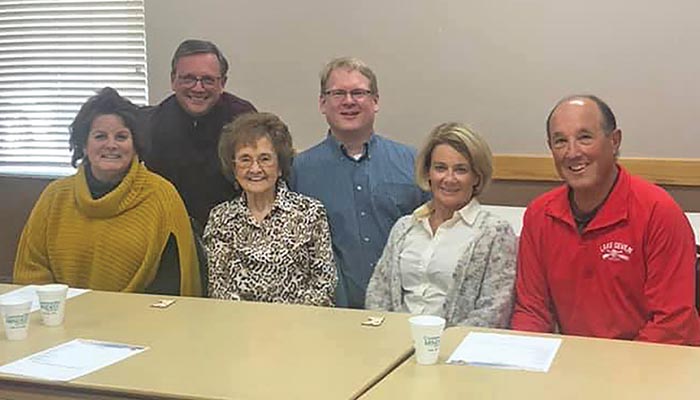 By Barbie Porter
Editor
Hazel Mickelson and her family made history this past week. The Frazee family that is known for successful turkey operations, real estate development and volunteering was named the first ever, Citizen of the Season by the Frazee Area Community Club.
The Citizen of the Season award is a new way for the community club, and community, to nominate and ultimately recognize a person or family that has made Frazee a stronger community through volunteering and leadership. Mickelson was presented the award during the annual community club meeting on Thursday, March 18.
Mickelson and her late husband Marvin grew up in the Wolf Lake area. While the daughter of Alfred and Frances Beck started her life on a crop farm, her future husband grew up working with turkeys. The 1950 Frazee High School graduate married her high school sweetheart in 1956. Her husband was in the Army. A year after they vowed an eternity of love to one another, the Army commander was sent to Korea to serve in the Korean War.
Mickelson recalled that was a time of a lot of movement. She lived in California while he was stationed there, and went to Oregon for a year or so before they returned to Frazee. While her husband served in the military, she also worked to help build a financial foundation for her family.
"While in Oregon, I worked for a telephone company," she recalled. "I enjoyed living in big cities and traveling."
Small town life also has a charm and it wooed her back to Frazee. The Mickelsons returned and moved to town in 1956. They quickly became known as big business for the small town with their turkey operations. The first barn went up west of town, and is currently along Becker County Highway 10. 
"When we first started, raising turkeys inside buildings was a new thing," she recalled. "We still had some outside flocks, too."
Quality meat became associated with the Mickelson name and two more turkey operations were added in time. The business provided jobs to residents in the community, as well as tax dollars to the local economy. The family still operates the barns, but sold the business to Jennie-O as the industry made the switch to large-scale production farms, she said.
The Mickelson's also helped develop neighborhoods in the community.
"We owned from the wooded area (near the corner of Willow Avenue and Third Street NW) over," Mickelson recalled.
Now, a leisurely drive in that neighborhood shows an established area that has been added onto with single-family homes, twin homes and most recently homes along Town Lake's shoreline. Mickelson, who still lives in that development, has enjoyed watching the community grow from her front step.
"I think most of the lake lots have sold now," she said. "I think there are a few back lots left though."
Mickelson added the recent new housing additions in that area happened through her hard-working sons, Ross and Wayne. She is glad to see the younger generation take the baton and continue the marathon of progress and improving the community.
During her young adult years, Mickelson said she and her husband were very involved in the community, be it with club activities, the VFW or church. The long-time Bethlehem Lutheran Church member recalled completing projects like putting up planters at the town entrances, as well as planting trees in the downtown area. She said the projects gave a sense of pride in the community, as they were beautifying the city.
"Being active and involved was also very fun. I enjoyed meeting and getting to know people and helping with a project."

Hazel Mickelson
The same "fun" was found as the Mickelsons became involved with Turkey Days. They wore many hats, from selling raffle tickets to being grand marshal to volunteering to assist with events. In all aspects of involvement, Mickelson said the same fun was had and friendships nurtured.
As the 89-year-old prepares for her 90th birthday this spring, it is those memories built with friends that she will celebrate, along with her two sons, five grandchildren and 13  great-grandchildren.
"When I was told we'd be getting this award the first thing I thought was we don't deserve it anymore than a lot of other people in this town," she said. "There are many people who have done a lot of things for this community."2