Reeling in the perfect rods and duck calls
News | Published on March 31, 2021 at 3:58pm EDT | Author: Chad Koenen
0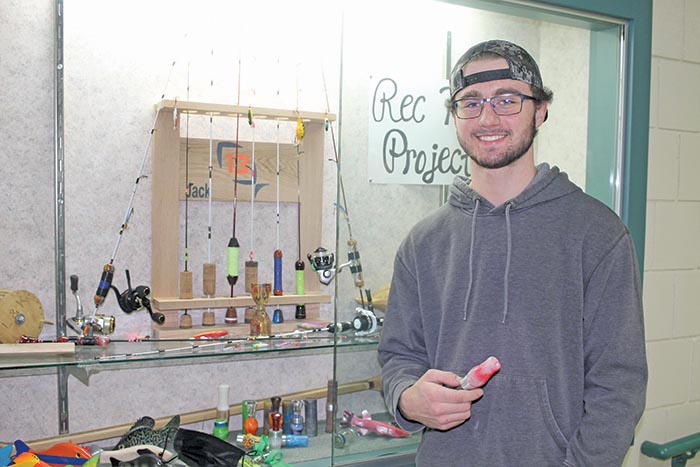 By Barbie Porter
Editor
Frazee High School offers students many options to dig into hands-on learning, especially with industrial arts classes.
Senior Sam Winn isn't considered a shop kid. In fact other, the only shop classes he'd taken before were required. That changed his senior year as his scheduled presented more opportunities to take electives.
"It's become my favorite class," Winn said.
Winn and his classmates were put to the task of creating outdoor recreational tools, such as fishing poles, jigs, decoys and duck calls. Winn has focused on fishing poles and duck calls for the most part.
The senior said a fishing rod may look like a simple tool, but building a quality one takes time, patience and practice. For Winn, the most challenging parts of making a rod are wrapping and properly spacing the eyelets, or device where the fishing line goes through.
When wrapping the eyelets the right amount of tension accomplishes two things. First, it will properly secure the guide to the rod. If the tension is inadequate the guide could slide out of place, whereas if the tension is too tight the guide could potentially spring out or break the thread. The second reason a properly secured eyelet is important is, if done right small adjustments can be made later to ensure the eyelets are perfectly straight. Once properly connected to the rod, Winn said he used epoxy to hold the thread in place.
Winn said having the eyelets spaced properly is crucial. If done incorrectly the likelihood of the line and/or rod snapping is increased. That can mean the difference between a fish story and fishing tale glory.
This past winter, Winn put his work to the test. The rods worked great, and he gifted a few to his dad and friends that often fish with him.
As his skills increase he implemented different pole types for specific fish. Winn explained the flexibility of a rod can make a difference. The more stiff blanks are better for walleye where the noodle type rods help reel in the pan fish.
"This winter I went out fishing quite a bit," Winn said. "I limited out on walleye a few times. I went fishing for sunfish and crappies with Devan Nelson, and was out fished every time."
Winn has also made three duck calls he is eager to tryout this fall when the season opens. The process begins with mixing colors to create a rectangular blank. Then, a lathe and its tools are used to create the shape of the duck call.
"Creating the calls with resin was a lot harder than working with wood because it can chip or shatter," he said, noting when that happens the call is a complete loss. "There is no option for buffing it out."
With time and practice just about every skill set will increase. Such was the case with creating duck calls for Winn. He began understanding carefully, steady hands with proper pressure were needed to prevent chips or cracks from forming. 
"Once I slowed down, I started seeing a difference," he said.
After the ability to shape the call was easier he could focus on creating the most comfortable fitting mouth piece, which is important for a functional call.
When the call is done different inserts, such as open water or timbered duck, can be put into the call, depending on what the hunter is aiming to bring home for dinner.
While Winn was surprised at how much he enjoyed the shop class, it hasn't changed his career plans at all. The young man is planning to head to Bemidji State University next fall to study for a degree in heating, ventilation and air conditioning.
"I've heard that when you make a hobby a job it might not longer be fun," he said. "I want to keep this as a hobby and something I can enjoy doing."