The show will go on
News | Published on March 31, 2021 at 3:52pm EDT | Author: Chad Koenen
0
FHS musical will be live, and online
By Barbie Porter
Editor
The Frazee High School musical is set to return with play dates being April 9-11.
Frozen, Jr. will be preformed and Director Amber Sazama said the play was chosen because it was familiar, attainable and the students involved were very excited about the prospect.
Excitement was important after a crushing blow came last year when the play was canceled a few weeks before opening night. There were concerns the same fate might befall the troupe.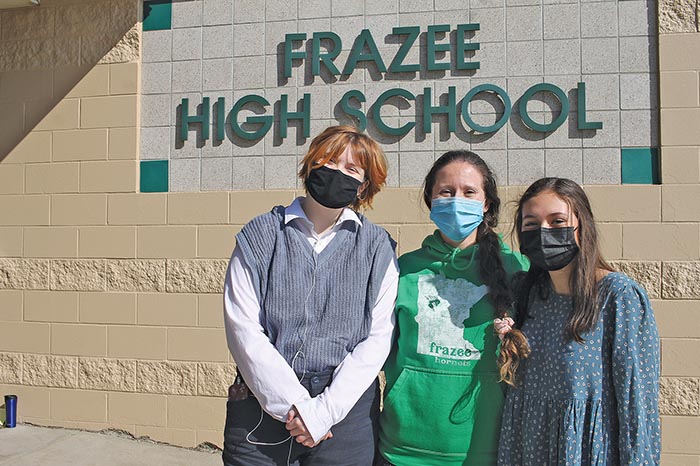 However, the district decided in December to give the musical a tentative green light. Sazama said rehearsals began in January, starting with the auditions. She was pleased with the turnout, and noted several other students joined in available slots after tryouts for the main characters concluded.
"We saw a lot of new students come out and have a young cast," Sazama said.
The cast has left a good impression on the director. She explained the veteran actors stepped up in rehearsals and everyone has been supporting one another, which brings an excitement to the stage.
One of the veteran actresses is Natalea Maijala. The senior started joining plays while in seventh grade.
"Then, I didn't know anyone in the play and it was terrifying," she said. "I almost didn't go but my parents and teachers convinced me."
The daughter of Brenna and Justin Maijala soon learned her hesitation was unwarranted as the older cast members were "all welcoming." Since, she has been involved with plays.
This year she takes on the roll of a lead character, Anna. Maijala said with practice and experience taking on a lead with ample lines no longer sets butterflies free in her stomach.
"I've picked it up, how to learn my lines," she said, noting her focus is now more on capturing the essence of her character.
Maijala explained Anna is a bubbly lady who has been locked in a castle most of her life. The part fit her as there are similarities between Maijala and Anna, for example both are enthusiastic.
"Although, I feel like I hold back in public and Anna doesn't," Maijala said. "She's boy crazy, too."
In those differences the skills she built in acting help her sell the character as authentic.
Katy Wilkowski is also taking the stage this year and will play the role of Kristoff. She learned there would be a musical this year during group chats with classmates, and quickly decided she would join in the fun.
While her character is a boy, Wilkowski said that only added to the fun of using her acting skills. She added last year, when Alladin was set to be the play, she also had a part that was meant for a male.
The most challenging aspect of playing Kristoff had nothing to do with learning to drop her voice or picking up manly mannerisms. Wilkowski explained she was also in basketball, so making practices, which are important, was a challenge.
"During practice you get used to the new cast members and bond with the old ones all over again," she said.
The daughter of Steve and Michelle Wilkowski added while there are challenges with time constraints, all the extra work is worth it in the end, as the musical is something she is not willing to part with.
"I enjoy everything about being on stage," she said. "I love singing, dancing, meeting so many great, charismatic and different people—everything."
Being in the theatre has provided both Maijala and Wilkowski the opportunity to learn about themselves. Maijala said through acting as others she has learned who she wants to be, and that to be that person one doesn't need a stage.
"I've gained a lot of confidence. Before I joined plays I was insecure and had anxiety. Being on stage helped me become more confident and it also allowed me to make many friends."

Natalea Maijala

The live audience will be limited to two tickets presented to each performer in the play. Tickets to the general public will not be available. However, there will be live streams on the school website.
Some question why the main gym is not used for musicals, as it would open up more seating. Sazama explained ther eis no lighting for the stage, which often sets the mood or tone of a scene. There are also no change rooms for the actors.