FHS boys track and field begins season
Sports | Published on April 7, 2021 at 3:40pm EDT | Author: Chad Koenen
0
By Barbie Porter
Editor
The Frazee High School boys track and field team returned this season with eight seniors in the ranks. Head coach Brian Tangen said they all bring skill and experience to the team, which is more valuable than ever this year. He explained last season ended after a week of practice due to the pandemic, and that means more rookies join the team of 37 student athletes.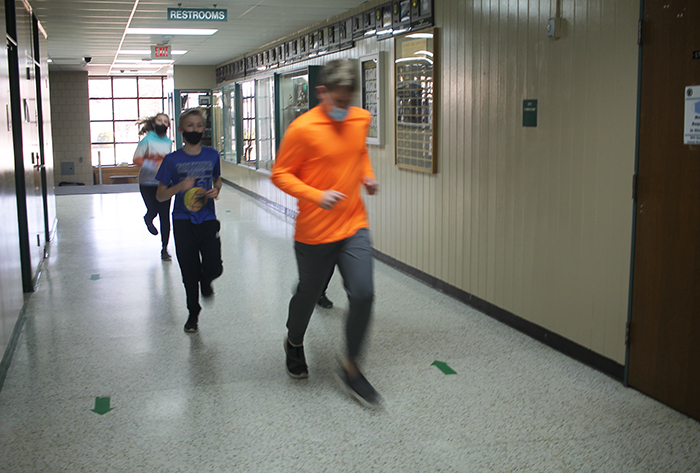 Helping lead through example during practice and pushing each other to improve are important parts of the coaching job, but upper classmen also help with that role in most sports.
Tangen said another drawback of a shorter season and new athletes is they still are trying to find their niche and what event they will excel at and enjoy. The coach said that can take time, and there is always opportunity during the season for the athletes to join a variety of events.
During normal years the track and field team have had an event in the early season with an indoor meet in Bemidji. Tangen said no indoor meets are allowed this year, and he is not sure if Frazee will have a home meet. However, he is hopeful that one will be scheduled so the young men can show their skills to their parents and community on the home track.
While there is always potential in track for an unexpected up and comer to shoot to the front of the pack, Tangen said he suspects the Hornet boys team will have a strong distance crew and sprinters this season.
The district has a strong cross country program and Tangen said many of those runners are enjoying track as well. The two are different though, as cross country offers a longer track, often on a grass surface. The track events offer up to 2 mile runs and it is always on a track. He noted those crossing over from long distance running often have to redefine what their pace and strategy will be.
Overall, the success of the athlete comes down to practice and attitude, said the track coach of 30 years.
Tangen said he is "blessed to have a top notch coach staff" which includes Jeff Johannsen to work with sprinters, relays and high jumpers; Russ Hackel to work with throwers; Jim Rader to work with the long jump, triple jump and help with sprint and relay; Jim Jacobson to work with pole vaulters and distance runners and Todd Larson to help junior high kids develop.