Home severely damaged in Vergas fire
News | Published on April 7, 2021 at 3:54pm EDT | Author: Chad Koenen
0
By Barbie Porter
Editor
The Vergas Fire Department had just tackled a grass fire near the county line along Highway 17, when another call came in. This time it was a house fire.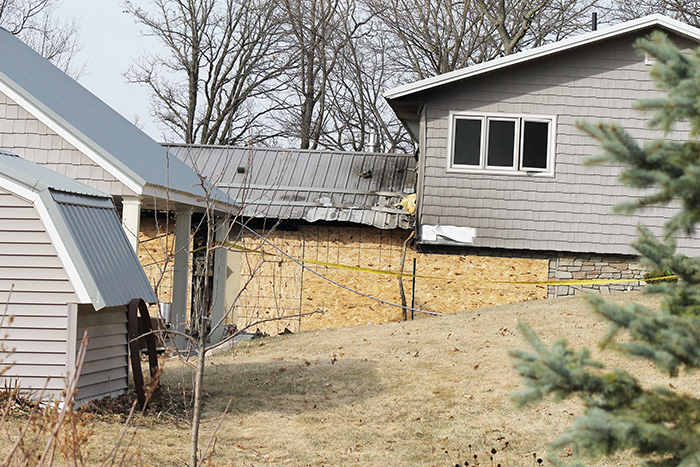 Vergas-Candor-Dora-Hobart Fire Department Chief Jeff Zitzow said he arrived on scene (50771 East Lake Seven Road) about five minutes after the call came in on Monday, March 29.
Zitzow arrived on scene before the fire engine. After learning everyone was out of the house, he told the resident help was on the way and asked her to stay back.
"When I got there at about 5:11 p.m. and the whole house was on fire," he said.
The first order of business for Zitzow was to do a 360 degree walk around the house. Zitzow said a propane tank was kept from combusting and outbuildings near the structure were identified as potential concerns.
"One garage was 20-feet away and the other building was closer," he said. "Once we got enough man power we watered those down."
When the engine arrived shortly after Zitzow, the crew set up the rig and prepared for battle with the fire. They beat the fire back as they worked their way into the house.
The wind that day was fierce. Normally, wind drives fire, Zitzow said. But that day, the fire started down wind, and the wind may have helped hold the fire back from going through the entire house.
The first fire truck came with 1,000 gallons of water and four firefighters. Zitzow said the crew was able to knock most of the fire down in short order.
"The guys did a heck of a job," Zitzow said.
It wasn't long before backup arrived with more Vergas- CDH firefighters as well as the fire departments from Frazee, Perham and Detroit Lakes. Zitzow said Frazee and Detroit Lakes fire trucks were stationed at the public access on Lake Seven to draw water. In total he estimated about 10,000 gallons of water was used in about three hours.
"I want to thank everyone for a job well done," Zitzow said. "We all worked together really well."
It was reported the fire started from a maple syrup boiler being used in the driveway. Zitzow said he is not an insurance adjuster, and if the house is a loss or can be saved, had yet to be determined.
As for the grass fire that happened earlier that day, Zitzow said it appeared to have started when a power line arced and sparked. With the dry conditions that was all it took to get a fire going.