Reierson earns leadership award, college scholarship
News | Published on April 7, 2021 at 3:50pm EDT | Author: Chad Koenen
0
Ellie Reierson, Frazee, is one of five students from across northwest Minnesota who was selected for the Northwest Minnesota Youth Leadership Award by the Red River Valley Development Association. The award was initiated to recognize young adults in the 14 counties in northwest Minnesota who have demonstrated outstanding ability in citizenship and leadership, character building, or contributions to life in northwest Minnesota through their involvement in community, school or church youth organizations.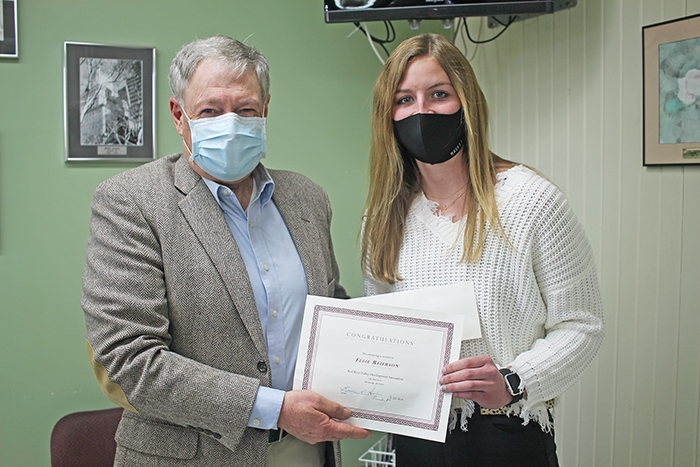 Reierson plans to attend college in the fall of 2021 and study in the medical field with a minor in accounting.
Bruce Hein, the president of the Red River Development Association, said there were about 50 applicants, and Reierson was the 108th winner of the award in the 30 years the program has been available.
"We've given 2,700 leadership awards to adults since 1939 and about 1,800 with the education program since 1960, in northwestern Minnesota," he said.
Reierson accepted the certificate and award and thanked the Red River Development Association for the generosity and opportunity.
"I want to give a big thank you to them for everything," she said.
Reierson was also awarded an Honor Scholarship scholarship at Mayville State University.
The daughter of Andrea and Jason Reierson is considering studying pre-dentistry and playing volleyball for the college. 
Mayville State scholarship awards are based on previous academic performance and participation in extracurricular activities. They reflect the student's past accomplishments and potential contributions to the college community.