Softball team brings years of experience to the plate
Sports | Published on April 7, 2021 at 3:39pm EDT | Author: Chad Koenen
0
By Barbie Porter
Editor
The Lady Hornet softball team lined up on the field during the early season practice last week and were asked to think about palm trees—or anything else that brings love to their heart and a clearness to their mind. The coach spoke about how important it is to stay focused on the task at hand and not get caught up in the mind game of what ifs that wait after a play goes south.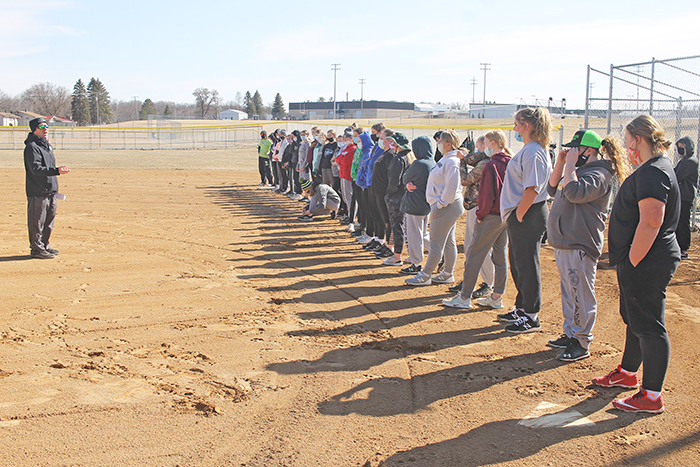 After the motivational speech, the team got down to practice with basic drills to kick off the day. 
Head Coach Matt Bauer was happy to be on the field so early in the spring, opposed to practicing in the gym. While practice is always needed, the coach said he is confident in the skills of the ladies on the varsity team. He explained many have been involved in the sport since third or fourth grade.
"We have five seniors this year," he said, listing them to be McKenna O'Brien, Annissa Antonsen, Alexis Aho, Dani Piche and Maddison Starry.
Much like the long-time players, Bauer said he shares the same commitment they have to the program.
"We all take pride in it," he said.
To start the season the Lady Hornets begin with the up and comers, as grades 7-12 share practices. Bauer said he incorporates that into the program so the younger players can see where their skills will be at when they reach the upper level of the program, and the varsity players have the opportunity to give the younger ones tips, encouragement and advise.
"It's fantastic to me to see them engage with each other and cheer each other on," he said. "It is a true trickle down effect."
Bauer said the season will be shorter, as the practice season was cut, but the hope is to have a full season with playoffs at the end.
Taking the lead on the mound will be Starry and Malena Mahoney. Bauer said both bring accuracy in their pitches, good velocity and the ability to throw change ups on command.
"One is right handed and the other left, so that helps with our strategy as well," Bauer said.
In his fifth year of coaching, Bauer said he still enjoys taking the field for practices and games and spending time with the youth in the community.
"It makes me happy to work with kids," he said.