The HOL conference is open for the taking
Sports | Published on April 7, 2021 at 3:41pm EDT | Author: Chad Koenen
0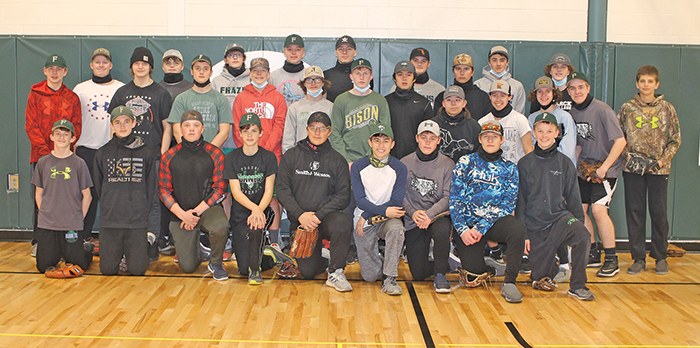 By Barbie Porter
Editor
In many respects the Frazee Hornet baseball season is an unknown. The spring baseball season in 2020 was canceled due to the ongoing pandemic, and the summer program salvaged 16 games.
Head coach Andy Mekalson said those 16 games allowed him and the assistant coaches (Brandon Olson, Jason Bauer and Colton Bakkila) to have a glimpse at the potential of the younger players. However, when the next spring rolled around there was a lot of rust to shake off and skills to be sharpened in a short amount of time.
The Minnesota State High School League allowed teams to have a week of arm conditioning before the official start of the season where full practices were allowed. Taking the mound this season will be Brandon Nguyen, Brock Barlund, Scott Seim and Wiley Bachmann.
Nguyen said being a pitcher was always on his radar, even though there was a stretch where he questioned if he shouldn't pick another position.
"It didn't start well," he said of his fifth grade pitching. "I practiced a lot in the summer, and by my sophomore year I (pitched in) a couple of games as a relief pitcher."
The son of Cindy and Long Nguyen said his confidence began to build, along with his skill set, which he was able to sharpen during legion play last summer.
Erickson is entering his second year on varsity, playing the outfield. The son of Amie and Kyle Erickson said his position can be a challenge as he has to gage where the ball is heading, which can be complicated by wind, sun and high pressure situations.
"We practice every day so when the time comes we are ready to make that play," he said.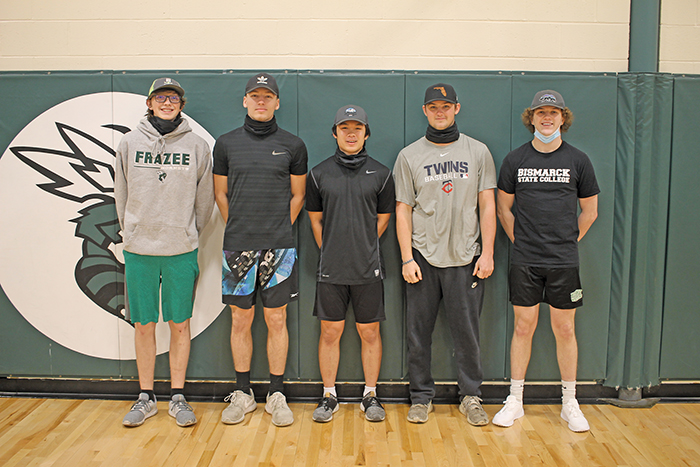 Aside from a love for the game, the Rochert resident said he has returned to the sport year after year because of the atmosphere the team has created.
"We play baseball and have a good time," he said. "And the coaches have taught us a lot about being a better person."
Like Erickson, Fleisher is in the outfield, specifically center field. The son of Mike and the late Sonia Fleisher said he was assigned center field while a sophomore because he brings speed to get the fly aways and a good eye to judge where the ball will fall.
With a goal of having fun and enjoying a season of baseball, Fleisher added the team is hoping to be above .500 at playoff time.
Ethan Wothe is taking on first base. The son of Luke and Jamie Wothe stopped playing baseball in seventh grade, and after watching games and hearing his friends talk about it, he decided to go out for the team last year.
"I surprised myself," he said. "I thought I would hit way worse than I was and I had remembered more technique than I thought I would."
Wothe said the team works hard and he feels confident come game day he will be ready to execute the duties of first base.
Barlund is a senior at short stop. The son of Kari and John Barlund said he enjoys the position as it keeps him in on the action and moving on his feet. Athletics offer a way to stay healthy and bond with classmates, and for Barlund, it has also taught him about frustration, and how not to let it chip away his focus on the next play.
Showing up for spring training were about 35 students. Mekalson said that was enough to create a C-team, in addition to the junior varsity and varsity teams.
While many come in with a solid skill set, Mekalson noticed the confidence level is now where it should be, especially with the older players. He attributed that anomaly to the fact they missed a big year where much growth happens as a junior before they take the lead spots. In many ways they went from sophomore players to seniors, and that is quite a jump.
In Mekalson's seventh year of coaching he said regardless of the success ration on the score board he defines his successes in each player that comes through the program, be it for a season or a high school career.
"I enjoy working with the kids; my goal is to help them become good people," he said "This team has a bunch of great kids that have a strong camaraderie, positive attitudes and great work ethic, too. Those are keys for a successful team." 
As for the conference, Mekalson said it is hard to tell who the front runner is in the conference.
"Our team goal is to play the game the right way, mentally and physically, and be competitive each and every game while working our way to a conference title," he said.