Baseball team hits a homer with American Legion's national commander
Sports | Published on April 20, 2021 at 11:07pm EDT | Author: Chad Koenen
0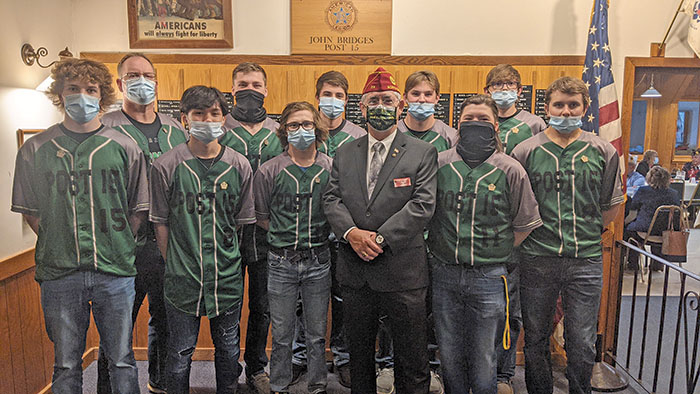 By Barbie Porter
Editor
The Frazee Post 15 Legion baseball team recently met a true dignitary while helping the American Legion Post 15 in Detroit Lakes. The group of young men were providing meal service and clearing dishes from tables for a banquet that featured James Oxford, a national commander for the American Legion.
Oxford was elected national commander in 2019 during the 101st national convention held in Indianapolis, Ind. A member since 1986, Oxford is a veteran of the U.S. Marine Corps and served in Vietnam. He was discharged as a sergeant in 1970 and then joined the National Guard. He transferred to the Army Reserve and after more than 34 years of service retired as a colonel. In the American Legion, Oxford served at every level.
Steve Sundstrom, the local legion's financial officer and ninth district commander, said Oxford was visiting American Legion Posts and while in Detroit Lakes he gave a nice speech and chatted with the baseball players who donated their time to assist at the event.
"He expressed how important sponsoring legion baseball teams is, and shared stories of a few players who went through the legion program and went on to the big leagues," Sundstrom said. "He liked the baseball players so much that he let them take a picture with him before any of the other events started."
Once Oxford finished his speech, the baseball players served the main course (meatballs, gravy and all the fixings) along with dessert before clearing tables and enjoying a meal on the house.
American Legion Baseball is a variety of amateur baseball played by those 13-to-19-year-old in 50 states in the U.S. and in Canada. More than 3,500 teams participate each year. The program was first established in Milbank, S.D. in 1925. Sunstrom said the Legion members understand the importance of athletics in developing strong character within young men.
It provides a sense of being involved, how to be a member of a team, physical activity and how to win and lose gracefully, he said.
The American Legion in Detroit Lakes, like all legions use funds it raises to provide scholarships for area youth, help area veterans and more.