Five finalists chosen for Frazee administrator job
News | Published on April 20, 2021 at 11:25pm EDT | Author: Chad Koenen
0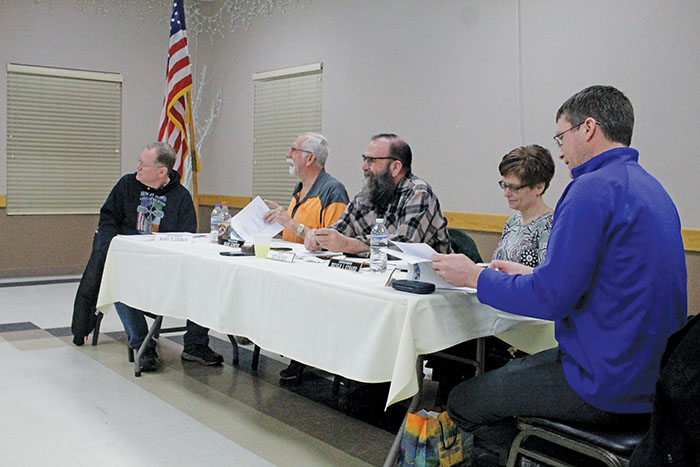 Interviews to be held from April 20-21, open to the public
By Barbie Porter
Editor
Thirty-six people applied for the Frazee City Administrator position.
The Frazee City Council held a special meeting on Monday, April 12 to rank the applicants and narrow the field down to five finalists.
The finalists are Jordin Roberts, Kyle Box, Brad MacMaster, Michael Mueller and Christopher Fieldsend.
Interviews are set for April 20-21, with council members and department heads interviewing the candidates. The interviews are open to the public and are set to be held from 2-5 p.m. both days in the Frazee Fire Hall.
Current Administrator Denise Anderson is set to retire in July, but stated she is willing to help train the new clerk.
About the applicants
• Kyle Box is the current city clerk for Marshall, Minn., which is a city with a population of 13,651.
In his resume he stated his objective is "to continue and grow my career in government administration as well as to further expand and demonstrate my knowledge in Minnesota laws, statues, local level procedures, city operations and public service."
His resume stated he earned a bachelor of arts in political science with a minor in management from Southwest Minnesota State University in Marshall, Minn. He graduated in July 2013.
After graduation, his employment history included being a Schwann's Home service sales representative from Nov. 2013 through Aug. 2015 in Spencer, Iowa. From Sept. 2015-2017 he worked as a North Star Mutual Insurance Company claims rep in Cottonwood, Minn.
He has held the position of city clerk for the city of Marshall, Minn. since Sept. 2017.
• Christopher Fieldsend is the owner and manager of Shoot the Moon Investments in Park Rapids, Minn. and has been operating the LLC since 2015 to present.
His employment history states from 2013-2020 he was the parks/IT/facilities and fleet supervisor for the city of Park Rapids, which has a population of 4,054.
From 1996-2013 Fieldsend held the position a position in the public works department in Park Rapids, Minn. and from 1995-96 he was the city's liquor store assistant manager.
As for education, Fieldsend graduated from Bemidji Tech in 1986 with a degree in technical proficiency and a major in auto body repair. He attended Bemidji State University and graduated in the spring of 1992 with a bachelor's of science. His major was computer science with a minor in mathematics.
• Brad MacMaster worked as the purchasing and logistics manager for the Johnson Brothers Liquor Company in Fargo, N.D., from 2013 through June 2020.
The additional work history on his resume of the Detroit Lakes resident stated he was the manager of the Detroit Lakes Municipal Liquor store from 1999 through 2013 and from 1984-1999 he was the manager of Walgreens in Moorhead, Minn.
MacMaster's education included earning a bachelor of science, business administration and a bachelor of science in zoology from North Dakota State University in 1980.
• Michael Mueller is the current city administrator of Morristown, Minn., which has a population of 987. In his cover letter, he stated that he supervises 31 city employees.
Aside from holding the city administrator position in Morristown, Minn. since July 2020, Mueller's work experience includes being a warehouse supervisor at UNFI from Aug. 2017-July 2020, a store manager of Holiday gas station from May 2016-Aug. 2017, a loss prevention investigator for Marshalls Convenience Stores from Nov. 2015-April 2016 and a security officer for the Denver Museum of Nature and Science from June 2014-Oct. 2015.
Mueller's education includes a master of science in public administration from Capella University and a bachelor of science from Minnesota State University in law enforcement. Not graduation years were provided in the resume.
• Jordin Roberts is currently a news producer at Gray Television in Bismarck, N.D., a job she has held since Aug. 2020.
The other employment listed was in customer service from Dec. 2016 through March 2020 at Cabela's in East Grand Forks, Minn.
Roberts education included a masters degree in public administration, a bachelor of arts in political science and a bachelor of science in criminal justice studies from the University of North Dakota in Grand Forks, N.D.
Roberts provided her educational transcript. It showed she earned her masters degree in public administration in May 2020 with a GPA of 3.9; and a bachelors in political science and bachelors in criminal justice studies, both in May 2018 and both with GPAs of 3.8.