The Lavish Loon is now open in Vergas
News | Published on April 20, 2021 at 11:24pm EDT | Author: Chad Koenen
0
Owner raves about warm welcoming from customers, businesses and city
By Barbie Porter
Editor
Downtown Vergas is known for ample shops, a thriving customer base and a group of business owners who are tight-knit and willing to help one another. Sarah Wacker, owner of The Lavish Loon, said she experienced all the great things the town has to offer before, and during, her grand opening.
"I had a soft opening the week before the grand opening during the Maple Syrup Festival," she said. "I had a welcomed response from the community and other businesses (both weekends). It was wonderful and overwhelming. And, it was much busier than I expected."
The Lavish Loon offers a unique clothing selection along with other items. Wacker said the most popular items were the soft sweatshirts that feature lakes in the Vergas area. From Sybil to Silent, Loon to Long, the perfect shirt for all seasons flew off the shelves.
"Long Lake was the biggest seller over Maple Syrup Festival weekend," she said. "I will have a second chapter of lake apparel coming. I am also happy to add a lake that I may not have, but need at least 12 orders."
Wacker said the joggers were a close second for being a top seller during opening weekend.
"They are the pants of the pandemic," she said. "They have elastic waists, light weight fabric and they can pair with anything."
The shop makes the most use of its space, and while offering a variety of apparel, Wacker is mindful to keep a natural, organized flow through the store.
"I don't want to overwhelm people with too much inventory. And, I see the smaller shop to be a benefit because I can move inventory quickly, and sprinkle new and different items in."

Sarah Wacker, Lavish Loon
With just about every customer that walked through the door came a sense of excitement. Wacker said the friendly comments she received were genuine and encouraging. At the end of the day, she reflected back on those kind words and said it added to her confidence that she made the right decision to chase her dream, even in the midst of a pandemic.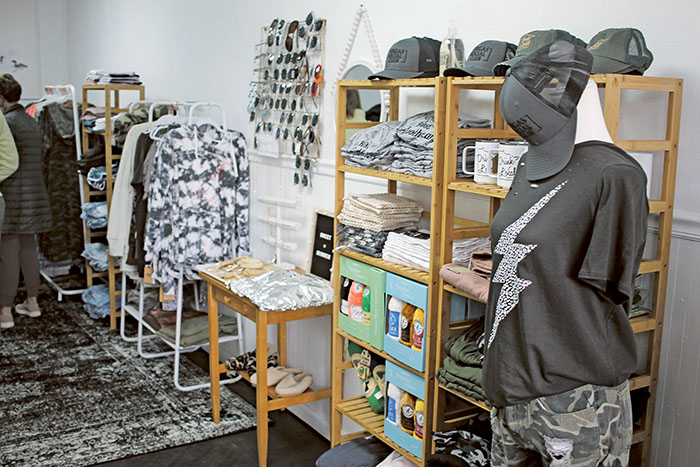 Wacker noted the businesses were just as welcoming and thoughtful as the customers. She explained the Loon's Nest brought complimentary cookies for her opening day, so that her customers would be provided a sweet treat.
"Otter Coffee sent coffee down to help get me through the day. American Beauty sent people my way and Billy's checked in to see how the day went, as did people on the city council," she said. "I always knew Vergas supported each other, but to be on the receiving end was exciting."
Wacker drew a parallel between her shop and the Vergas community where she grew up­—small, but mighty.
The Lavish Loon will be open Friday and Saturday from 10 a.m. to 5 p.m. and Sundays from 10 a.m. to 4 p.m.