Lady Hornet hits homer, gets date with Ben Franklin
News | Published on May 11, 2021 at 6:03pm EDT | Author: Chad Koenen
0
By Barbie Porter
Editor
Anissa Antonsen watched a fastball slide from the pitcher's fingers and zip toward home plate. The Frazee Hornet senior softball player readied her Louisville LXT and timed the connection perfectly.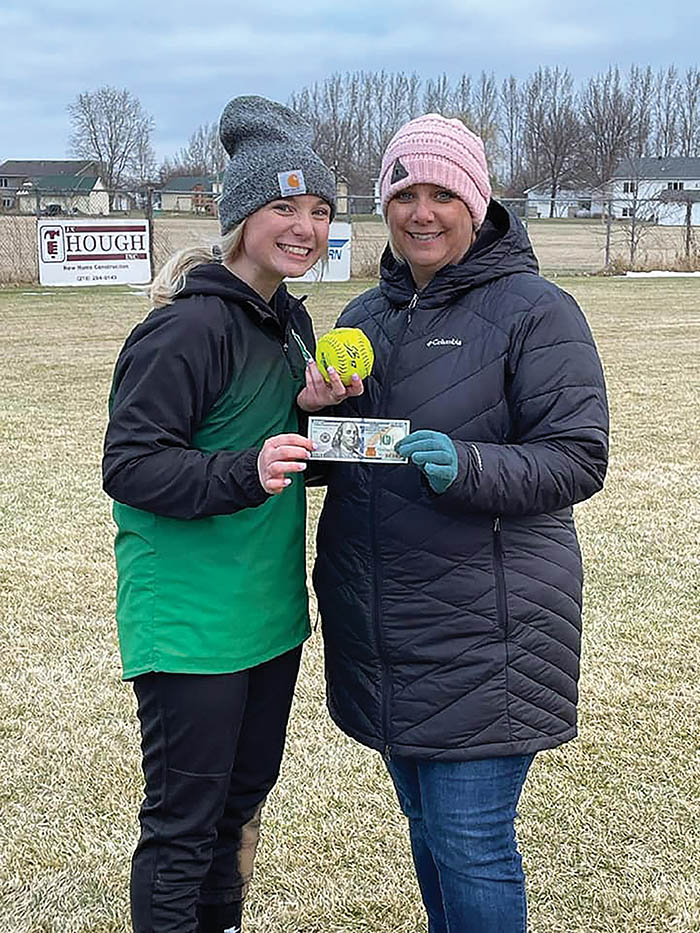 "I knew it was a good one with the way I felt it come off the bat," she said. "It hit right on the sweet spot to the left. I didn't actually realize it went as far as it did until I heard my teammates cheering from the dugout."
Her teammates were cheering because Antonsen's hit cleared the fence and brought three runners across the plate. It was her first varsity home run. Adding another dimension to the celebratory memorable moment was Benjamin Franklin.
Anissa's mother, Kimberly, said Franklin came into the picture while her daughter was in 14U, a competitive summer league. She recalled there was a close game unfolding on the field and the excitement was palpable.
"I was so excited I told her that if she hit a home run I would give her $100," Kimberly said. "It was kind of a joke, but it stuck."
The mother-daughter duo would share banter about who Franklin would be leaving with after the game.
Anissa said the bet was fun, but the offer was honest and that her mother would have a Franklin along at each game.
"Not only did she get her home run, but she did it with two people on base," the proud mother said, adding the scores were against Dilworth-Glyndon-Felton. "DGF brings competition we always want to beat."
The hit that had the scoreboard workers doing addition came with the force of a new bat Anissa had purchased last year. She swung several around the store before settling on the Louisville LXT aluminum bat. While she was ready to break it in last spring, the season was canceled before she had the opportunity.
"We were disappointed when I wasn't able to use it because of COVID," Anissa said.
But, the bat's luck had not worn off as it sat waiting for its first official game. When that time came, Anissa and her bat made personal history and collected her first ever home run and a date with Franklin.
Anissa said Franklin treated her to a tank of gas and some cash to boost her savings. While the generous gift was a nice treat for such a memorable moment, the support that her mother has shown over the years has meant the world to the third baseman.
"She has always been my biggest supporter and I wouldn't have been able to do it without her," Anissa said. "Sometimes she has some questions about what is going on, but I am extremely thankful to have her cheering me on."
Kimberly is thankful her daughter found a sport she greatly enjoys, and for the team and coaching staff that helped her daughter's skills and friendships on the field develop.
"I believe sports have kept her out of trouble and her mood up," she said. "Because there was no softball last year I can see she is happier this year with sports and something to do everyday."
Kimberly added that she, too, has enjoyed sports and the parents supporting the kids are a fun group who enjoy cheering.