Leff takes second in Thielen/LARL contest
News | Published on May 11, 2021 at 6:08pm EDT | Author: Chad Koenen
0
By Barbie Porter
Editor
Gabe Leff had never penned a poem before, but that wasn't going to prevent him from trying. And much like his favorite Minnesota Vikings player Adam Thielen, he overcame the odds and took second place in a statewide poetry contest.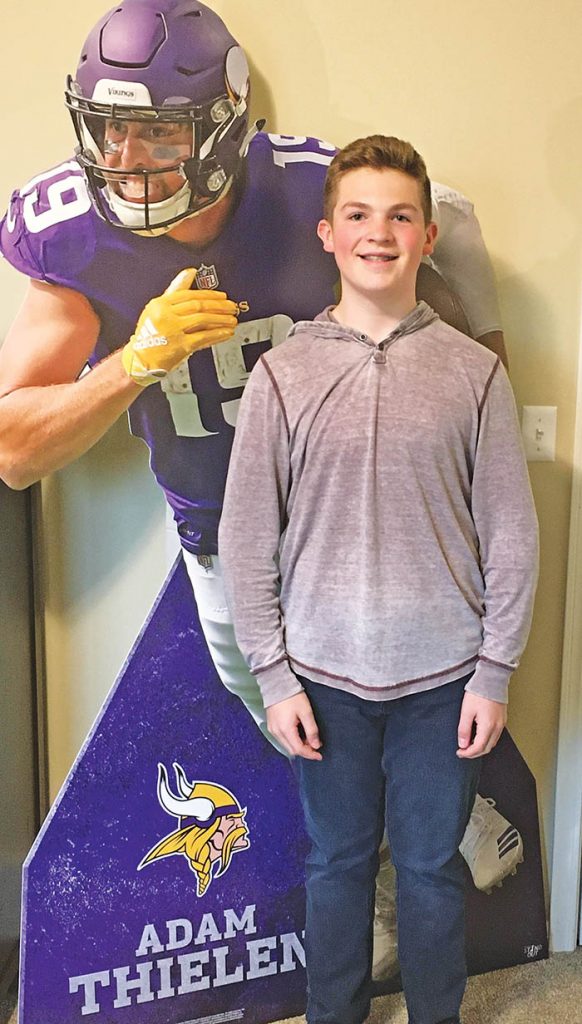 The nephew of Marnie and Justin Larsen of Frazee entered the contest hosted by the Lake Agassiz Regional Library for students in grades 4-12. The top prizes were an autographed football from Thielen and a jersey. 
Nicole and Cody Leff, of Detroit Lakes, decided the contest would be a great addition to the home school curriculum for their seventh grade son. After all, their 14-year-old son loves football and has been a lifelong Vikings fan. 
"I sat down on the couch and researched poetry," Leff said. "I'd never written a poem before and didn't know how. So, I looked at the different types and ways of writing a poem."
While there are a variety of rhyming patterns to poetry, it was the freestyle method that he went with.
"I wrote it in a notebook to start," he said. "It took about two hours, maybe three. Then I typed it."
The message of the 16 line poem, entitled "Adam Thielen's Legacy," is that a small town and the people who live there can do good things and achieve big goals. Leff explained, Thielen is a great representation of that possibility because he grew up in the small town of Detroit Lakes, played college ball and then waited to see if he was drafted. When he wasn't, he didn't give up on his dream, he put in the work and joined a rookie tryout session with the Vikings. Based on good showings at regional combines he was signed. Thielen made the leap to the Vikings' 53-man roster in 2014, seeing limited action (13 targets, eight receptions), but with dedication and perseverance he has become a feared receiver on the field. 
Leff took the life lesson he learned from his favorite Viking and created a poem that earned him a second place finish in the grades 4-8 division. The prize was a cutout of Adam Thielen.