Professors, coach give Pausch the gift of color
News | Published on May 11, 2021 at 6:06pm EDT | Author: Chad Koenen
0
By Barbie Porter
Editor
Colten Pausch's future is brighter than ever, and it is thanks to his college professors and track coach at Crown College St. Bonifacius, Minn.
While he is gaining an education that will undoubtedly help him on his career path of family ministries and Christian studies, the former Frazee High School baseball player was given the gift of color.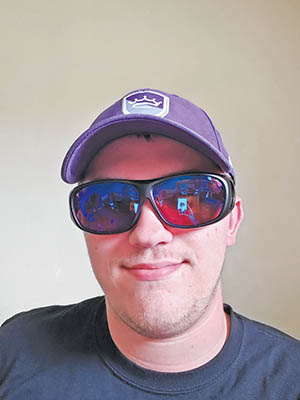 "My coach caught wind that I was colorblind and the track team and some professors at college threw money together and bought the (specialized) glasses," Pausch said. "They kept the fundraiser a secret for nine months."
When the glasses that correct Pausch's color blindness impairment were purchased, a coach passed them to the javelin thrower as if they were sunglasses.
"I didn't realize what they were until I put them on," Pausch said. "All the different colors…I could tell the difference between the colors."
The specialized glasses fit over Pausch's prescription lenses and since receiving them his favorite place to visit to date is the school chapel. He explained the stained glass windows are a sight to behold, and he looks forward to experiencing the colors of the seasons in the coming year.
"I look forward to enjoying the different shades and seeing God's beauty," he said, noting his favorite color remains red. "Now I like it even better than before. Everything is brighter."
Pausch expressed his gratitude for the generous and thoughtful gift from his coach and professors and was moved how they all pitched in to help him out.
The 20-year-old son of Jamie and Amber Pausch, of rural Pelican Rapids, said he was born with an color-blindness impairment.
"I would debate with friends on the color of houses," he said adding he found out the color he saw wasn't always correct after an eye appointment. "I was going through a color blindness test and was told I have a problem."
Pausch can see red, yellow and green, although some shades are muted in comparison to what a person with normal sight sees. However, when it comes to blue and purple, the shades appear the same, as well as pink and gray.
The grandson of Vergas residents Dennis and Terry Pausch, had heard there were glasses that would provide his eyes with a color correction lens.
"I did an online color-blindness test for the heck of it with friends," he recalled. "At the end I saw these glasses and thought that would be a cool thing to have some day."
Years passed, and Pausch graduated from high school home school in 2019 and he was admitted to attend Crown College.
"For many in Frazee they may be surprised to learn that I am not playing baseball," he said, noting the track coach approached him about joining the team after finding out he played baseball. "He wanted me to throw javelin."
While the high school league will not allow the event to be part of track and field, as it is deemed to dangerous, Pausch said baseball players have built that arm muscle needed for javelin, and often show an aptitude for throwing. It turned out the track coach knew what he was talking about. Pausch is now ranked number five in the conference and number two at his college. He also runs in the 100 meter dash, 200 meter dash and 4×100 relay.