Diggin' up bones
News | Published on May 20, 2021 at 8:47am EDT | Author: Chad Koenen
0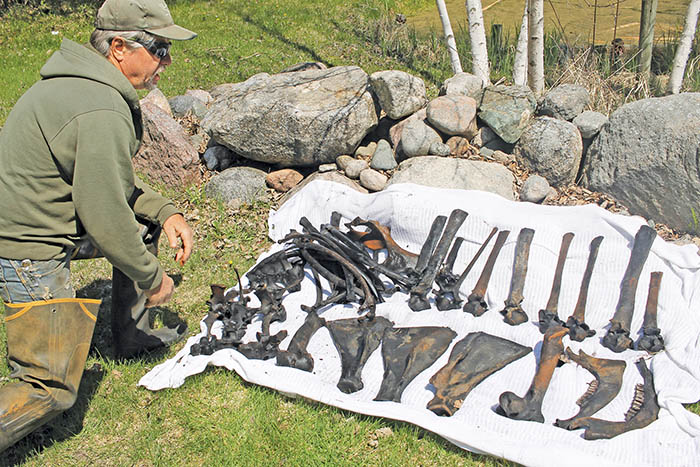 By Barbie Porter
Editor
Paul Adams was knee high in a drainage ditch in Silver Leaf Township pulling bone after bone from the land.
Water rippled downstream after hitting his waders. Birds chirped from wispy strands of amber colored peat bogs covering the stretch of land.  He bent down, stuck his hand into the water and said, "I can feel them. I think there are four right here. I don't know, but I'd guess they are 300 years old."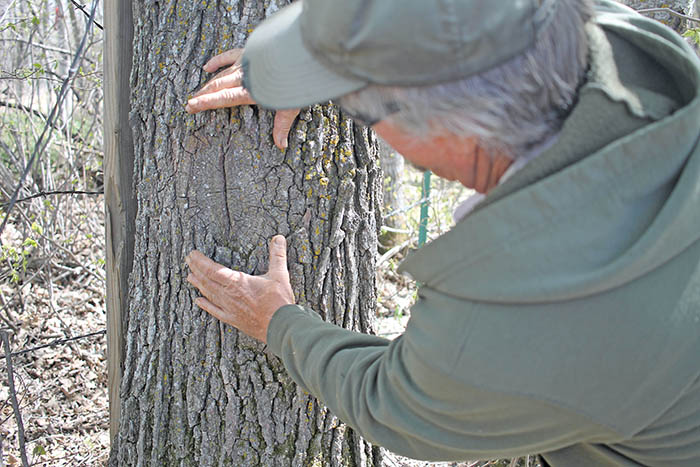 With a little effort he removed a long object from under the peat moss that almost looked like a machete. Then another, and another.
"I think I feel the head right here," he said. "But, it's still frozen in. If I pull too hard it might break."
What Adams has pulled from the earth includes a large jaw bone with teeth still intact, vertebrae, shoulder blades and more. The 1978 Frazee High School graduate believes what he uncovered on the 520 acres he owns with his wife Lori is a Native American hunting ground. Adams points to the ridges that surround the low land, noting the land created a natural trap for hunters.
"Once on the ridge the animals were committed and they (Native's) could drive them into the muck," he said. "I imagine some made it across, but others broke through and got stuck. This stuff is like Minnesota quicksand. Once they were stuck, hunters could walk up and knock 'em on the head."
Adams said a large elk horn was also found in the area in 1976 by his uncle, so there may be bones beneath the peat moss other than buffalo.
Adams has no plans of restoring a buffalo skeleton. After looking at them, he plans to return the bones to the peat moss and hope they remain preserved. If a class, archeologists or historian wanted the bones or to use the site for educational purposes, he would be open to a discussion.
"I don't mind as long as they don't turn it into a shrine," he said. "I work here."
In the forested areas that surround the lowland, Adams has discovered man-made markings on trees. He believes the marks were map directions for tribe members. Every mark he has found points to the lowland where the bones remain.
"I've also found two cache  holes; one is a 10-by-10 depression and the other six-by-six. You can also see where they set up camp because there is nothing there."

Paul Adams
Buffalo numbers go from plentiful to nearly extinct
In the early 1800s buffalo were plentiful on the plains an in lakes country. Estimates vary between 30-to-75 million buffalo roamed North America, with the majority living in the Northern plains.
The Minnesota Department of Natural Resources states "by 1900, settlement and slaughter by market hunters and the U.S. Army combined to reduce buffalo numbers to a handful."
Adams "was working in the mud blowing bubbles" and setting beaver traps when he found his first set of perfectly preserved bones in peat moss a few years back. In the first finding there were bones from an adult buffalo and a calf. He let them dry out and in short order they became dust.
After a bit of research, Adams learned the peat moss preserved the bones, and when he removes the bones, keeping them wet helps preserve them.